Last week, as the wild, wild winds howled around a rather bald looking Paris, there was still love in the air. As I turned up my collar and tightened two oversized Scottish scarves, I briefly stopped on this bridge to take in Notre Dame and admire the frozen statues of the 12 apostles walking up the spire.
Even the blustery, horizontal rains didn't stop this romantic couple from locking up tight and cosy together. I felt like the Parisian Love-tourist Gringe as they put their initials on a padlock and locked it on to one of the two Paris 'love lock' bridges, le pont de l'Archevêché. Tut-tut!  OK, where's my romance, you ask?  I don't need a padlock to show it. So there.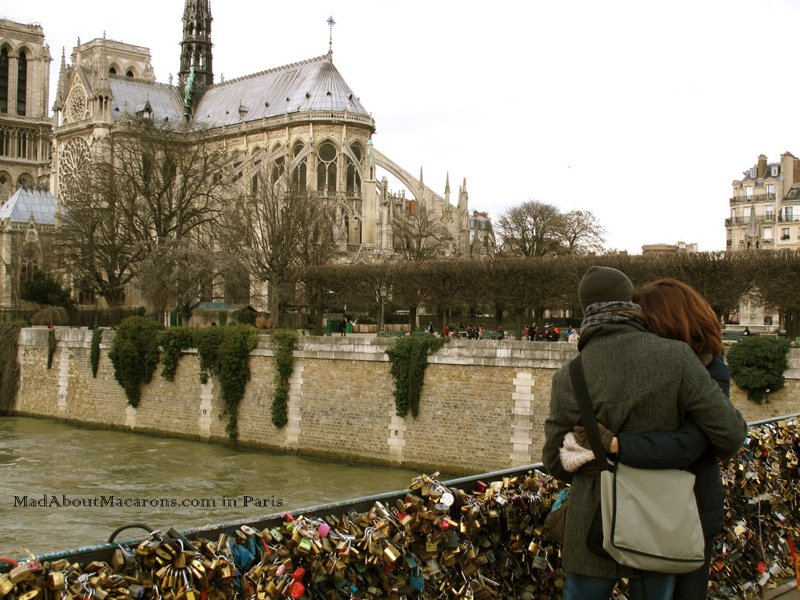 Back home, sheltered from the winds and feeling much more romantic and cosy, I wanted to make something sweet and special for Antoine – and my girls!  Why wait until Valentine's Day?
One of my favourite Valentine's desserts is on page 109 of Mad About Macarons: a giant rose macaron with rose and raspberry cream, topped off with a heart macaron.  For those of you who adore lovehearts, then check out How to Make Macaron Heart Shapes. This year, so far, there are no love heart shapes in sight; unless this edible winter pansy counts.
Instead I was tempted by a blackcurrant (cassis) bavarois recipe in Pierre Hermé's Dessert Book (my pride and joy prize for winning a local  French Pâtisserie competition a few years ago with my pistachio and wasabi macarons). It's a French answer to the Italian panna cotta (see this rose, cherry and cardamom panna cotta recipe). What I love about this dessert is that it's packed with fruit and at this time of year, I just used a mix of frozen red fruits. If using frozen, there's no need to defrost them first; just throw them in the blender and follow the recipe below. Except I have played around so much with the recipe, it's reduced in sugar and I've eliminated the butter.
Red Fruit Bavarois Recipe
You'll need silicone demi-sphere moulds or other shapes will also work well, such as dariole moulds.  If not using silicone non-stick moulds, then butter moulds first. This recipe is gluten free.
Serves 4-6
Preparation Time: 15 minutes
Cooking Time: 10 minutes
Chilling Time: 3 hours
400g mix of red fruits (fresh or defrosted)
4 gelatine sheets @ 2g
140g caster sugar
1 sachet vanilla sugar
1/2 tsp ground cinnamon (or mixed spice)
400ml crème fraiche (30%)
1      Soak the gelatine sheets in cold water for 10 minutes.
2      Wash and drain the mixed red fruits and whizz them to a purée in a blender or food processor.
3      Heat half of the fruit purée with the sugars and cinnamon then add the gelatine (squeezing first any excess water). Mix in the rest of the purée and the crème fraîche then pour into demi-sphere silicone moulds (I poured into 5 half-sphere moulds, right to the top).
4      Set aside to cool then chill in the fridge for 3-4 hours to set.
5      When ready to serve, quickly run the bottom of the moulds under the hot water tap then upturn them directly onto each plate (I do this with the help of a pastry scraper).
Serve with white chocolate, rose and orange blossom mousse.
It went down a treat with a mellow sexy red wine. You think I'm joking but this Sexy bottle is Portuguese wine.  But to be THE sexiest and perfect Valentine this weekend, make your own home-made macarons.
http://madaboutmacarons.com/wp-content/uploads/2014/02/red-fruits-bavarois-dessert-rose-macarons.jpg
600
800
Jill Colonna
http://madaboutmacarons.com/wp-content/uploads/2015/04/logo-mad-about-macarons.png
Jill Colonna
2014-02-12 17:12:10
2017-01-30 14:12:27
A Sexy Valentine Dessert Recipe with Parisian Macarons