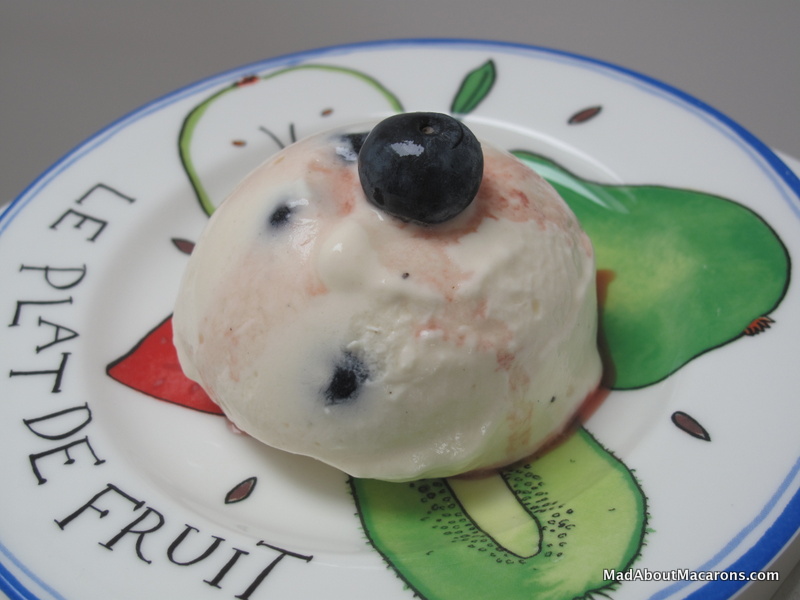 It has been a while since I posted an egg yolk recipe on le blog. As readers on Facebook confirmed they'd like to see more yolky recipes, here's a continuation of  the series, all in the interest of saving the egg whites to make Parisian macarons.
Leafing through the pages of French magazines for yolk recipes, I was intrigued by this one. It mainly uses a low fat fromage blanc – something I'd normally eat on its own with a sprinkling of sugar or with sweetened chestnut purée – so it's a much lighter version of a pure cream ice cream.  It's also a no-bake ice cream. For those of you at this stage flapping your arms about in horror, there's absolutely no harm in using raw egg yolks and freezing them in with the cream, as long as you use fresh eggs that have been stored in the fridge. What's more, it's dead easy and quick to make and doesn't require an ice cream churner.
The recipe calls for raspberries and raspberry syrup or liqueur, but I only had strawberries and blueberries.  As strawberries are so full of water, I picked the blue balls with a crème de myrtilles (blueberry liqueur) so not to stray too much away from the recipe.  Blueberries, though, don't have that much flavour, do they?
The recipe said to use a 1.5 litre cake mould but, as the photo in the magazine presented an individual portion, I used my favourite silicone moulds.  I managed to fill 6 spherical and 6 briochette (or muffin) moulds.  Instead of making a coulis, I simply dribbled over some more blueberry liqueur, which melted the outside a bit quicker.
Next time I would replace half of the sugar with honey to balance out the tart yogurty flavour.  If you do this, please let me know what you think.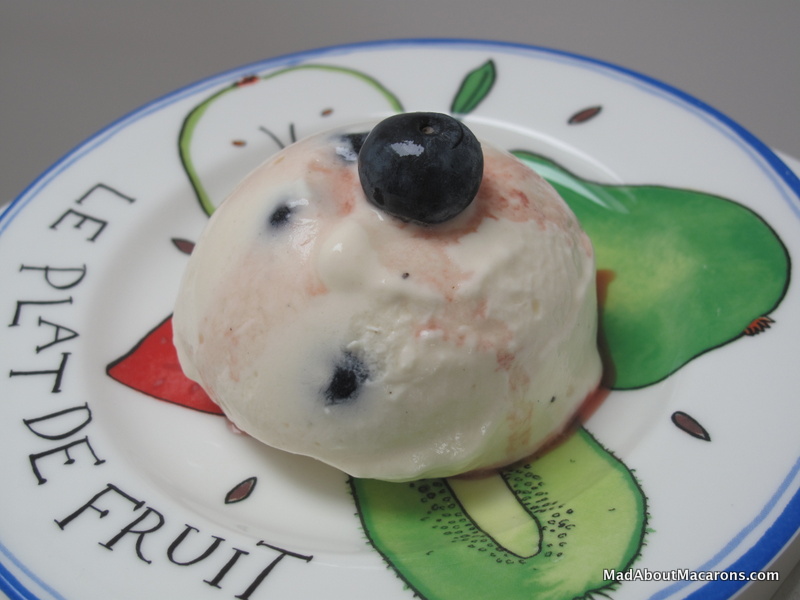 Fromage Blanc No-Bake Ice Cream with Raspberries
Express recipe adapted from Cornelia Zingerling's recipe in the French book, Cuisiner sans cuisson
extract (Fromage blanc glacé aux framboises) Papilles magazine N°18 April 2014.
Serves 10
Preparation: 10 mins
Marinating time: 1 hour
Freezing time: 4 hours (or 3 hours if using smaller moulds like these ones)
Fridge time: 1 hour (or 30 minutes if smaller moulds)
250g raspberries (I used blueberries)
500g fromage blanc (low fat, I used 15%)
400ml whipping cream
3 egg yolks
100g sugar
1 tbsp vanilla sugar
2 tbsp raspberry liqueur or syrup
Coulis (optional):
250g raspberries
2 tbsp icing/confectioner's sugar
1.   In a bowl, dissolve 2 tbsp sugar in the liqueur.  Add the raspberries and leave to soak for an hour.
2.   In another bowl, whisk the yolks and rest of the sugar until creamy.  Add the fromage blanc and vanilla sugar.
3.  Whip the cream and add to the yolk mix then stir in the berries.
4.   Spoon into a 1.5 litre cake mould and leave for 4 hours in the freezer.
5.   Take out the mould and leave chilled in the fridge for an hour before serving (as I used individual smaller moulds, I reduced this to 30 mins.)
6.   If making a coulis, heat the berries with the sugar until the sugar has dissolved and the fruit turns a bit mushy.  Filter out the seeds using a sieve and set aside to cool.
Don't forget that there are plenty more egg yolk recipes on le blog.
P.S.  Congratulations to Susan, Karen, Judy, Donna, Mardi, Lake Lili, Chantal, Rieko, Camiella and Christopher – the ten Giveaway winners were selected using the Random Integer Generator on Random.com and will receive a roll of MacShapes macaron parchment paper. An email has been sent to them today.  For the rest of you, the parchment paper is still available for sale online from MacShapes.
http://madaboutmacarons.com/wp-content/uploads/2014/05/fromage-blanc-blueberry-no-bake-ice-cream.jpg
600
800
Jill Colonna
http://madaboutmacarons.com/wp-content/uploads/2015/04/logo-mad-about-macarons.png
Jill Colonna
2014-06-02 12:03:33
2016-01-22 16:26:37
Fromage Blanc Ice Cream - Egg Yolk Recipe