Dark Chocolate Lava Cakes with Runny Hearts
How many times have you seen chocolate lava cakes on dessert menus? In Paris, it's just as much a crowd-pleasing classic, particularly in the winter months, referred to as moelleux au chocolat, or fondant au chocolat, referring to its soft fondant centre. But there seems to be some controversy amongst the French which is the softest.  Some say that the fondant is the one with a runny centre and the moelleux is soft but not runny. So how can you ensure you have that runny middle?
The Parisians have it down to a fine art. Call the French romantics but many restaurants entice you with moelleux au chocolat et son coeur coulant, meaning lava cakes with its runny heart.  Just how can you resist that one? Less poetic, I've seen them referred to as simply mi-cuit or half-cooked. It's less sexy but at least you know you'll be presented with dark chocolate oozing on the plate when you dive that spoon into the middle!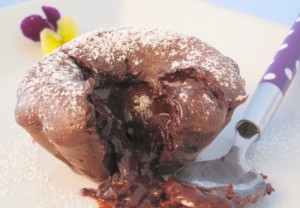 This recipe has evolved over the years, as I've cut down the butter and sugar so that the chocolate shines through.  Please, please use good quality dark chocolate for this!  It's also a perfect recipe to have up your sleeve when guests arrive unexpectedly and you need that wow-factor dessert that's whipped up in no time.  Just prepare this before dinner and pop them in the oven just before dessert.
For a special festive touch, serve with a dollop of whipped cream, vanilla ice cream, or simply some fresh raspberries or slices of mango.  They're also delicious served with homemade chestnut and vanilla ice cream, salted caramel sauce or wow your guests with a scoop of soft speculoos (Biscoff) ice cream from "Teatime in Paris!"