I am so excited.  Not only for hosting my first Guest Post but also launching a NEW SERIES of recipes entirely devoted to using egg yolks.  What better way to kick off the series than with the organic guru herself, Erin, author of BigFatBaker.com.  When I read her blog post the other day that she had found a new passion in eating and making curd, I thought: this is it! EGG YOLKS!  She's brilliant.  As macaronivores, we're always looking for ways to use up these yolks and what's more, we can use curd to FILL macarons, too.
Now sit back and pay attention.  You are heading for Erin's most tangy pineappley curd which you can use to fill your macarons for an extra special exotic touch. Coconut ones would be beautiful, for example.  Like macarons, this curd is gluten free.  Now without my further ramblings, it gives me great pleasure to hand you over to Erin…
Erin, author of BigFatBaker.com :
I am so honored to be a guest here on MadAboutMacarons.com. When Jill invited me to share my egg yolk recipes, I was overjoyed. I can't think of a better place to do my first guest post! This is my first, in a series of three, guest posts on curd recipes – Enjoy!
If you are new to the curd making process, do not worry. Making curd is surprisingly simple! All you have to do is follow the steps, and pay attention. What's even better is the ingredients list for curds is short, and easy to keep organic.
When Jill initially asked me about a guest post I was in the process of making a pineapple curd. Pineapple is one of my all time favorite fruits, and I was intrigued to see if it would be tart and tangy like lemon curd, or more subdued and sweet.
Ultimately, I was pleasantly surprised with how the curd turned out. It is different from lemon curd in the sense that it doesn't use butter. The lack of butter results in a slightly different texture, but it was still smooth and pudding like.
Remember how I said making curd is easy? It is. Promise.
PINEAPPLE CURD
1 medium sized, organic pineapple or 2 ¼ cups pineapple juice
6 large egg yolks
¾ cup white sugar
5 tbsp cornstarch
1.  First, juice your pineapple. Try and get as much juice as you can, you will need 2 ¼ cups.
Slice off the top and bottom, then carefully cut down the sides of the pineapple to remove the rind. Try and remove as little of the fruit as possible!
Cut into 1-inch pieces, and move all pineapple pieces to a blender. Add in 2-3 tbsp water, and blend. You could also use a food mill, or juicer.
You could also use the canned pineapple juice to make things even easier, but I highly recommend the fresh stuff.
2.  Next, in your saucepan, whisk together the egg yolks and sugar. Add in the cornstarch and pineapple juice, and whisk until everything is combined.
3.  Set your burner to low (between 2 and 3 on my stove), and slowly bring up the temperature of your mixture. Over the next 3 minutes gradually increase the heat to medium (about 4 ½ on my stove) while you continue to whisk.
4.  After about 10 more minutes of whisking your curd will be starting to thicken up. Once this happens turn off the burner, remove from the heat, and continue to whisk for 5 more minutes.
5.  Allow the mixture to cool for 5-10 minutes before pouring into the jars. And you are done!
You now have fresh, organic pineapple curd to fill macarons, cakes, or eat by the spoonful.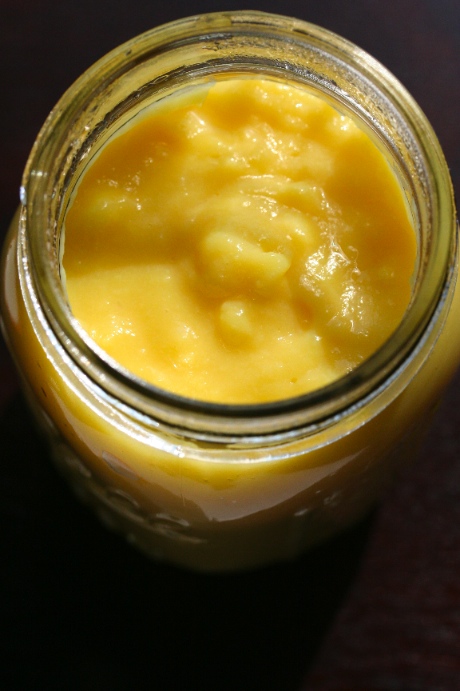 Thank you so much, Erin.
Don't forget to check out Erin's blog at BigFatBaker.com and say bonjour from me, ok?  She has many more gorgeous organic recipes to share with you.  She also has the most delicious organic raspberry curd.  I can tell you're going to share a curd passion, too, very shortly…
https://madaboutmacarons.com/wp-content/uploads/2011/04/pineapple-curd-jar.jpg
460
691
Jill Colonna
https://madaboutmacarons.com/wp-content/uploads/2021/05/logo-mad-about-macarons.png
Jill Colonna
2011-04-08 15:56:17
2015-03-25 12:58:16
1st Guest Post: Pineapple Curd