It was a sign:  a Scottish saltire traced onto such dazzling blue Parisian skies this week by the routine planes rumbling over us, to and from Charles de Gaulle Airport.
It was another reminder of this month's historic Scottish referendum that has created such a powerful and passionate impact on a country that was already once independent.
I've never been into politics much but, hearing many lively debates and enthusiasm about the subject, it became increasingly frustrating that I couldn't vote as a Scot living in France.  I could hear the same calls from my fellow Scots living in England, Wales or Ireland.  A familiar remark from friends and family, who were either for or against an independent Scotland was, "Well, my heart wanted to vote Yes to Scotland being an independent country; but my head told me it was better to stay together with the UK". With such a close winning vote of 55% to stay in the UK, the Scots have perhaps been divided on the results but as we could think that the Yes voters are upset – or 'gutted' as I heard on BBC radio the day of the results – the debate continues.
"We're not crying into our porridge yet."declared my Uncle David, a proud Scot from the Shetland Islands. "We're just delayed a bit", he said, as thousands of Scottish flags were being waved in Glasgow and Edinburgh this weekend, showing their excitement at how quickly they've received so much enthusiastic support.
Another Scottish sign came via Jamie Schler's recent whisky recipes on her blog, Life's A Feast: with a beautifully glazed Honey Whiskey Bundt Cake, and her celebratory Whisky Soufflé.  It occurred to me how little I cook or bake with Scottish Whisky.  Admittedly, the last time I added it was to coffee macarons (the recipe for Café MacWhisky is in the book, by the way).  These macarons make an excellent accompaniment to this whisky toffee frozen crème brûlée dessert, a recipe I'd ripped out from Mum's pile of Sunday Times mazagines this summer when in Edinburgh, as it's an ideal egg yolk recipe for all of you macaron lovers.
While the recipe below calls for American Bourbon whiskey, I've opted for Scottish Whisky.  Both are slightly different in flavour and they have different spellings: in Scotland and the rest of the world it's always referred to as Whisky but in America and Ireland it can be Whisky or Whiskey, depending on the producer's chosen spelling.
On another note, there was yet another sign this week: I need to hide any macarons that are lying out for photos.  I quickly took this one with just three chocolate macarons that were left, salvaged before they were also pounced on from the pastry box in the fridge.  But when I went back to continue the photo with the crème brûlée, there were only two.  It's a mystery that one.  The girls say it wasn't them.  Perhaps it was a Scottish ghost?
The recipe asks for a 'shot of bourbon'.  Being a bit lazy, I poured out a small enough shot glass of Ballentine's Whisky (a blended Scotch, ideal for cooking/baking) and threw it into the pan.  It didn't take long to realise visibly that my toffee caramel became rather liquid, so I added more sugar and boiled it up to thicken.  No harm was done, as I ended up with more toffee so dribbled even more on top of the ice cream before freezing.  But for the record, a shot is 25ml.
As I left them in the freezer overnight, caramelising the sugar with the blowtorch hardly melted the ice cream.  That way it was easy to return them to the freezer before serving later. To enjoy them at their best, remove from the freezer 5-10 minutes before serving.
Whisky Toffee Frozen Crème Brûlée
Recipe adapted from the UK's Sunday Times Magazine.  I substituted 1 shot of Maker's Mark Bourbon whiskey stipulated in the magazine with Balletine's Scottish Whisky, but you can use your own favourite American bourbon. The recipe says it serves 4 but I filled 8 ramekins with it.
Serves 8
Preparation Time: 10 minutes
FOR THE CREME FROZEN CUSTARD
2 vanilla pods (or 4 tsp of vanilla extract)
300ml whole milk
300ml double cream
100g caster sugar
6 egg yolks
FOR THE SALTED WHISKY TOFFEE
80ml double cream
20g butter
1 shot of whisky (25ml)
Pinch sea salt
TO BRÛLEE
20g caster sugar
A mini blowtorch
1. Deseed the vanilla pods.  Pour milk and cream into a pan, add the pods and vanilla seeds.  Heat until it almost boils. Turn off the heat and allow the vanilla cream to infuse for 30 mins.
2. Boil the toffee ingredients in another pan, then gently simmer.  Stir for 3 minutes, then chill in the fridge.
3. Hand-whisk the caster sugar into the egg yolks.  Add to the pan with the vanilla cream.  Place on a low heat; stir for 7 minutes until it becomes a light custard.  Cool, then chill for an hour.
4. Take the custard out of the fridge. Remove the vanilla pods from the vanilla cream.  Pour the custard and cream into an ice-cream maker until it has the consistency of soft ice cream.  Turn off the machine and ripple in the toffee, using a spoon.  Scrape the frozen custard into serving glasses.  Freeze for 2.5 hours.
5. Sprinkle caster sugar over the top of the desserts with a teaspoon.  Heat the sugar with a mini-blowtorch until it forms a caramel.  Serve immediately or refreeze until ready to serve.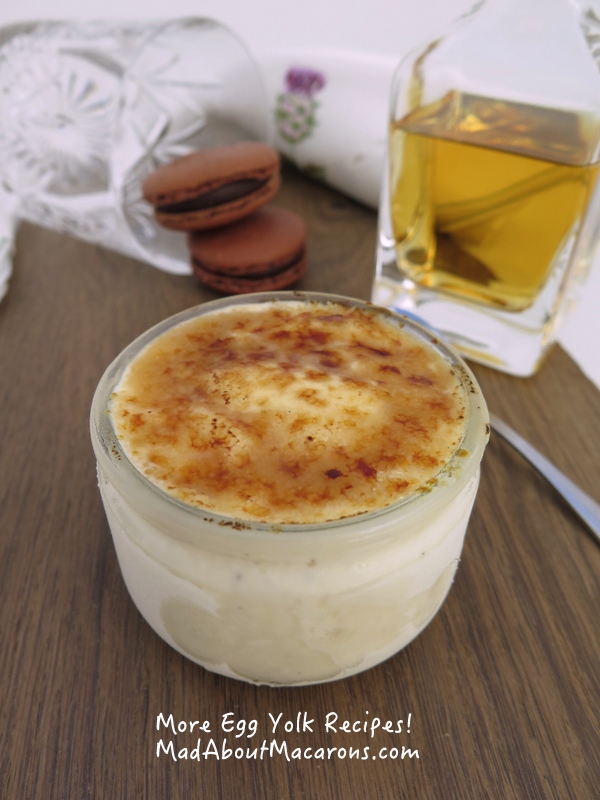 Unlike a classic crème brûlée, where you crack into the caramel directly into the cream, this frozen version makes the hardened caramel even more exciting.  Try it: it's like skating your spoon and cracking into the ice.
To accompany Mad About Macarons' Egg Yolk chapter, check out the database of more egg yolk recipes on le blog!
https://madaboutmacarons.com/wp-content/uploads/2014/09/whisky-toffee-frozen-creme-brulee_opt.jpg
230
306
Jill Colonna
https://madaboutmacarons.com/wp-content/uploads/2021/05/logo-mad-about-macarons.png
Jill Colonna
2014-09-28 16:48:12
2018-04-06 10:19:38
Whisky Toffee Frozen Crème Brûlée