The last time I made this French Apple Custard Tart, I earmarked the recipe and put it aside in a special file called "Best egg yolk recipes: must make for le blog".  That was last autumn.
Luckily this delicious custard tart and I were reunited with me falling on the stairs – there's always a silver lining! A forced foot-rest due to ankle sprain and torn ligaments has had me rather house-bound and frustrated at cancelling pastry and chocolate walks in Paris but an office clean-out has meant that the tempting yolk recipe file has resurfaced from the back of the cupboard!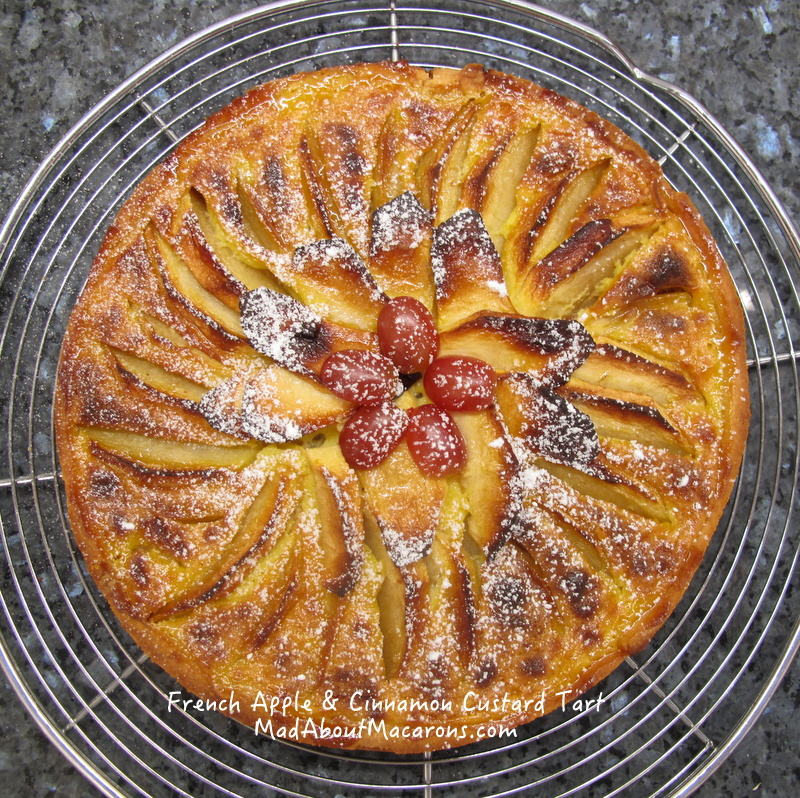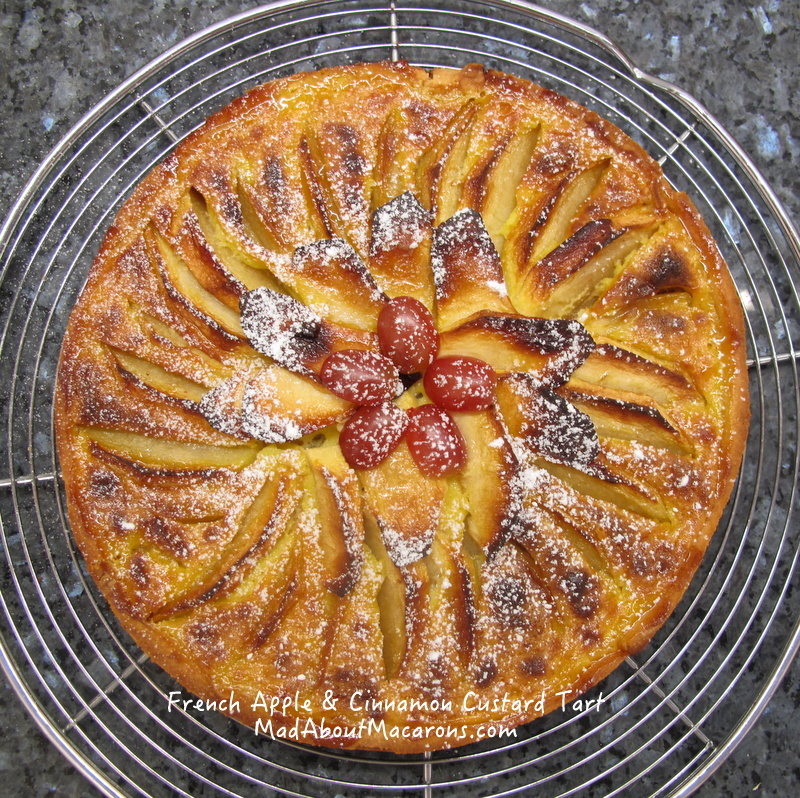 This French Apple Custard Tart recipe is also ridiculously easy – especially if you cheat and buy ready-made pastry.  However, I do urge you to make your own sweet pastry here, as adding that extra touch of cinnamon in the base had even my cinnamon-avoiding husband ask for a THIRD slice.
Techniques such as blind-baking the pastry beforehand is also cleverly replaced by simply laying out the apples and baking them before adding the filling. For macaron, meringue, and financier lovers, then you'll appreciate having another egg yolk recipe up your sleeve and the good news is that this filling uses 4 egg yolks!  The filling couldn't be simpler – just whisk the whole lot together and pour on top of the apples.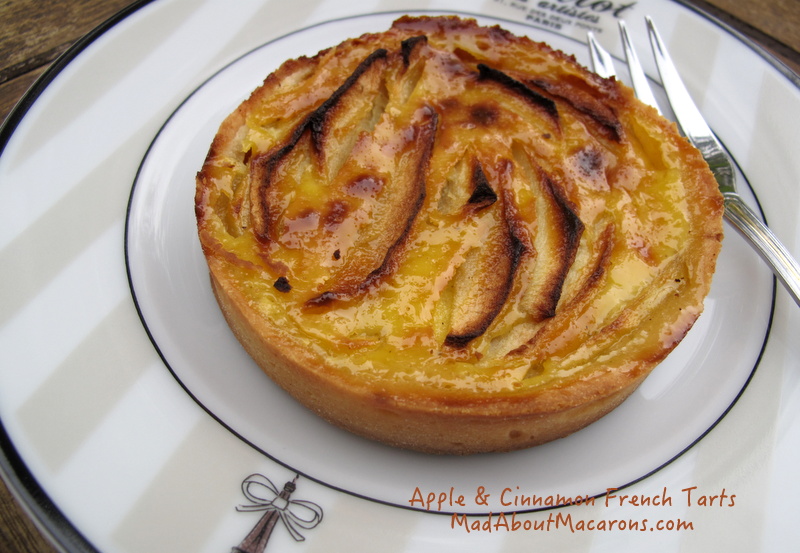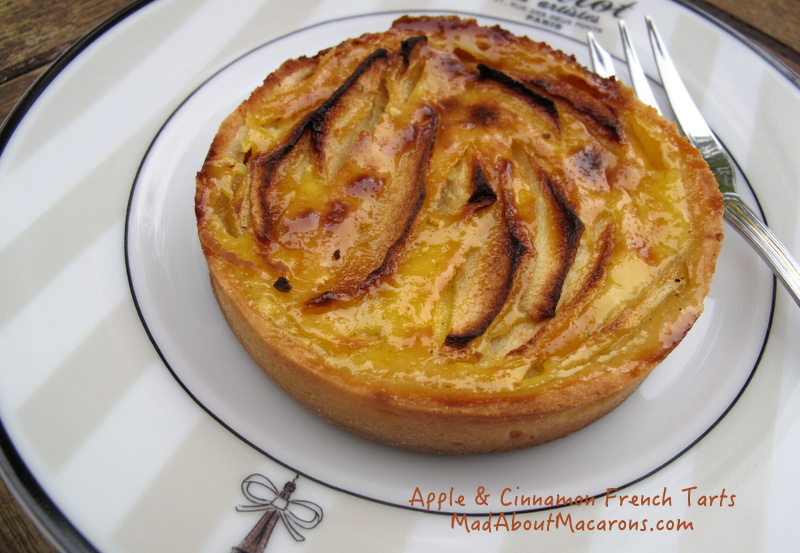 French Apple Custard Tart
Recipe adapted from 'Tarte aux Pommes à l'Alsacienne' in France the Beautiful Cookbook by the Scotto Sisters – with extra cinnamon and reduced sugar in the filling. If you make tartlets, either butter tartlet moulds or use 6 tartlet rings.
Serves 6
Preparation Time: 15 minutes
Cooking Time: 45 minutes
Makes one 25cm tart or 6 tartlets
300g sweet pastry (with 1/2 tsp ground cinnamon)
2-3 apples (Golden Delicious or Cox's Pippin)
4 egg yolks
75g sugar
1/2 tsp ground cinnamon
200g double (heavy) cream
1. Preheat the oven to 210°C/410°F (gas 6 1/2). Butter a 25cm tart tin (no need to butter if using non-stick moulds) or tart ring. Roll out the pastry dough larger than the tart tin (about 4cm larger) and press into the tin. Chill in the fridge.
2. Peel, quarter and core the apples. Cut each quarter into 4 slices and arrange them evenly over the pastry, starting from the outside and overlapping the slices slightly in the form of a rose.  Bake for 15 minutes.
3. Meanwhile, using a hand whisk, beat the egg yolks, sugar, cinnamon and cream.  Pour over the apples and bake for 30-35 minutes (20-25 minutes for tartlets) or until the apples are tender.
No need for any ice cream or cream; just enjoy on its own served warm with a cup of your favourite tea for the perfect Sunday teatime treat.
https://madaboutmacarons.com/wp-content/uploads/2015/10/alsacian-french-apple-tart-recipe.jpg
798
800
Jill Colonna
https://madaboutmacarons.com/wp-content/uploads/2015/04/logo-mad-about-macarons.png
Jill Colonna
2015-10-25 12:48:35
2017-02-03 12:15:32
French Apple Custard Tart - An Easy Yolk Recipe you HAVE to try!