It was an unusual time last week. Only a mere few days after the horrific terrorist attacks in Paris, the already serene and discrete neighbourhood in Paris's chic 16th arrondissement was particularly quiet.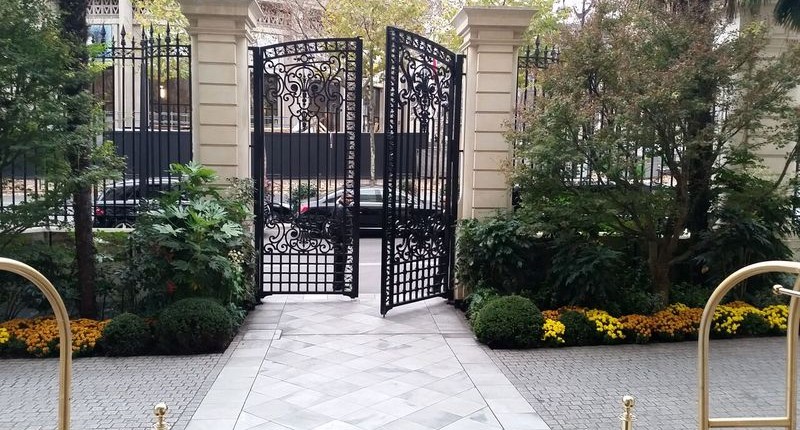 Security was welcomingly tight and the original cast iron gates to the Palais d'Iéna were unusually ajar, but business was open as usual.  I was glad my lunch date wasn't called off as I jumped on the RER train into the City. I just wished more visitors could have shared moments like this, rather than naturally take fright and cancel their trip.
All of us have been shocked, subdued, apprehensive, pensive, confused, but it's time to get back to life and celebrate it, not let terrorism win. So let me whisk you back to Paris where life goes on, and come inside to admire a unique blend of Asian hospitality and French art de vivre.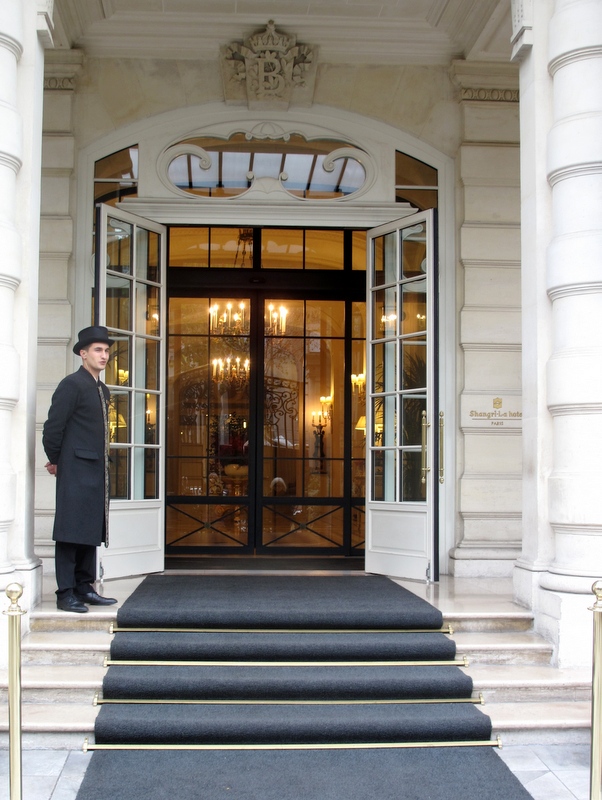 Parisian Palace Renovations
As soon as you walk into the welcoming lobby of the Shangri-La Hotel, it clear that it's not just one of the most elegant Palace hotels in Paris. It's a fascinating step back to 1896 when Prince Roland Bonaparte (1858-1924), the grand-nephew of Napoleon Bonaparte, moved in to his residential home after four years of construction.
Today, thanks to the Shangri-La Hotel – who bought the palace from the French Centre of Foreign Trade in 2006 (it previously belonged to the Suez Canal Bank Company from 1925 amongst others) – the palace opened in 2010 after a mammoth four-year renovation project respecting its French heritage and, since 2009, much of the building is listed as a National Historical Monument.
The Palace retains its mix of 17th and 19th century eclectic styles plus is given a clever, contemporary luxury feel with all the comforts of a modern Palace hotel.
It's no coincidence that the main grand Staircase of Honour looks so regal: it was designed by the Moreau brothers of the Château de Chantilly. The bronze statue of a child holding a torch leads us upstairs to the residential salons.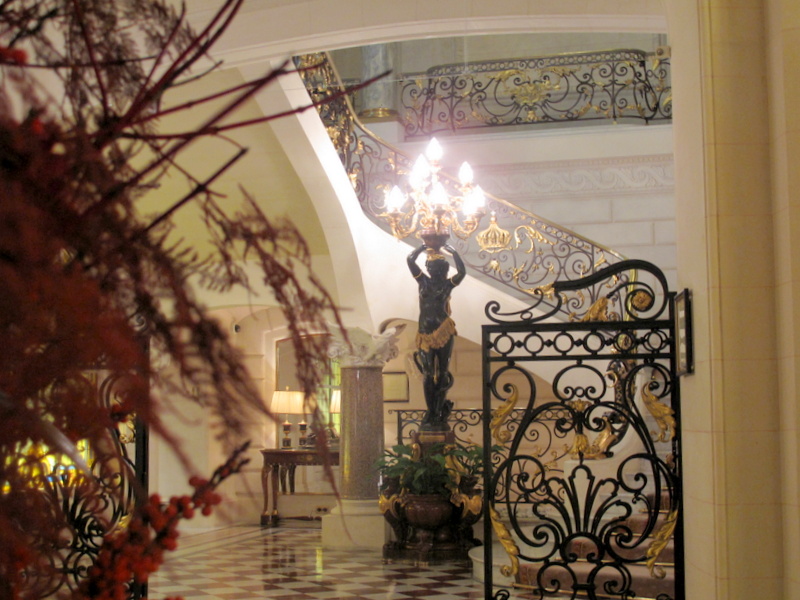 On the first floor with its giant reception rooms, the original marble continues throughout, as does renovated and original wooden flooring, stained glass and the likes.
Grand Salon, Shangri-La Paris
The impressive main reception or banquet space is the Grand Salon, decorated in Louis XIV style. What a venue for a wedding, and just across the landing is yet another terrace looking over at the Eiffel Tower. It's enough incentive to get married again, even to the same husband!
This trumeaux mirror reflects yet another mirror which previously framed a large portrait of Prince Roland's Grand Uncle, Napoleon I (his brother was Roland's grandfather, Lucien Bonaparte).
Signs and Symbols of the Bonaparte Family
Imperial signs of Prince Roland are reminders of the Bonapartes, with recurring eagles and bees of the first and later second empire in the architecture throughout the palace.  Look out for the beautiful bees in the Chimneys – and you'll see them flying around many lush curtains and other furnishings.
But reminders of his presence don't just include the ornate bells and whistles that remind us that he was last male descendent of the Lucien Bonaparte line. Clever clogs Prince Roland was foremost an explorer, geographer and botanist, named president of the Geographical Society in 1910 – a position he held until his death in 1924 at age 66 – plus nominated President of the Scientific Academy.
Forced to abandon a military career due to new legislation in 1886 banning the relations of French rulers to serve in the armed forces, Prince Roland was devoted to botany. He cultivated the world's largest private herbarium (2nd largest in France and 7th in the world), comprised of more than 2.5 million samples of about 300,000 herb and fern species. They were eventually moved to Lyon as there wasn't enough space within Paris' Natural History Museum!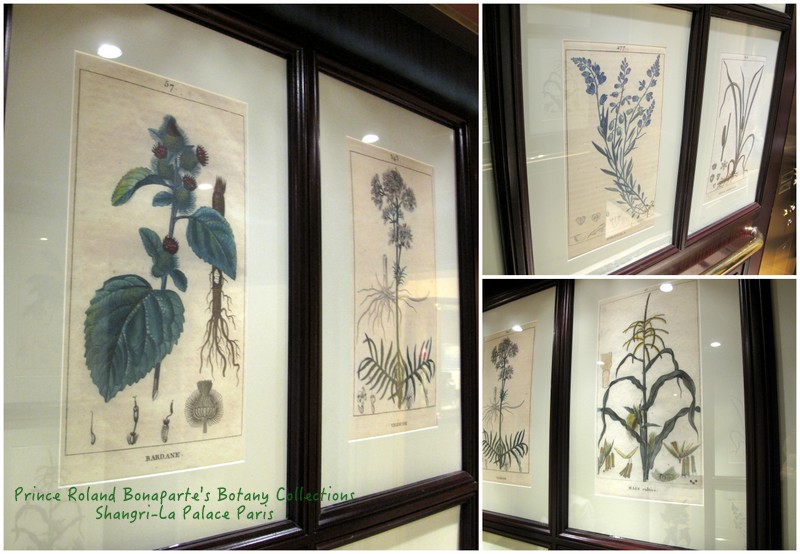 Examples of his botanical collections are showcased in the lifts taking us to the 65 hotel rooms and 33 suites – many of them with unique views of the Eiffel Tower.
I was given a sneak peek at the spacious and bright Chaillot Suite, called after the Chaillot Hill upon which the hotel is located, and is the smallest of the three signature suites. That would do me fine, imagining myself as Julia Roberts sitting elegantly on this wrap-around balcony enjoying the Paris skyline sipping on something festive when the sun goes down and the City of Lights sparkle. But I dreamily digress.
Room With a View on the Eiffel Tower?
Prince Roland wasn't keen on the new Eiffel Tower built for the World Fair in 1900. His private apartments (now the vast Suite Impériale which is also listed with Monuments Historiques) are on the other side of the building, facing Avenue d'Iéna and overlooking the Guimet Museum, which houses one of the largest collections of Asian art in the West.
Is it coincidence? The Prince was particularly fascinated by the Eastern world and his world expeditions inspired him to write one such essay on the rising curiosity within Europe about China and its culture. I bet he would also have had a few things to say at the Climate Conference next week in Paris.
Back on ground to the present, another conference was taking place in the Michelin starred Abeille restaurant, with the view over the pristine garden. Their other restaurant, the Shang Palace, is the only Cantonese restaurant in France with a Michelin Star. But for teatime and for a light lunch or dinner, the social hub venue is here at La Bauhinia.
LA BAUHINIA
La Bauhinia takes its name from the iconic five-petalled orchid flower that graces the Hong Kong flag. This is a contemporary restaurant where creative executive Michelin star Chef, Christophe Moret offers French and South-East Asian cuisine, complete with a popular "100% Green Menu" with constantly varying vegan dishes since the summer.
I chose their signature Asian favourites since, although there are many contemporary French dishes to tempt, I felt the need to turn up the Autumn heat and make a culinary stop in Malaysia with this classic coconut chicken soup with lemongrass, Sup Santan Ayam. On the menu, it wasn't given a spicy chili sign but had just the loveliest, hint of background kick to warm the senses.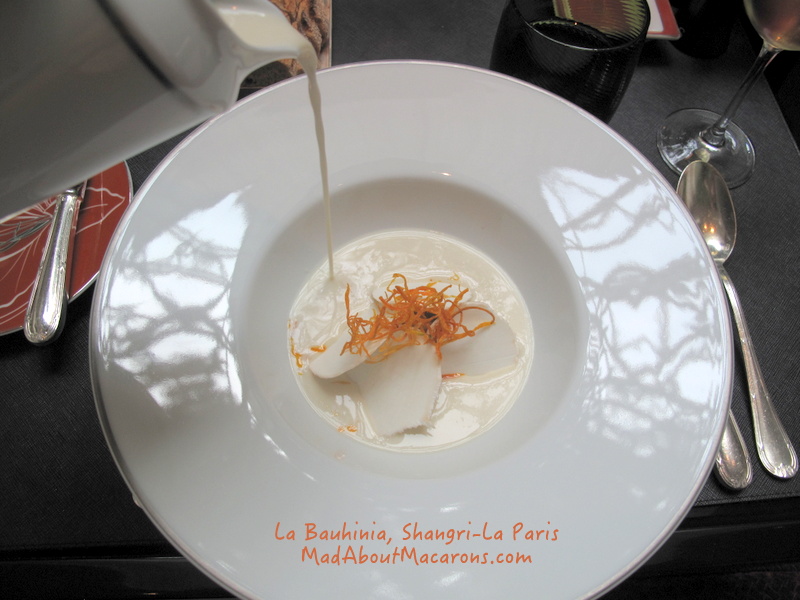 Vegan Menus at the Shangri-La Paris
The menu is beautifully varied and there's temptation for all palates. I'm normally looking at a simple pasta dish on simple bistro vegan menus – but pasta is not always vegan. Instead are such sophisticated offerings: two lightly spiced salads could have also been just the ticket – how about a grapefruit salad with prawns, coriander, peanuts and lime?  The soup went best with the main course, although the vegan options with mushrooms in thin sheets of chestnut with a hazelnut and soy emulsion were swaying me to confuse the waiter.
Even during the darkest of French winter days with a Murano three-tiered chandelier, the natural light still shines through directly from above in the 1930s-era restaurant. During the renovations of the courtyard, this glass and steel Eiffel Tower inspired treasure was discovered completely by surprise behind a false dropped ceiling put in place by the building's former corporate residents.
One of my most memorable dishes was Pad Thai when I visited Thailand.  I had a few of them but only one stands out in Bangkok, served in a banana leaf boat.  This didn't need a boat as Chef Moret's Shrimp Pad Thai just hit the spot and took me back to that special taste with its mix of textures, flavours and colours of rice noodles sautéed with shrimp, scrambled egg, soy bean sprouts, daikon, cabbage, peanuts, lime, garlic, tamarind.
A recommended glass of Savennières, a Chenin Blanc from the Loire, was the perfect partner with such exquisite exotic flavours. It was also the ideal excuse as a sipping break when noodles slipped between undisciplined chopsticks.
Next time, I could catch the waiter for the fish of the day with its saffron and truffle risotto or the Sole Meunière, opt for an Aberdeen Angus steak, or choose from the vegan menu with a pumpkin and squash Tatin with coconut.  If you prefer to light up the winter fire, then the stewed lamb in a Malaysian red curry with coconut would change the inner climate and possibly produce condensation on the coupole glass roof.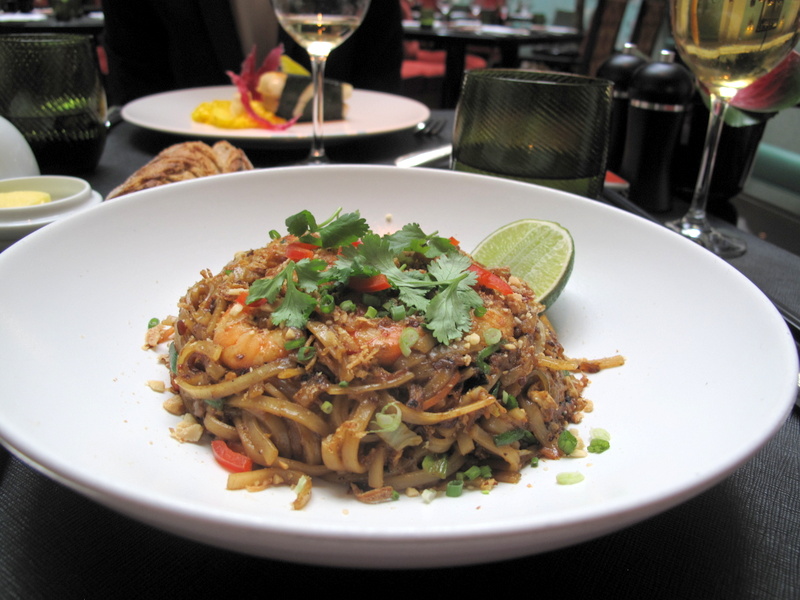 Vegan Teatime Paris
Would you believe I couldn't even manage dessert? How could I possibly turn down a chocolate tart on the menu, exotic fruits or even an Asian-style exotic puff pastry with Tahitian vanilla and spiced caramel?  Perhaps I've been deliciously sweetened out, tasting and testing so many of the recipes before Teatime in Paris was published!
Instead, I was surprised with a mini-tasting of the most innovative and healthy vegan French pastries, brilliantly crafted by the head pastry chef, Michaël Bartocetti, who joined the team in June 2015.
Following nearly three months of research, chef Bartocetti recently introduced these healthy pastries which not only use seasonal products, but eggs are cleverly replaced by vegetable proteins; non-refined sugars (such as coconut oil and maple syrup) are used; and there are no additives. Flour is replaced by a range of chestnut, buckwheat "flour" (I say flour but chestnut is gluten-free and so is buckwheat which isn't wheat at all – it comes from the rhubarb family!). Milk is replaced by homemade vegetable milks (almond, soya etc.)
About ten pastries fall under this vegan, lactose-free, gluten-free choice.
As for the other exquisite-looking vegan pastries, including this Chestnut and Blackcurrant Mont-Blanc (uses no egg whites), I'll just have to save my appetite for another visit or perhaps I may have tempted you to get there before me.
As of 28th November, the hotel will be glowing with festive cheer and holiday magic – and, if you're lucky to be in Paris between 5-25 December, I hear that Chef Michaël Bartocetti has created a special "Christmas Sphere" yule log!
Shangri-La Palace Hotel Paris
10 Avenue d'Iéna
75116 Paris
Tel: 01 53 67 19 98
La Bauhinia Restaurant
Reservations: 01-53 67 19 91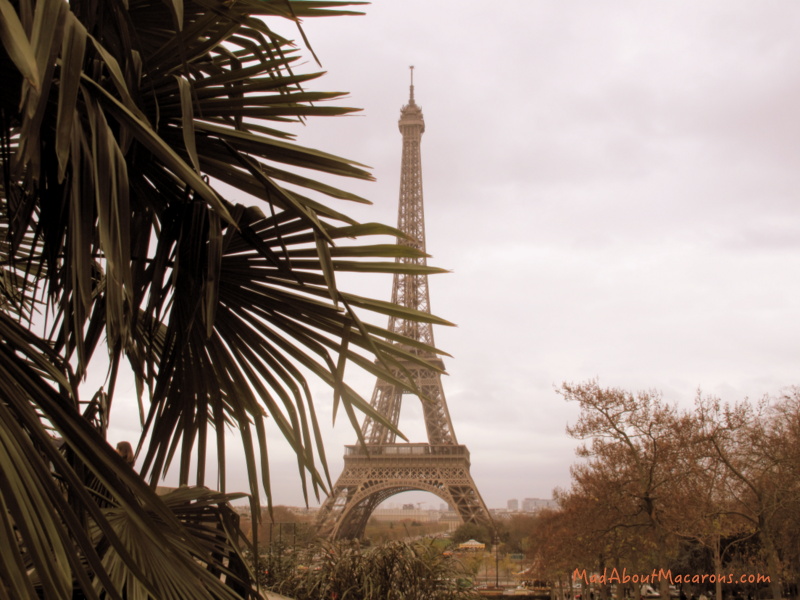 With sincere thanks to the Shangri-La Paris for sharing such an enlightening bite of French history.
Vive la France, its heritage and cheers to the French art of living!
https://madaboutmacarons.com/wp-content/uploads/2015/11/lunch-vegan-afternoon-teatime-shangri-la-palace-hotel-paris.jpg
554
800
Jill Colonna
https://madaboutmacarons.com/wp-content/uploads/2021/05/logo-mad-about-macarons.png
Jill Colonna
2015-11-26 12:24:16
2021-01-21 14:57:52
Vegan Teatime Tour of the Shangri-La Palace Paris