Who said that a French Clafoutis should be made only with cherries? Cherry season has perhaps started in France, but let's first celebrate the most sweet, shiny seasonal strawberries with a Strawberry Pistachio Clafoutis. 
With some desserts, I'm fussy – especially with French Clafoutis, a speciality of the Limousin in France. In my honest opinion, a clafoutis is a light, set eggy custard that's perfumed with fresh seasonal fruits (traditionally made with cherries – see this classic Cherry Clafoutis Recipe with a hint of almonds) and not a stick-to-the-top-of-your-mouth heavy cake-like dessert that can taste of too much flour.
I urge you to try this twist to the classic – not unlike the Raspberry Clafoutis with Lemon Verbena – where I've replaced the flour with fragrant pistachios.
Strawberry and Pistachio Desserts
If you've been following the recipes on le blog, you'll notice that strawberry and pistachio are one of my favourite flavour combinations.
Haven't tried this combination yet?
Then do try this strawberry pistachio panna cotta (serve with pistachio macarons and it's heaven!), or the strawberry and pistachio tartlet recipe from the tart chapter in 'Teatime in Paris'. I'm sure you'll be concocting many more of your own twists with this combination in your recipes.
Fresh Strawberries
The other day at the market in Saint-Germain-en-Laye, I simply got carried away.  Well, tell a Scot there's a promotion or special price for 4 packs of sweet-smelling strawberries and I pounced on these Fraises de Charlotte like they'd go out of fashion tomorrow. Needless to say, the last couple of batches were just ever so slightly fatigué, so baking them at this 'just becoming tired' stage is perfect for making this Strawberry Pistachio Clafoutis.
I do stress that you use fresh strawberries and not frozen for this recipe, so that all the flavours are at their best.
I still can't believe that we've been blessed by the birds spreading a carpet of wild strawberries (fraises des bois) in the garden this year.  I thought that mint in the herb garden took over the other plants, but I'm now surprised to see the strawberries popping up in all nooks and crannies, as we say in Scotland.  They're like tiny voilet-tasting bonbons.
In this strawberry pistachio clafoutis, it's the strawberries that dominate: baking strawberries in this way intensifies the flavours – it's incredible! The pistachio is quite subtle but adds that extra intrigue to the fruit, plus helps to soak up the juices too.
Please note, that for all my recipes, I encourage you to weigh out your ingredients using a digital scale (find out why in this post), so that you have continued successful results each time you make this.
Strawberry Pistachio Clafoutis Recipe
Strawberry Pistachio Clafoutis
Strawberry Pistachio Clafoutis, a delicious twist to the classic French cherry baked custard dessert using sweet fresh strawberries and pistachios to soak up the juices- and it so happens to be gluten free too.
Course:
Breakfast, Dessert, teatime
Keyword:
clafoutis, pistachio, strawberry, gluten-free,
Ingredients
200

g (7 oz)

fresh strawberries

washed, hulled & cut in 2 if big

4

medium

organic eggs

1

organic egg yolk

70

g (2.5oz)

sugar

+ 1 tbsp for the dish

170

g (6oz)

single or pouring cream

50

g (1.75oz)

ground pistachios

(pistachio flour)

few drops

bitter almond extract (optional)

(even better, pistachio extract)

15

g (0.5oz)

butter

for the dish
Instructions
Preheat the oven to 180°C fan/ 200°C / 400°F (gas 6).

Butter a gratin or pie dish and top with about a tablespoon of sugar, shaking the dish to spread it evenly. Lay the strawberries over the surface in one layer.

In a bowl, whisk together the eggs, yolk, sugar, cream, ground pistachios and extract, if using.

Pour this egg mixture over the strawberries and bake in the oven for 30 minutes or until golden brown and cooked in the middle (it shouldn't sink in the middle). I'd suggest placing the dish on baking tray to catch any sticky juices that could run out, if too full.

Set aside to cool and either serve at room temperature or chill in the fridge until ready to serve.
Recipe Notes
Matching wines with strawberries: this is great with a light fruity red such as a Pinot Noir (from Alsace or a Burgundy), or a gamay Beaujolais Cru as it brings out the fruitiness yet light enough not to overpower the dessert. Otherwise a chilled rosé Champagne or New World fizz.
Jill Colonna
Have you made any more of the recipes from le blog or fancy making this French Clafoutis dessert?  Please do leave a comment below or take a picture and hashtag it #MadAboutMacarons.  I love to see your creations on Instagram and Facebook.
Never Miss a New Post!
Sign up for your free email alert, straight to your inbox: choose from daily, weekly or monthly to be informed when new posts are on the website. Your email is never shared and, as always, you can easily opt out at any time at the bottom of every email.
Thanks so much for popping in!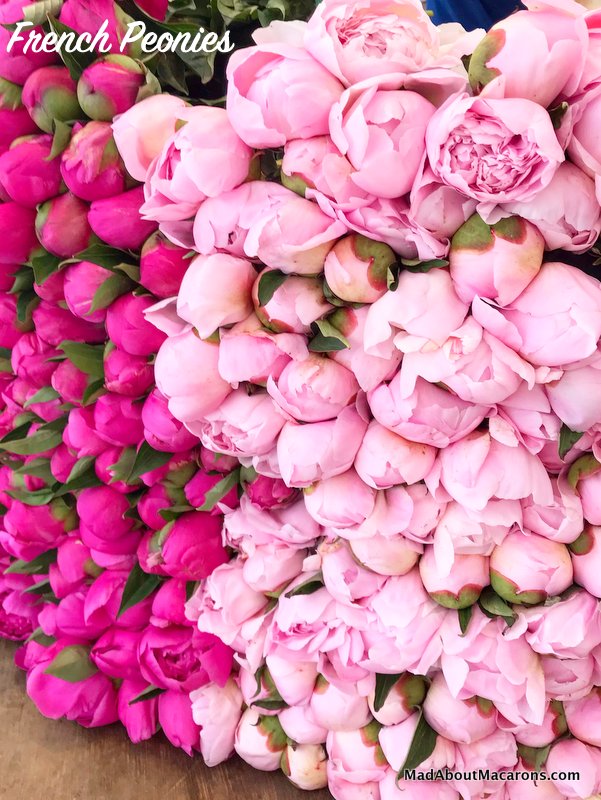 Let me leave you with some peonies I picked up at our local market – to say thank you for following and for making the recipes!  Don't forget there's more on Instagram…
https://madaboutmacarons.com/wp-content/uploads/2018/05/Srawberry-pistachio-clafoutis-recipe_opt.jpg
229
306
Jill Colonna
https://madaboutmacarons.com/wp-content/uploads/2015/04/logo-mad-about-macarons.png
Jill Colonna
2018-05-31 20:40:43
2019-07-01 13:29:32
Strawberry Pistachio Clafoutis