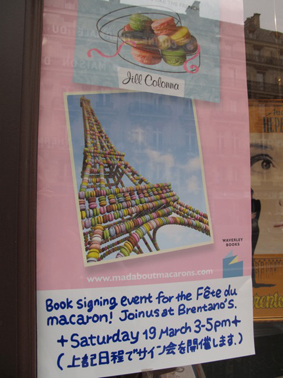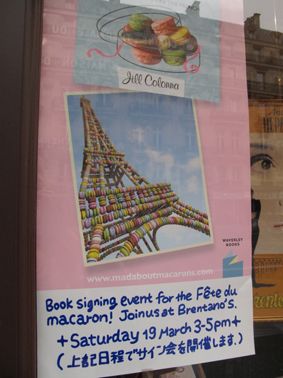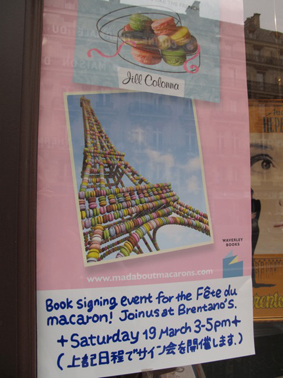 What a weekend. Still recovering, I'm now bunged up with a horrible cold to welcome Spring 🙁  I'm sure some of you heard that it was the Fête du Macaron in Paris.  Did YOU get your dose of macarons?  To honour the fête, Brentano's American Bookstore in Paris kindly invited me for a book event.  Thank you, Catherine! It was a total honour to be there.
It was great fun meeting new curious macaronivores-to-be. I do hope they will stay in touch via the website to say hello and even share their macarons with us!  There were readers from Japan, America, Sweden, Slovenia and even France! I was assured the French liked it in English since it's good for their English practise and what better way to learn through making macarons?  Then the riot police turned up on the Avenue de l'Opéra…
Had they perhaps heard about the macaronivores in town? 😉
One fascinating lady who was in town over the weekend and who is definitely no stranger to the macaron is Carol Gillott, an artist who paints Paris dreams.  If you don't know her already you soon will via her website, ParisBreakfasts.  Check out her amazing macaron T-shirt for a start.
Hm.  It was tough choosing from the pastry menu plus the best hot chocolate in the city chez Jean-Paul Hevin. His pastries are show-cased like in a Swatch store.
Following my pâtisserie tasting with Carol, I couldn't resist the temptation to make my own version of Jean-Paul Hevin's chocolate-raspberry macarons back home.
Chocolate-raspberry macarons: I added plenty of pink food colouring into the shells as well as a few drops of natural raspberry essence (I got that at Mora).  For the chocolate ganache, I followed the recipe in the book on page 47 but replaced the teaspoon of coffee with a teaspoon of raspberry essence and added 100g of crushed raspberries into the melting chocolate (even better, Picard in France do bags of frozen crushed raspberries when it's not in season.)
To add even more raspberry flavour, I've discovered a brand new line of natural mini square fruit pastels that are to die for called "N.A. (Nature Addicts)".  They're everywhere in Paris just now at the check-outs and the kids are crazy about them. Just slip one on top of the ganache and add a bit more ganache on top of the square before putting on the top macaron shell.  Wait for 36 hours and you'll see why you need to wait before eating them.
For those of you who missed the Fête du Macaron, it's not too late! There's still time before Sunday 27th March to enter our Giveaway.  To celebrate Waverley Books are giving a copy to FIVE lucky winners, so don't just sit there: pass on the macaron word…
Now it's time to nurse that cold. They say that when you have a cold you need to feed it, right?  So I'm doing just that and with plenty of garlic.  Last night I started with an extra-garlic-infused recipe for sweet potato gnocchi.  I'm feeling a bit better already.  Just as well there are no booksignings this weekend and you're all far away! 😉
https://madaboutmacarons.com/wp-content/uploads/2011/03/poster-booksigning.jpg
378
283
Jill Colonna
https://madaboutmacarons.com/wp-content/uploads/2015/04/logo-mad-about-macarons.png
Jill Colonna
2011-03-24 13:11:10
2015-03-27 20:28:37
A Mad Macaron Weekend in Paris