Somehow each year, Easter still takes me by surprise.  We're not talking chocolate eggs in the Paris shop windows, we're eyeing all the chocolate fish and friture that float around the vitrines in time for the 1st April. 'Poisson d'avril!' my youngest cries, as I feel a delicate pat on the back shoulder.  If you're any decent April Fool in France, you'll probably be sporting a school of colourful paper fish taped to your back.  Two years ago was my record: I was modelling a mobile primary school wall.
These days, boulangeries find other inventive ways to display chocolate fish: what about in the shape of a brioche?
Fritures have always fascinated me.  They're miniature sculpted fish and seafood in chocolate.  Why all this fish at this time of year?  Well, apparently it goes back to the 16th Century under Charles IX reign, who changed the New Year to the 1st January.  Until then in France, the New Year started around 1st April and was celebrated by fresh fish to bring in the Spring (following the zodiac sign of Pisces, perhaps).  As not everyone was au courant with this new calendar, jokes gradually poked their April fools and started the custom of pinning fish on their backs.
What a clever cookie, coming up with a chocolate cat?  He gets the fish, does he?
Meanwhile, each chocolate boutique of Patrick Roger displays his creative genius throughout Paris. Everything you see in the window is sculpted in Venezuelan chocolate – even the snails, but my favourite element are they eyes. Roger's famous glistening bright green chocolate eye-resembling balls are what earned him MoF (Meilleur Ouvrier de France) status.
As most chocolatiers piece two half egg shells together, Roger uses them instead as ears.
True, the traditional eggs are still everywhere.  Many chocolatiers offer personalised versions; is it to avoid fighting over whoever it belongs to?  Personally, I'd just go for a giant nest egg.  This one has my name on it.
Served with a hen teapot, of course. Ideal, as I feel a right maman poule these days, looking after my teenagers!
There are not many Easter bunnies in the shop windows.  We normally have the Easter bunnies but in France, it's the bells from the Vatican that distribute the chocolate.  I've never quite got my little head around that one. Neither have my kids. If anyone can explain, I'm all ears.
The choice is huge.  Where would you start?
Hens, turtles, ducks, bunnies, fish, bells, bears, chicks, cats and sheep.  Whatever next?
More easter egg ears and googley eyes at Pascal le Gac in St Germain-en-Laye.
Rather not count your chocolate chicks before they hatch, though?
While I'm waiting for Easter next week, I'll just chew on a few macarons with some chocolate pioupious.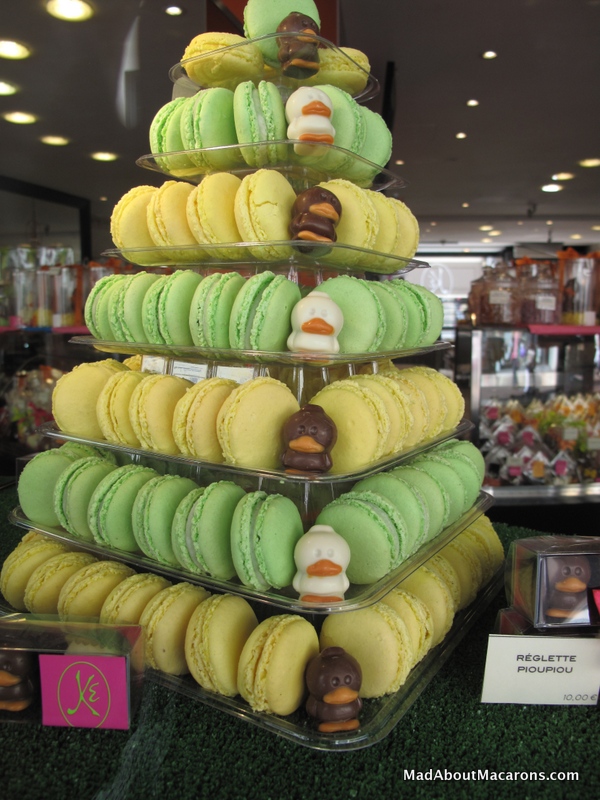 Here's sone chocolate macarons I made earlier for those who haven't seen it (posts get lost on Facebook these days!) with mendiant Easter bonnets.
Our Easter bunny is well trained this year.  All because the lady loves…. chocolate macarons.
What tickles your fancy this Easter?
Happy Easter!  Joyeuses Paques! 
https://madaboutmacarons.com/wp-content/uploads/2014/04/chocolate-fish-poissons-davril-easter-windows-paris.jpg
800
600
Jill Colonna
https://madaboutmacarons.com/wp-content/uploads/2021/05/logo-mad-about-macarons.png
Jill Colonna
2014-04-09 12:44:08
2016-01-22 16:34:36
All Eyes on Chocolate Easter Windows in Paris