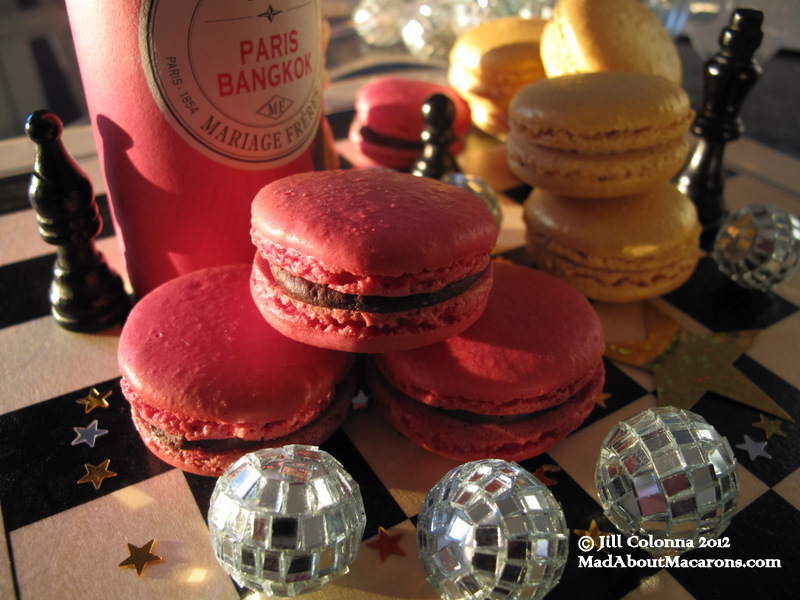 A few days ago, I fell in love with some dazzling upbeat music on the car radio. I had never heard it before. For a few seconds, I felt the trendiest Mum: the car speakers were put to the test and down zipped the car windows as I casually picked up my daughter from collège. Dude. As Julie approached the car she shuddered, begging for a speedy getaway.  Mum? 'One Night in Bangkok'?  But that's ancient!  Where was I?
Granted, I was not a trendy teenager in the 80s; playing in orchestras and excited by Stravinsky, Brahms or Dvorak rather than discovering Murray Head from Chess in the Charts could be considered downright nerdish. Then again, when Shirley Manson's sister (that was cool) asked at choir practice if I'd been to see 'Grease', I remember the cringing confusion as I said I'd never been – which was a pity, especially since I adored moussaka.
Boom. That was it!  After my daughter's 'boum' before Christmas, it was our turn. It may have been the end of the festivities of Christmas and New Year but last weekend we discoed back to the 80s. It was time catch up with friends, put on our red shoes and dance away the January blues. One girlfriend took it literally: I'm still in awe how she managed to wear her 20cm-heeled red sparkling Bowie shoes without keeling over. Another friend simply wrapped aluminium foil around his training shoes: great idea! My favourite gear in the 80s was the all-in-one jumpsuit but as it was difficult to pin down again (just as well), I found one quickly on the internet.
When my brother saw the party wig on Facebook, he thought I'd bought a dog. It wasn't a dog but whatever it was, it was on top of my head most of the evening and I can tell you that it was sizzling underneath. So sweltering, that I dared take it off later and reveal the soggy dishwater blonde mop underneath. By that time, with the dancing and sweet (why did I want to write that with an 'a'?) macarons served, who cared?
On the 80s food front, apparently microwave popcorn appeared in the USA but hey, we also wanted to serve up chic stuff.  So out came my good old favourites with easy recipes to prepare in advance: macarons and mini chocolate-beetroot fondants. On the day: ginger & cardamom panna cottas with rhubarb compôte, plus a huge batch of caramel-orange knitted-looking chouquettes (mini sugared choux buns).  We did serve up savouries, though. Try garlic snail toasts for starters, smoked duck and raspberry mini salads, Crab, Ginger & Coriander gluten-free quiches, Macsweens' Haggis balls with whisky diane sauce … and mini mad macs.
In the 80s, Mum and Dad went exotic with the latest Vespa curry mixes. So, some mini tikka mac'salas were a must to add some 80s pizzazz to hand around with drinks.  In making the curry macs (recipe on p.100), I should practise what I preach and done what I suggest in the book: use a disposable piping bag for piping out the curry filling. Now just look what I did: here's what can happen with a potent curry filling mixing with a not-so-hot piping bag hooked up on the kitchen window (mac hook – it's handy for drying it quickly.) I completely forgot the fresh coriander for the curry macs, so instead augmented the chili dose; don't ask me why, but just as well they were tiny since they were hot, man!
My camera is not great. Unless you're a static macaron and taken in the daylight, a Canon G10 is no use for night time and parties. It's a crying shame there are no decent photos, since all 30 of us had so much fun dressing up and dancing. Then again, it's probably for the best that they're censored! If anyone knows me, I never have any New Year Resolutions but I'm putting in a quest for a new camera, just in case hubby ever reads this. I never bought these shoes near Place Vendôme – just gazed at them – if that helps my case.
This post is dedicated to MacTweets – as this month the MacAttack #26 Challenge was for Razzle Dazzle Macarons: featuring the Ostentatious with glitzy, dazzling and starry macarons. And being MacPassionate (love it, Deeba and Jamie), the party included One Night in Bangkok with some classic Madagascan Vanilla macarons – dusted with gold edible lustre to give it the in every golden cluster look from the Chess 80s musical.
For an unexpected twist to dark chocolate macarons, I infused some Paris-Bangkok tea from Mariages Frères in the chocolate. The colour was purely to match the packaging, but I'm sure that it had something to do with the tea's dazzling hints of red fruits, steamed pudding fragrances, and slight bubble gum tinges.
It perhaps wasn't Bangkok but it was One Night Near Paris and it rocked. I'm already planning the next one. We need more parties to chase away the winter blues, don't you think? Vive starry nights, great friendships, laughter and loads of fun!
Now I just need to keep a lower profile when picking up my daughter from school – unless you can give me some clues to the latest trendy numbers before the next move…
https://madaboutmacarons.com/wp-content/uploads/2012/01/disco-macaron-fever.jpg
600
800
Jill Colonna
https://madaboutmacarons.com/wp-content/uploads/2021/05/logo-mad-about-macarons.png
Jill Colonna
2012-01-15 09:55:40
2021-02-19 15:49:27
One Night in Bangkok: Back to the 80s Disco Macarons