I know. I'm not the biggest fan of cake. But suddenly remembering late on Saturday morning I'd promised to make a cake by noon for our daughters' school Sports Day it was time for quick action. Oh-là-là. We'd scoffed the last batch of macarons and there were none left in our freezer 'bank' (*eye-roll*: it's that macaron ghost-eater again.) With 3 ripe bananas just pleading to be mashed, I couldn't resist altering a classic banana cake to mini cakes resembling more of a buttery almond French financier.
Whatever they are, they pack a sweet boost to take on typical British sports day events: the sack race, three-legged race, tug-of-war and Lucie's favourite, the egg and spoon race. Last year she raced home beaming with bronze and when she told her French grandparents the news, they were a little confused. 'You were running with an egg? An egg on a spoon? In a race? Really that's un oeuf…'
What's so wrong with running and juggling an egg on a spoon?  We do it every day of our lives, don't we?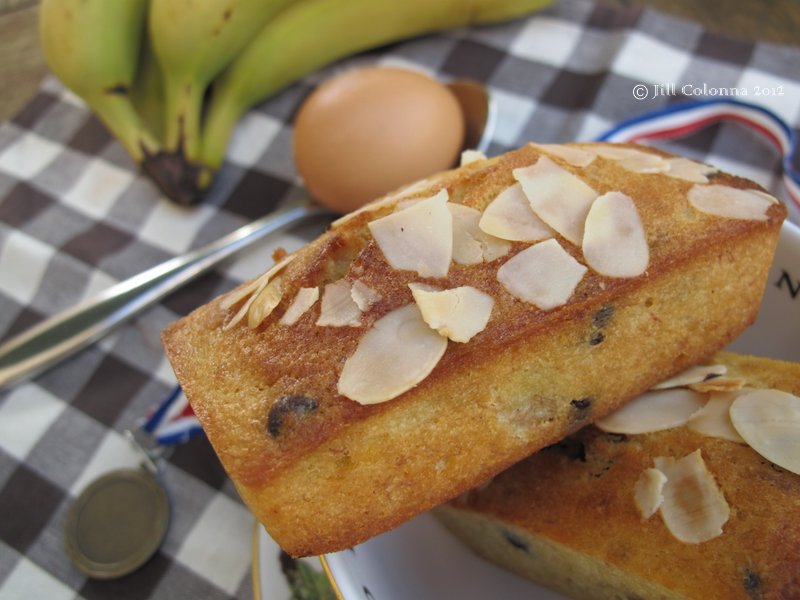 Recipe: Banana, Almond and Chocolate Chip Mini Cakes
Makes enough for a silicone mould of 12 mini cakes or 24 mini muffin moulds.
Wildly adapted from the banana cake recipe from Hachette's mini book of Cakes by Catherine Moreau.
Preparation Time: 15 minutes
Cooking Time: 25 minutes
150g plain flour
120g ground almonds
100g sugar
1 heaped tsp baking powder
100g dark chocolate chips
1 tsp ground cinnamon
2 eggs
2 egg whites
3 ripe bananas
150g melted butter
2 tbsp flaked almonds for sprinkling 
1.  Preheat the oven to 180°C. Mix together all the dry ingredients above, except the flaked almonds. Mash the bananas with a fork and gradually add them into the mix followed by the eggs and melted butter.
2. Pour the mixture into silicone moulds (about 3/4, not fully to the top) and sprinkle with the flaked almonds.
3. Bake for 20 minutes for the smaller cakes and for slightly larger cake moulds, 25-30 minutes.
4. Once cooled slightly, turn the cakes out on to a wire tray.
Eye Twitching Syndrome Version: Use 50g chocolate chips and add 100g chopped, dried apricots.
Have you ever had an eyelid that twitches uncontrollably? Feeling stressed, anxious and with an eyelid that couldn't stop flickering recently, my opthamologist suggested adding bananas and dried apricots to a daily diet. So much for expensive magnesium supplements: a banana and some dried apricots a day keeps the eye twitch at bay!
I'll leave you with a glimpse of the view next to the sports ground where their races took place last weekend. Isn't it so peaceful on the River Seine?
OK, let's get back to running with that egg on a spoon and find a good balance.
You could pick me up with a spoon with all your sweet and encouraging comments that you leave here. Thank you for your motivation to keep running le blog.
P.S. Congratulations to Choclette who was the lucky winner to receive chocolate earrings in the Mad About Macarons Giveaway!
https://madaboutmacarons.com/wp-content/uploads/2012/09/banana-almond-choc-chip-cakes.jpg
600
800
Jill Colonna
https://madaboutmacarons.com/wp-content/uploads/2021/05/logo-mad-about-macarons.png
Jill Colonna
2012-09-20 17:21:27
2016-01-27 18:12:07
Racing with Banana Almond Cakes for the Egg and Spoon