With the Charlie Hebdo event in Paris still shocking us all profoundly, we're definitely turning to comfort food – and this Blanquette de Veau is a real French classic at this time of year.
In the Annex of Mad About Macarons, I have suggested recipes for using up egg yolks before saving the whites for your macarons. This is one of them. Blanquette de Veau is most often translated as Veal Casserole in White Sauce.
'White sauce' doesn't sound too sexy, does it?  Blanquette sounds fancier in French but the English translation just doesn't give it justice.  It even sounds a bit bland.  To me, white sauce conjures up dull images of a plain béchamel sauce with flour, milk and butter.  This casserole couldn't be further from plain!  For a start, there is no flour in the sauce; instead, the casserole is simply thickened by reducing the natural stock at the end and whisking in egg yolks and cream with a flourish of nutmeg and lemon juice.
Why Blanquette de Veau?
Veal Blanquette is a pure and simple French Grandmother's dish which is passed on from family generation to generation.  It's a casserole that's so simple to prepare. "Blanquette" refers to the way it's cooked: there's no need to brown the meat beforehand; instead the veal is just placed in a large pot together with its partners in taste and, as it bubbles away merrily, you can get on with other things.
It's also Antoine's favourite casserole – as long as it's full of flavour.  It has a rich, creamy fragrant sauce with a hint of lemon and, for me, the touch of cloves just gives it that extra touch of warmth.  When it's packed with comfort and flavour, you can see why the French consider it their favourite national stew!  It may be seen as family fare but serve this version at a dinner party and it works – ça marche!
It only really works, however, if you carry out the necessary extra steps at the end, otherwise the taste is nothing like the real thing.  I've seen recipes that just use crème fraîche and don't take the time to whisk up the classic sauce using egg yolks to complete the dish. I've tried them and the resulting taste is well, bland. Let's say it's like making a curry without any spices…
Blanquette de Veau is from our Ile-de-France region around Paris.  My local butcher, Monsieur Le Corre, is passionate about hunting and takes great pride in his best quality meats, often showing me the simplest way to prepare some classic cuts with a different twist (I'll post on this later).  He's also partial to showing off his latest catch, too!  For a blanquette, ideally you'll need a mixture of best quality veal: mainly breast and shoulder. If you can't get good veal, then chicken will also work well (use free-range, if possible) – and I've also seen many fish blanquette versions too.
Take the time in the last couple of steps to thicken the sauce.  Have I stressed enough how important this is? In true lazy gourmet style, however, I cheat a bit in the recipe by using frozen pickling onions from Picard, our favourite French frozen store.
Blanquette de Veau Recipe
Recipe slightly adapted from one of my all-time favourite cookbooks, France: The Beautiful Cookbook – Authentic Recipes from the Regions of France by The Scotto Sisters and Gilles Pudlowski.  This book is full of the French classic dishes – I've particularly found that the savoury dishes are spot-on each time.
Preparation Time: 35 minutes
Cooking Time: 2.5 – 3 hours
1.5kg veal (mixture of breast & shoulder), cut into chunks
1 onion
3 cloves
bouquet garni (1 bay leaf, 4 sprigs thyme, 3 sprigs parsley)
1 leek (white part only), sliced
2 carrots, cut into chunks
250ml white wine
150g crème fraîche
2 large egg yolks (or 3 medium)
1/2 tsp freshly grated nutmeg
grated zest of half lemon (unwaxed)
Garnish:
24 small pickling onions (or use frozen)
24 small button mushrooms (Champignons de Paris)
30g butter
1 tbsp fresh lemon juice
1. Stud the onion with the cloves.  Place the veal in a casserole dish and add the carrots, onion, leek and bouquet garni.  Pour in the wine and add just enough water to cover the meat and vegetables.  Bring to the boil, skimming the surface for the first 10 minutes of any scum.  Cover and simmer gently for 2.5 hours. 
2. About 45 minutes before the end of cooking, prepare the garnish.  Wash mushrooms, pat dry and cut into halves or quarters, depending on their size.  Fry them at first without any oil or butter (my tip – not in the original recipe!) in a non-stick pan until they have given out all of their juices.  This concentrates their flavour.  THEN add 25g of the butter and the lemon juice to them and set aside. Sauté the onions in a small pan with the rest of the butter until golden.
3. Lift the lid of the casserole dish and smell these flavours!  Discard the bay leaf and thyme stalks. Remove the meat and vegetables with a slotted spoon and transfer to a large serving dish, adding the mushrooms and pickling onions.  Set aside and keep warm in a cool-moderate oven.
4. Boil the cooking liquid over a high heat until reduced.  Meanwhile, in a bowl, hand-whisk the crème fraîche, lemon zest, yolks, grated nutmeg, and season with salt and pepper.  Blend in 3 tablespoons of the hot stock then quickly whisk in the yolk mixture back into the stock.  Stir constantly until thickened but do not boil (it will reduce its subtle flavours). Whisk until the sauce is smooth and velvety.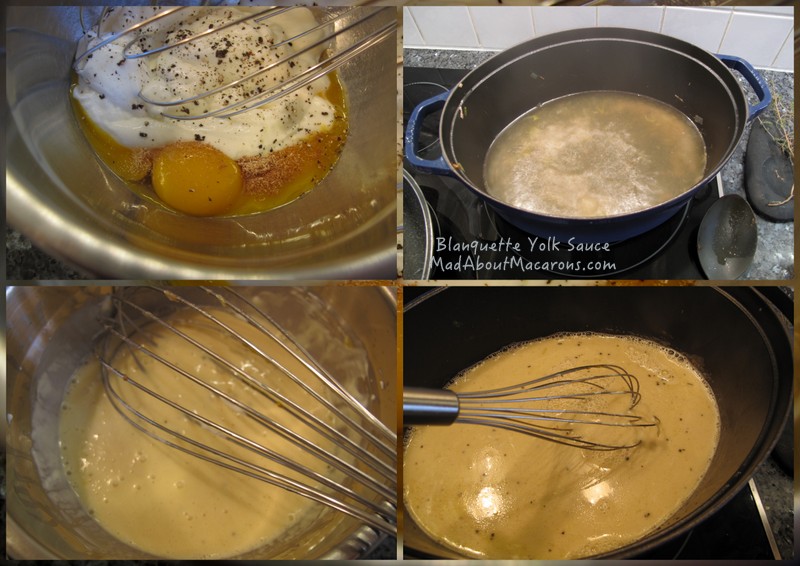 Pour the sauce over the meat and serve with basmati or Thai rice.  This dish is also lovely reheated the next day.  For busy gourmets, this dish can be prepared the day before a dinner party.  Just prepare steps one and two in advance then chill in the fridge.  Make the sauce on the day of serving and voilà!
Antoine loves to serve this with a delicate white wine, such as an Alsace Riesling or Pinot Gris, otherwise a St. Véran, Marsannay or other Burgundy will be fabulous.
Don't forget to pop in and join me on Instagram for a daily dose of more photos, chatter and life in and around Paris.
Update: subscribe to the email alert service, so that you don't miss a recipe or article!
https://madaboutmacarons.com/wp-content/uploads/2015/01/blanquette-de-veau-classic-recipe.jpg
600
800
Jill Colonna
https://madaboutmacarons.com/wp-content/uploads/2015/04/logo-mad-about-macarons.png
Jill Colonna
2015-01-13 18:18:32
2017-01-12 17:35:30
The French's Favourite Casserole: Blanquette de Veau