I'd promised the children a taste of the best ice creams in Paris during the summer holidays.
Straight after our UK Roman trip, however, the unusually dismal July temperatures meant replacing ice cream with homemade vanilla macarons. But as soon as that ball o' fire returned, it was destination Berthillon on Ile Saint-Louis.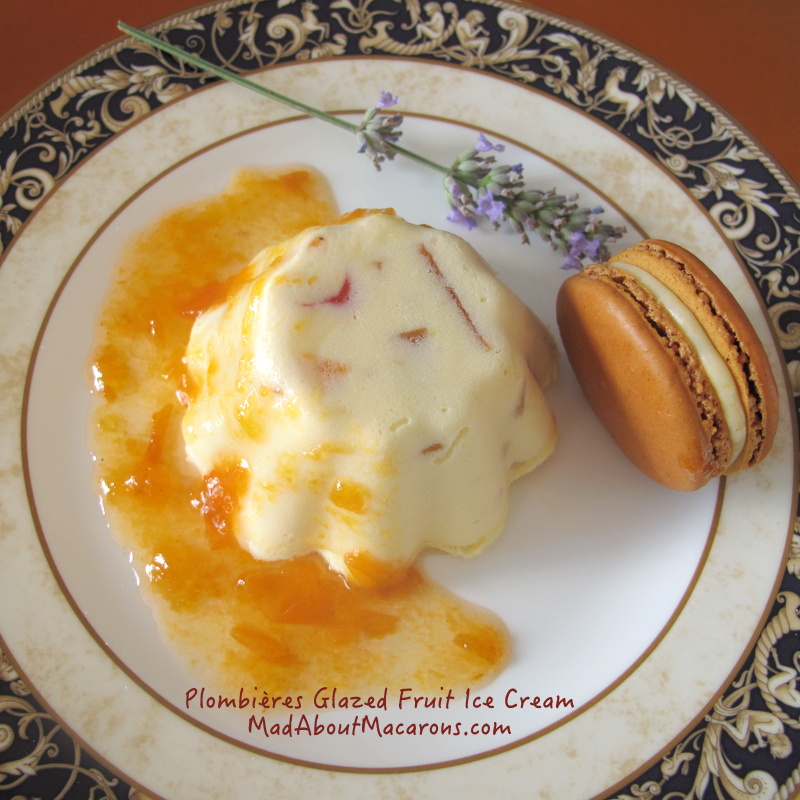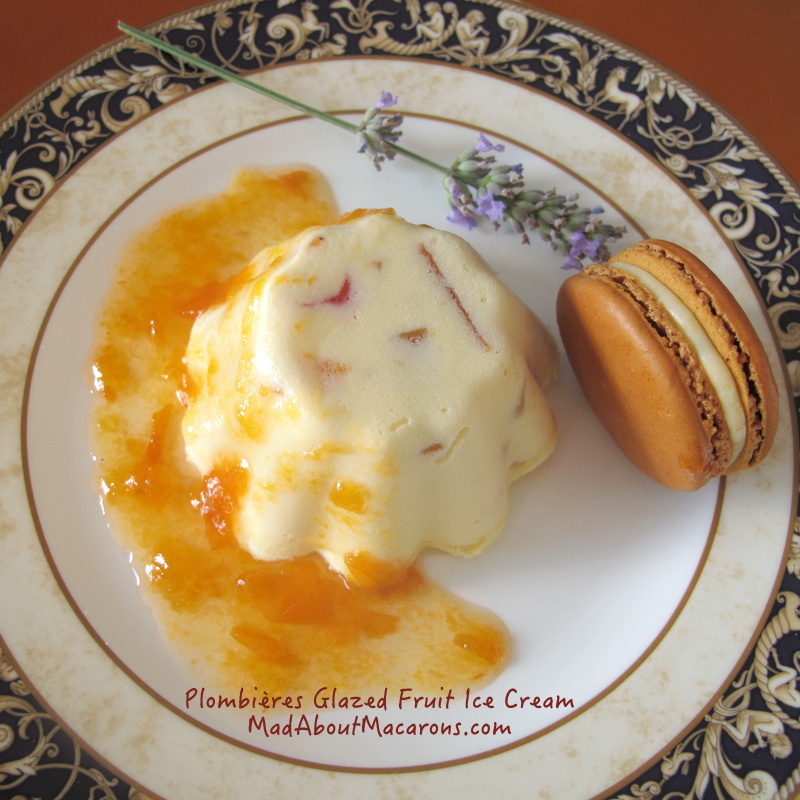 Berthillon is a Parisian institution. So much so that, come August – finally in the wonderful heat of the City of Light – their doors were… closed; shut; fermé; on holidays; en vacances, like most of Paris. Luckily, their ice creams and sorbets were being served by their more commercial neighbours. One of the tempting ice creams on Berthillon's list was Plombières ice cream, packed with candied fruits.
As my lucky French parents-in-law live in the Luberon near Apt, the world capital of candied fruits, I've an excuse to use Mother-in-Law's generous bulk supply from the local Candied Fruit factory: candied orange peel strips, lemon peel cubes, glacé cherries and – my favourite – their candied ginger.
So instead of hanging around Ile Saint-Louis for Berthillon to reopen, it was easier to make Plombières ice cream at home. Reaching for my favourite French coffee-table cookbook, France: the Beautiful Cookbook by Gilles Pudlowski with recipes from the Scotto sisters, that was it. Perfect.
Ten egg yolks? Fabulous: whites for macarons.
Serve with apricot jam? Ideal: I'd just made a batch of apricot and lavender jam.
En plus, the recipe didn't even require an ice cream maker – it's no churn!
So I 'ad-Apt-ed' it, making individual portions for dessert rather than one giant ice cream. This will make a light, fruity, stress-free dessert – and even a handy dessert recipe to have on your Christmas menu.
Plombières Ice Cream Recipe
In 1858 Napoleon III met Count Cavour (Prime Minister of Sardinia) at Plombières-les-Bains in the Vosges department in Lorraine in northeastern France. As they were secretly negotiating the Treaty of Plombières, the local chef came up this dessert and has been a local speciality ever since.
Cooking Time: 25 minutes
Soaking Time: 2 hours
Freezing Time: At least 2 hours
200g (7 oz) mix of candied fruits, roughly chopped
55ml (2 oz) Kirsch
1.5 l (48 fl oz) whipping cream
250ml (8 fl oz) whole milk
10 egg yolks
200g (7 oz) sugar
1 tsp almond extract
250g (8 oz) apricot jam 
Soak the candied fruits in the Kirsch for a couple of hours. Place a bowl in the fridge in preparation for whipping the cream.
Whisk together the egg yolks with the sugar in a large saucepan until pale and creamy. Gradually whisk in 1 litre of the cream and the milk over a moderate heat. Whisk constantly until the custard coats the spoon.
Remove from the heat, add the almond extract and candied fruits with the Kirsch. Leave to cool, stirring from time to time.
When the custard is completely cooled, whip the remaining 500ml of cream in the chilled bowl until it forms soft peaks.
Fold into the custard then pour into silicone moulds. (Here, I used 12 briochette moulds.) Freeze until firm.
When ready to serve, gently heat the jam in a small saucepan. I If you prefer it smooth, strain the bits.Turn out the ice creams directly on to dessert plates. The beauty of silicone moulds is that you don't have to run it under warm water first. See? An easy, handy dessert to have up your sleeve.
And don't forget you can freeze your macarons too – just defrost before serving and voilà!
P.S. It's also apt for gluten free diets.
https://madaboutmacarons.com/wp-content/uploads/2012/10/2-Plombieres-ice-cream-candied-fruits.jpg
600
800
Jill Colonna
https://madaboutmacarons.com/wp-content/uploads/2015/04/logo-mad-about-macarons.png
Jill Colonna
2012-10-02 12:03:00
2017-04-24 14:23:21
Glace Plombières: No-Churn Candied Fruit Ice Cream