I'm back! And to make up for it I'm presenting you with these pumpkin spice macarons!
Oof! It has been a real marathon so it's good to be back finally on le blog. These past few months have been  challenging. Juggling the stress of house renovations, a new bricolage world of riveting French DIY vocabulary has blossomed and I've even dabbled in some interior design (I made the plans for my office). I realised all this work has left its mark when I found myself glancing at the paint and tile colours in a few Parisian pâtisseries before the cakes!
The most exciting project, of course, has been preparing the new book: writing, recipe testing and taking hundreds of photos … all around teatime. I can't wait to share its progress with you very soon but as it's now going through edits and design with Waverley Books, I finally have an excuse to take a tea break and make some pumpkin spice macarons, strictly for le blog and perfect for Autumn!
I've never really understood why the French don't seem to be that much into pumpkin. Last week at the market in Saint-Germain-en-Laye, I even had a lovely French seller – complete with chic body warmer, hair tied back with scarf – ask ME (yes, I kept pinching myself it was unreal) how to cook mini pumpkins (Jack-be-littles) rather than show them off as decorative items for Autumn.
Pumpkin Purée and Pumpkin Spice
For sweet recipes, there isn't any pumpkin purée in the French shops, an ingredient that appears to be familiar with most of my American blogger friends at this time of year.  When I looked up some macaron recipes, there wasn't even any pumpkin in them – instead simply 'pumpkin pie spice', another ingredient that's difficult to find here.  So there was only one thing for it: to make my own pumpkin purée and find a quick spicy alternative.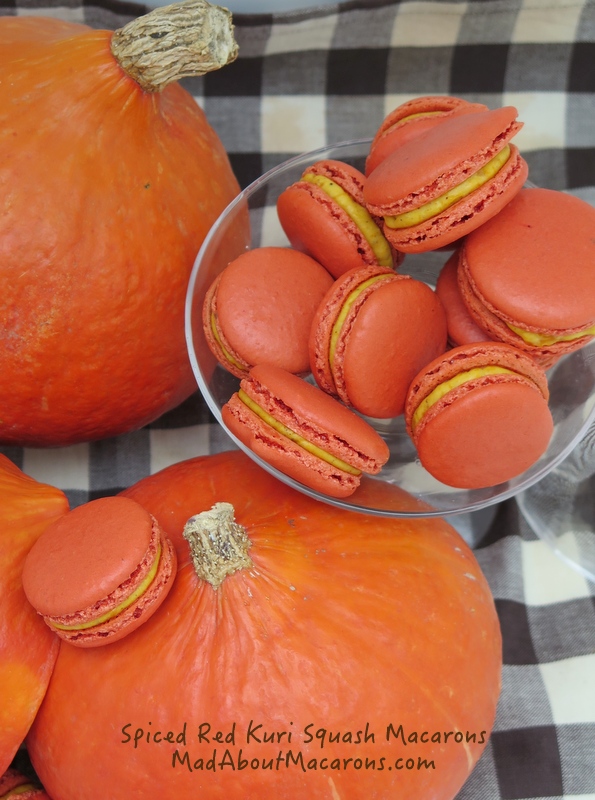 Potimarron Pumpkins
I set out to grab a giant quarter slice of pumpkin, as they're normally sold here. With Hallowe'en gradually becoming more popular here with youngsters, giant Jack-o'-lanterns are also more available than before, ready to carve for this Friday's spooky date.  This year, pumpkins seem to be overshadowed by the smaller potimarron, The Autumn foodie fashion item in the French supermarkets and at our local farmers' markets just outside Paris.  They're everywhere!
What's Potimarron in English? Apparently it's Red Kuri, Japanese Squash or Orange Hokkaido.  It's darker than pumpkin without the ridges and has a more intense, even chestnut-like texture and flavour (as the French name implies: marron, meaning chestnut).  What I love about it is, unlike pumpkin, you can even eat the skin!
I remembered a post by David Lebovitz about how to roast potimarron or red kuri squash: he dribbled olive oil over the slices, added herbs and roasted in the oven for 20-30 minutes at 200°C.  I tried this method using potimarron in my favourite pumpkin, leek and ginger soup and it really is delicious.
Inspiration knocked for these pumpkin spice macarons when David mentioned that the Red Kuri squash slices could also be roasted with brown sugar and cinnamon. Instead I used pain d'épices or gingerbread spice, perhaps the French's closest quick answer to pumpkin pie spice (cinnamon, nutmeg, ginger & all-spice powder).  And in case some of you have hands up in horror, wondering why there are no Hallowe'en decorations on these macarons – I'm ridiculously scared of spiders and anything in the least bit squirmish; perhaps I grew up with too many Scottish ghost stories!
Macaron Fruit Fillings – A Tip!
One word about using fruit purées for macaron fillings: it can make macarons become rather soggy.  One tip is to add ground almonds (almond flour) to soak up the juices which I've done here.  The good news with this recipe is that for impatient macaronivores, you can eat this macaron after only 6 hours in the fridge and finish them the next day.  Any longer and they will turn slightly soggy – but the taste is divine and full of healthy, spicy squash! I wouldn't recommend keeping the pumpkin spice macarons any longer than 2 days or even freezing them as you would for all the macaron recipes in my book.  If you prefer to keep them longer like in the book, use equal quantities of purée, melted white chocolate and whipping cream.
Instructions on how to make the macaron shells are given step-by-step in both my books, Mad About Macarons! and Teatime in Paris! Just add a dash of powdered colouring (I use a pinch of red and yellow) and a teaspoon of pumpkin spice or pain d'épices to the meringue.
---
Pumpkin Spice Macarons:
Filling with Roasted Red Kuri
This recipe is ideal for serving later in the day.  Just chill in the fridge for 6 hours.  Best eaten within a couple of days. The basic French recipe for macaron shells are well explained in both Mad About Macarons! and Teatime in Paris! (150g egg whites for about 40 macarons).
Preparation time: 20 minutes
Cooking time: max 35 minutes
Chilling time: min 1 hour
For roasting:
1/2 red kuri squash or Potimarron
2 tbsps brown sugar
3 tsps pumpkin spice or pain d'épices
Cream:
2g sheet of gelatine
2 egg yolks
50g brown sugar
50g whipping cream
100g roasted red kuri purée (half of one red kuri)
2 tsps pumpkin spice or pain d'épices
2 tbsps ground almonds (almond flour)
100g chilled mascarpone
1.  Preheat the oven to 180°C/160°C fan.  Cut the kuri squash in 2 and, using only half of it, scoop out the seeds.  Cut into slices and place on a non-stick baking sheet, sprinkling with the brown sugar and spice.  Cover with aluminium foil and roast in the oven for about 20-30 minutes, depending on the size of the slices.  When ready, set aside to cool then purée using a mixer or by hand with a masher.  Weigh out 100g of purée.
2.  For the cream, soak the gelatine in cold water for about 15 minutes.  In a bowl, hand-whisk the yolks and sugar until creamy.  Heat the cream in a saucepan until nearly boiling, then whisk into the yolk mixture then transfer back to the pan over a medium heat, whisking constantly until the sauce thickens (rather like a pastry cream).
3.  Take off the heat, add the gelatine (squeeze of excess water) to the warm cream, whisking until melted then add the purée, ground almonds and spice.  Set aside to cool then chill for about an hour.
4.  Hand-whisk in the mascarpone then transfer the cream to a piping bag with a 1cm plain tip.  Pipe onto half of the shells then assemble with the remaining macaron shell tops and chill in the fridge.
Are you planning to make spooky macarons for Hallowe'en?
Why not share your pumpkin spice macaron – or Hallowe'en inspired macarons with us?  Post them on the Mad About Macarons Facebook page or tag me on Instagram (@madaboutmacarons).  It's always exciting to see you baking the recipes from my books.
Happy macaron-making!
https://madaboutmacarons.com/wp-content/uploads/2014/10/pumpkin-spice-macarons_opt.jpg
230
306
Jill Colonna
https://madaboutmacarons.com/wp-content/uploads/2021/05/logo-mad-about-macarons.png
Jill Colonna
2014-10-28 12:23:03
2018-04-06 09:45:30
Pumpkin Spice Macarons & Roasted Red Kuri Squash Filling