This is the first time the kids came with us to New York City.  Our last time was two years ago, when I spent a large part of my time checking out baking shops and macaron stores.  This time, I spared the girls from my usual mad pastry tendencies and asked, "What's the best programme in the Big Apple for a 12 and 14 year old?" Let me share our tourist and casual restaurant tips with you for A WEEK in NYC!
No sooner had we arrived, midnight ringing in our heads, we thought of food. Checking into the contemporary Conrad Hotel, Downtown, our lucky surprise was that  Blue Smoke had a table for us just around the corner (255 Vesey St, near Battery Park).  They serve legendary smoky BBQ beefburgers, full of flavour.
The Best Way to see the Statue of Liberty
So, how would we spend the weekend as a family? The Statue of Liberty was beckoning: the best way to see it is by taking the Staten Island ferry. What's more, it's FREE!  They run every half hour from Pier 1 (Battery Park).
Open-topped Buses
Admittedly, we did the ultra touristy thing and hopped on an open-topped bus with the Grey Line, just outside the terminal.  The hop-on, hop-off tickets last for 2 days, so you have plenty time to discover New York's bearings if it's your first time.
'When Harry Met Sally' Restaurant
Continuing on our NYC food trail, we hopped off at East Houston Street (Ludlow and Orchard) for Katz's Delicatessen which has quite a bit of history, possibly best known for Meg Ryan's famous fake 'groaning' scene in When Harry Met Sally.  With the film's 25th anniversary, the tourists were piling in by the bus-load. Instead we headed next door to the Lobster Joint, where Monsieur Antoine was given a tasting of lagers, including Lobster beer.  Their New England lobster roll certainly had me groaning for real…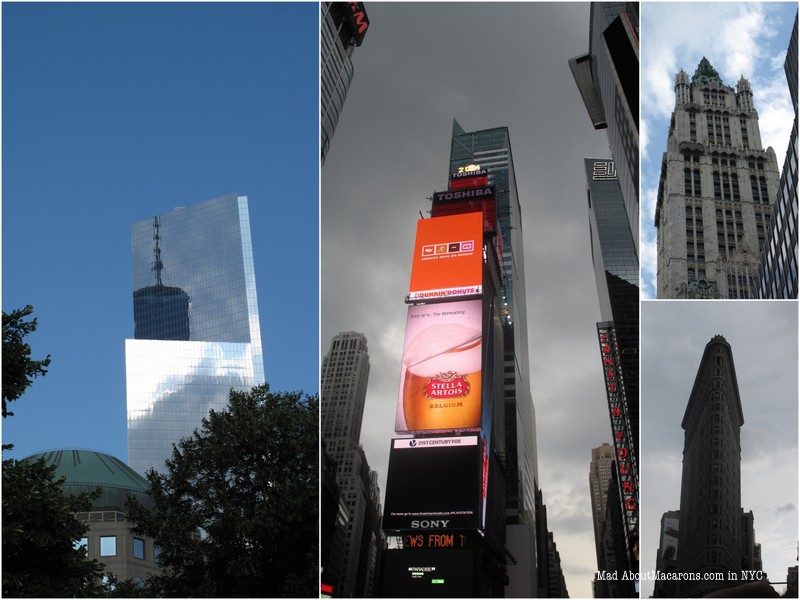 Back on the red bus, the showerproof hoodies were passed around as quick as the change of Manhattan skies, but we were lucky the rest of the week weather-wise.  NYC is hot and humid but air-conditioning in hotels is particularly fresh, so think about bringing a light cardigan – or, French-style, my girls preferred to fling scarves around the shoulders.
Gospel Services in Harlem
We were brave on Sunday morning: we headed well into Harlem for a Gospel Church Service.  I say we were brave, as we were not welcomed and actually turned away!  They turned all visitors away, in fact.  Don't even consider going to the New Mount Zion Baptist Church on West 140th St. as they obviously see their God as different from the rest of us.  Upset and stunned, luckily our faith was restored as we happened on the most wonderful, welcoming church of Greater Zion Hill BC (2365 Frederick Douglass Blvd).  Visitors –  please don't forget to take dollars with you for a donation.  This was the most uplifting, moving service I have ever been to and one that Julie and Lucie shall never forget.  We found ourselves singing 'Jesus is Real' all the way back to the bus!
Best Ice Cream in Brooklyn
With great thanks to my sweet and macaron-ivore friend, Mardi Michels (of EatLiveTravelWrite) who tweeted her New York foodie friends in the know of ice creams, we had to head for Brooklyn. Our lovely tour guide, Susan, seemed genuinely concerned for us when we leapt off the bus way before the famous ice cream store in Prospect Heights.  Instead, we headed to Ample Hills Creamery's new parlour, on day 13 of opening at Gowanus.  The sweltering heat had the queue snaking indoors, Disney-style. It was #worththewait.
Ample Hills Creamery only opened in 2011 and it's no wonder their ice cream is a huge success: their secret? Good, natural ingredients.  They churn out wonderful flavours such as Ooey Gooey Butter Cake, Pistachio Squared, Peppermint Pattie, Mexican Hot Chocolate (with chili flakes – I LOVED this!), even Stout 'n' Pretzels.  Their designer cones (none of the usual dry, tongue-clinging tasteless wafers!) are incredibly tasty and tops it all off beautifully.
Antoine wants me to make the pistachio squared ice cream recipe so will have to check out their Ample Hills Ice Cream Cookbook!
NYC Pizza
Wrong order, perhaps, but after ice cream we later craved good pizza.  On my last couple of trips, I did Lombardi's in Little Italy – this time it was John's Pizzeria, just off Times' Square.  This place certainly rivals Lombardi's for the best pizza in NYC.  With four coal-fired brick ovens and two enormous floors, queuing for a seat doesn't take that long – although it reminds me of watching out for your winning number, waiting in any French public administration!  The pizza business is HOT!
Thinking Tall
Are you scared of heights?  Since the Empire State Building had me trembling just thinking of going up that lift, instead, I booked tickets to the Top-of-the-Rock at the Rockefeller Centre. Let's face it, it's not as high and you have great views OF the Empire State Building!  Lucie thought the lift was fun, with a video playing on the ceiling for a few seconds until you realise the 70th floor observation deck is already awaiting you. Incidentally, this is a popular tourist attraction so the queues are impressive –  I found the best way is to prepay tickets online (I used Smart Destinations).  In the 5 minutes we waited, who should turn up but Lady Gaga in a white limousine.  The girls were riveted to the sidewalk.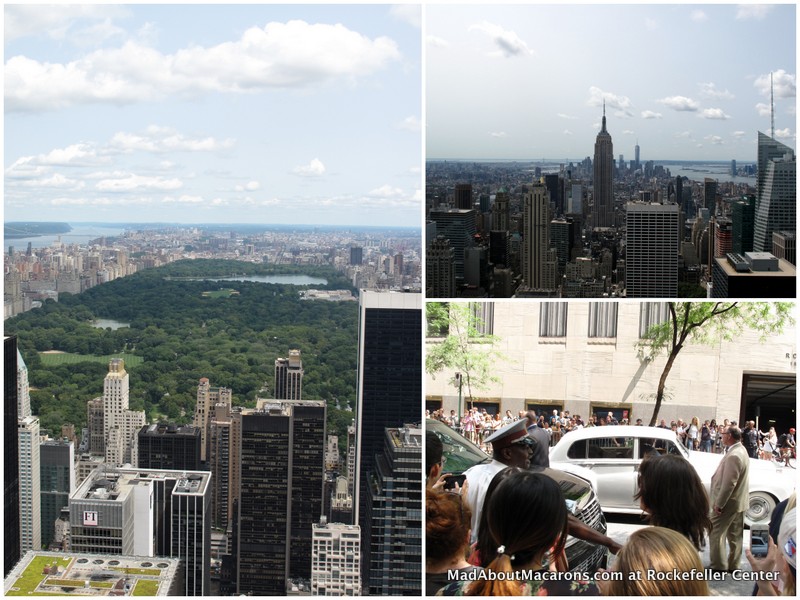 NYC Museums
Our kids love museums.  I already covered the museums in this post but suggest while at the Museum of Modern Art (MoMA), have lunch upstairs on 2nd floor Italian café. The girls particularly loved the Egyptian section at the Metropolitain Museum (the MET), the Museum of Natural History (perhaps best for boys who love dinosaurs!) but our all time favourite museum is The Frick Collection.  Moreover, if you're an artlover, you HAVE to come here!  I'm still dreaming of two Rembrandt paintings, including his first ever portrait of a fur trader.  You could almost touch the fur.
Best Dim Sum in NYC
Another highlight was meeting up with Ann Mah, author of Mastering the Art of French Eating.  She suggested we meet up in Chinatown at Jing Fong's legendary Dim Sum restaurant (20 Elizabeth Street).
The girls and I could not anticipate what awaited us at the top of a giant escalator: the equivalent of a wedding banqueting hall, buzzing with chatter, clattering dishes and efficient staff rolling trolleys back and forth with curious hidden stacks of various steaming dumplings. Thank you, Ann, for our first dim sum experience!
The market stalls in Chinatown are particularly intriguing.  If any of you know what these curious Chinese dried mushrooms are, please let me know.  Julie and Lucie were jumping at the live crabs, pincers stretched out and some scattering on to the pavement as we scuttled by.
Sticking to the Far East, we loved the suggestions from Leah at the Royalton Hotel.  A wonderful find included Korean cuisine at Danji (just up from another fabulous ramen noodle bar), where small dishes added up to a fabulous tasting menu banquet – and great value for money, too!
Other best restaurant highlights in NYC included Saxon and Parole (316 Bowery) for great beef burgers,  and our personal Italian favourite:  Il Buco Alimentari (53 Great Jones St.) where we even asked for second bowls all around of their homemade gnocchi.
Disclaimer: Please note that none of the restaurants or hotel in this post are sponsored in any way – they are just our personal family favourites in NYC.
If you're wondering what the final highlight of the girls' trip was, it wasn't actually food-oriented (however, they haven't stopped talking about the food ever since the trip!). For Lucie, it was the Frick Collection; for Julie, it was meeting up with her make-up YouTube idol, That's Heart (we've just discovered ourselves on her video TV vlog at 3:12 and 3:14!  I need a prize for being the oldest participant….)  Myself? It was being together with my girls. Girlie quality time and shopping – but that's enough for another article!
Travel Information Before you Leave
Remember to provide valid travel documents on entering the USA. A valid passport is needed but don't forget about getting an ESTA visa when travelling to the USA – even teenagers need their own ESTA (Electronic System for Travel Authorization) – it is always required for a holiday, business trip or transfer/transit in the USA.
https://madaboutmacarons.com/wp-content/uploads/2014/08/NYC_opt.jpg
230
306
Jill Colonna
https://madaboutmacarons.com/wp-content/uploads/2021/05/logo-mad-about-macarons.png
Jill Colonna
2014-08-10 18:07:30
2020-10-26 15:01:10
Exploring New York City with Teenagers