I'm not into fried foods. It's like an unspoken rule to avoid them at home since we try to eat healthily, s'il vous plaît. But who needs rules when you have a dish presented before you like this one?  When it came to Chef Ton's Crispy Papaya Salad on holiday in Thailand, we took a different view on fried foods.  Things changed back home in our kitchen and the deep frier was no longer a hidden appliance in the corner.
Staying at Bain Sairee on Koh Samui island, we were surrounded by such lush vegetation. These papayas were picked when still green – not left to ripen into the sweet, orangey flesh as we know it.
As you can see, the papaya's flesh was still white.  The other ingredients Ton used were so simple: a couple of tomatoes, limes, some unsalted cashew nuts, giant prawns, tamarind sauce and some tempura flour.
The papaya was shredded finely and tossed lightly in the tempura flour.  At the local Tesco Lotus supermarket up the road, tempura flour was so easy to find – ready prepared. No water was added, just a light dusting was all it took.
Then the papaya strands were deep fried for just a few minutes – keeping a eye on them until they reached a beautiful golden colour – then drained on kitchen paper.
The prawns were then given exactly the same treatment.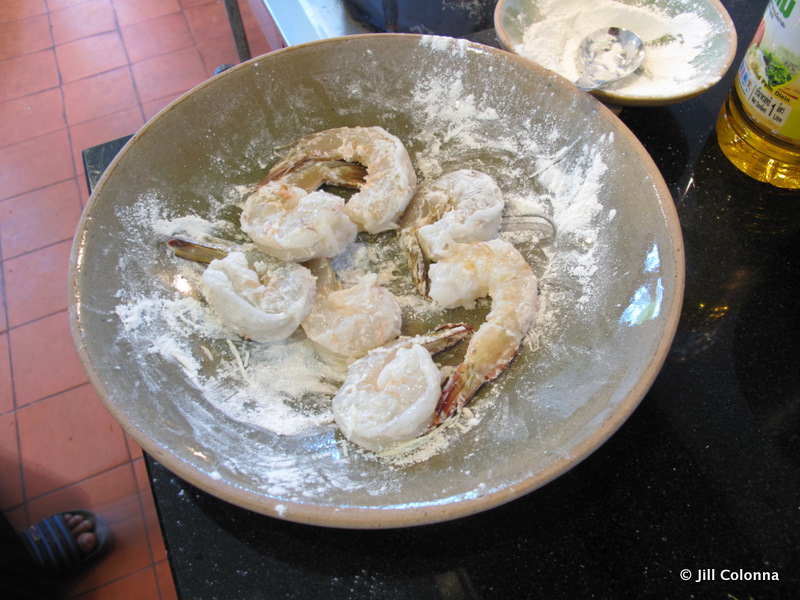 Chef Ton's smile, as you can see, was contagious.
Then to finish up while the prawns were draining, Ton prepared the quickest, tangy sauce to serve alongside it.  Pounding the tomato in a mortar, he squeezed in the juice of the limes and added the tamarind sauce.
This was so quick to prepare and definitely something I wanted to try as soon as we returned home – so here I got to it!
Papaya, however, was the problem to find here.  Instead, I substituted it with sweet potato.  I tried them Ton's way, coating in the tempura flour – then another time without it.  They worked out great even on their own, as the sweet potato was drier.
My prawns were nothing like the same size as Ton's Thai versions.  Mine were so small that to compensate, I threw in some onion rings and coated them in the tempura flour to add that extra taste..
And for the sauce, mortar-fied I couldn't find the right tamarind sauce in a hurry, I added some fresh coriander (cilantro), some fish sauce, a good pinch of sugar, and some finely chopped spring onions.
Delicious! Now we're hooked on these sweet potato 'skinny fries'. They form a nest with marinaded curried chicken served with a cucumber salsa.  There's only one thing missing….
A curry macaron would have gone perfectly with this, Thai green or red?  The recipe is in the Mad Macs savoury chapter in Mad About Macarons …
https://madaboutmacarons.com/wp-content/uploads/2011/08/sweet-potato-prawn-thai-salad.jpg
600
800
Jill Colonna
https://madaboutmacarons.com/wp-content/uploads/2021/05/logo-mad-about-macarons.png
Jill Colonna
2011-09-16 12:41:40
2018-09-26 18:20:42
Crispy Papaya Nests, Prawns, and Skinny Sweet Potato Fries