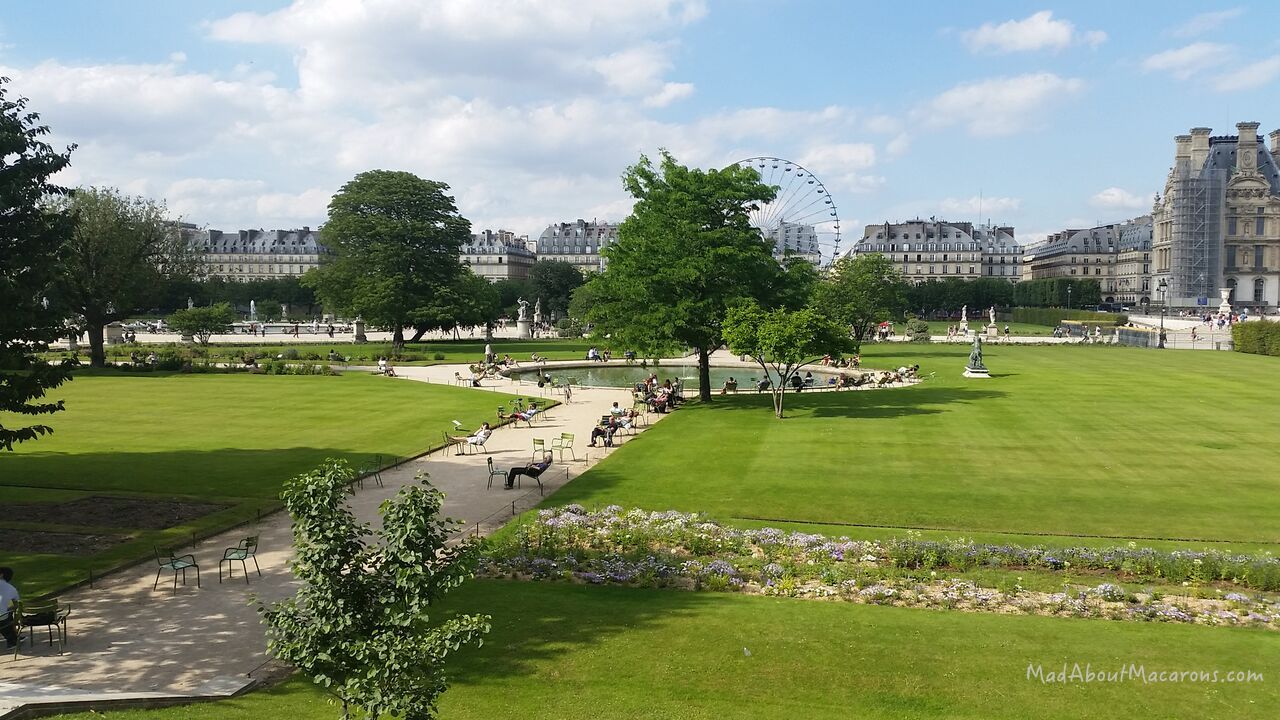 This week sees the start of Paris's popular annual amusement park situated on the left side of the Tuileries Gardens. The Fête Foraine des Tuileries is open free to the public between 25 June and 22 August (update: 24 June – 27 August 2017) with a choice of 80 paying attractions.
With excited, bustling holiday crowds and entertaining wafts of candy floss (Barbe à Papa), waffles (gaufres), toffee apples (pommes d'amour), doughnuts (beignets), and marshmallows (guimauves), there's something for everyone – and for those of you like my daughters who love the high-sensation rides, you won't be disappointed.  I find it hard enough to even watch them!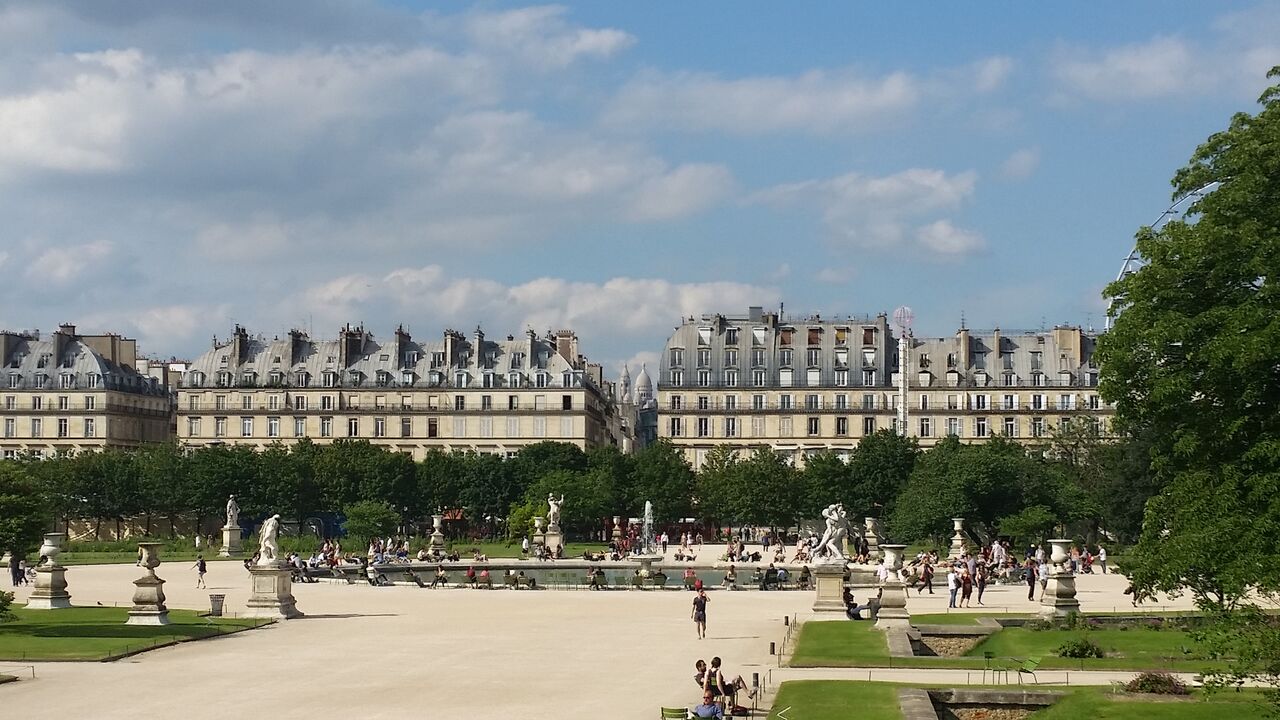 As my teenagers are screaming to their heart's pulsing content, you'll find me strolling in the rest of the more civilised Tuileries Gardens. Did you know you can see Sacré Coeur from the raised part of the gardens on the Orangerie side? I can't believe I missed this before.
Jardins de Tuileries Facts
The Tuileries Gardens were first landscaped under Queen Catherine de Medici (widow of Henri II), who began the building of the Tuileries Palace in 1561 on the right bank of the River Seine. The word Tuileries refers to the tile kilns that previously existed on the site.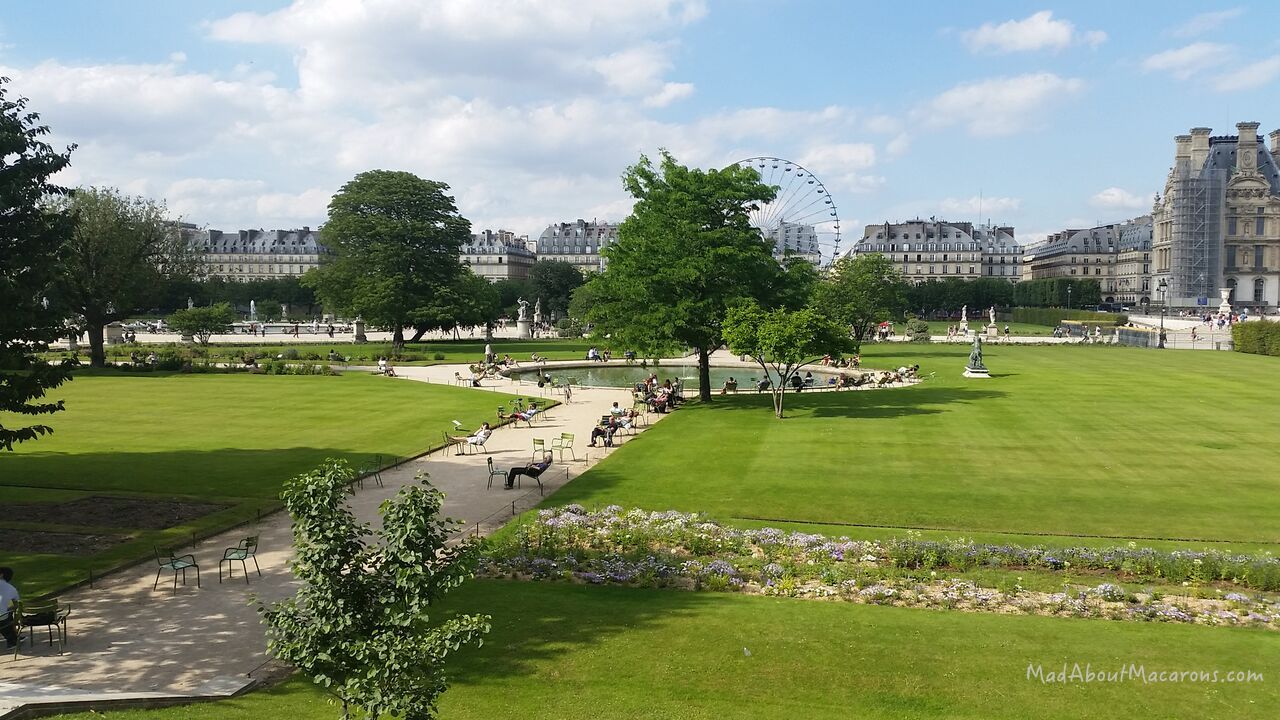 The Palace was the Parisian residence of the French monarchs from Henry IV to Napoleon III. Before then, it was the Louvre Palace, originally built as a fortress in the medieval period then turned into a royal palace under Charles V in the 14th Century until the Louvre became a public museum in 1793.
King Louis XIV transformed the Tuileries Palace residence in 1666, when he commissioned his favourite gardener, André Le Nôtre, to design a vast new park with elevated terraces around a central axis. It was opened to the public in 1667, while King Louis moved to his new Palace at Versailles.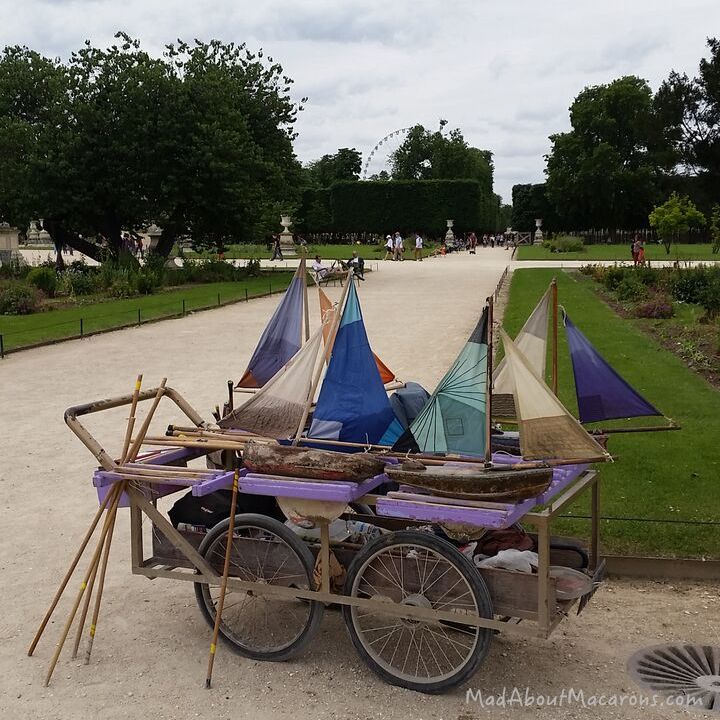 In 1871 the Tuileries Palace was set on fire and although destroyed in 1883, we continue to enjoy the splendour of the gardens today which is more or less as Le Nôtre designed it with its some 63 acres (25 hectares) and water basins.
Summer is the perfect time of year to stroll under the regimented shady avenues of lime blossoms and fill up on their heady fragrance.
Heading towards the elevated northwest corner of the gardens towards Place de la Concorde, is the Galerie nationale du Jeu de Paume, a museum of contemporary art. There are currently 3 photographic exhibitions taking place, including the works of Josef Sudek.
There's also a café inside but their new terrace was beckoning …
The museum's new terrace café, La Boîte à Images, has been open since end April and is a quiet haven to sit in the shade in the gardens for lunch or for an afternoon goûter or mid-afternoon snack.
This is where the locals are coming for a civilised summery picnic lunch, weekend brunch, after-work plate of charcuterie, or just a glass of wine. I was invited to choose from their selection of popular large salads (including quinoa), fresh baguette sandwiches, tuna Bagnat, or large Croque-Monsieur on oversized pain de campagne with a choice of crisps or side-salad. Iced fresh apple & mint juice was welcome, as was just a taste of the chilled Sauvignon Blanc (well, I wasn't driving!).
As my daughter and I sat down, we were enjoying the animated game of pétanque going on next to us.  The café can lend you the boules to play and join in the fun too.
And I would thoroughly recommend a sweet stop here, with a dark chocolate or raspberry tartlet and Earl Grey tea (with Angelina teabags). I also saw the most tempting ice creams and sorbets too without the well-known queues in rue de Rivoli!
So, what kind of flâneur or stroller in Paris are you?  Would you find a chair or two and opt for an afternoon nap, tease the wool with a regal view over the octagonal basin to the Orangerie museum, or would you be on one of those crazy summer amusement rides?
Terrasse La Boite à Images
Open same hours as the Jeu de Paume Museum:
11am-7pm Wednesday-Sunday
11am-9pm Tuesday
https://madaboutmacarons.com/wp-content/uploads/2016/07/tuileries-gardens-paris_opt.jpg
230
306
Jill Colonna
https://madaboutmacarons.com/wp-content/uploads/2019/12/logo-mad-about-macarons.png
Jill Colonna
2016-07-01 12:55:36
2019-05-31 18:17:16
Paris Tuileries Gardens: Summer Amusements and a New Terrace Café