As piles of neatly tied bouquets of watercress were stacked high at our local market last week for my Watercress Soup, they instantly conjured up scenes of the watercress beds, or Cressonnières, in Veules-les-Roses this summer. Come join me on a wee jaunt up the watercress road in the Pays-de-Caux in Upper Normandy.
With our all-time dream African Safari cancelled this summer due to my persisting back problems, we finally consoled ourselves and ventured out of Paris with a long weekend in Veules-les-Roses, a sleepy little town on France's Normandy coast. Julie and Lucie took it like young adults, as the promise of the Big Five game animals were comically replaced by Normandy cows and curious cats looking for fishy leftovers from the seafood restaurants dotted along the town's seafront.
Veules-les-Roses has two main attractions: it's home to the smallest river in France, the Veules. It's the shortest sea-bound river at 1.194 km (about 3/4 of a mile), along which there are three restored 18th Century watermills.
Also, at the source of les Veules river, lies the watercress beds, or Cressonnières. The clear running water's current of Veules-les-Roses has favoured the cultivation of watercress since the 14th Century. Harvesting watercress is done here by hand with a knife and ties.
The watercress of Veules is known for its fine leaves, its particularly spicy taste and makes the perfect ingredient for a light and healthy soupe de cresson. Watercress is also useful, as it's always in season.
The bunches of watercress that are formed during harvesting are called chignons, when the roots of the stalks come outside the bunch. Luckily these days, harvesting is done wearing rubber boots, rather than sodden feet steeped in 10cm of cold (about 10°C) water wearing clogs with heavy metal leggings!
As Autumn now blows around Paris, comforting spoonfuls of healthy watercress soup help to prepare us for any sniffles or scratchy throats that niggle and nudge as November closes in on us, as it contains iron, calcium and Vitamins A and C.
Watercress Soup (Soupe au Cresson)
A large bunch of watercress
20g butter
1 tbsp olive oil
1 small onion, chopped finely
2 medium potatoes, peeled and chopped
500ml water
250ml chicken (or vegetable) stock
Salt, pepper
2-3 tbsp cream (optional)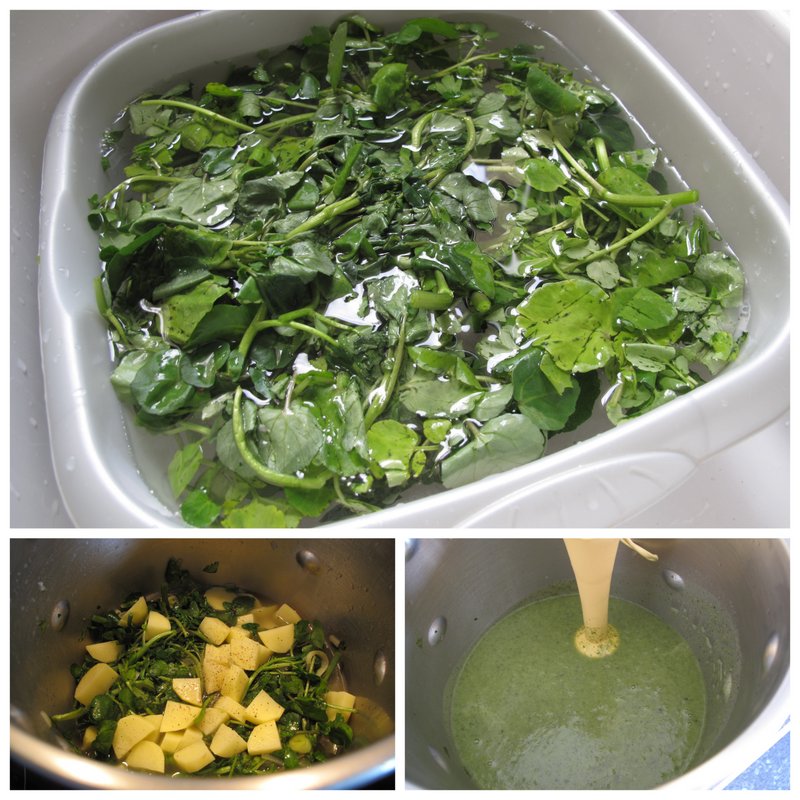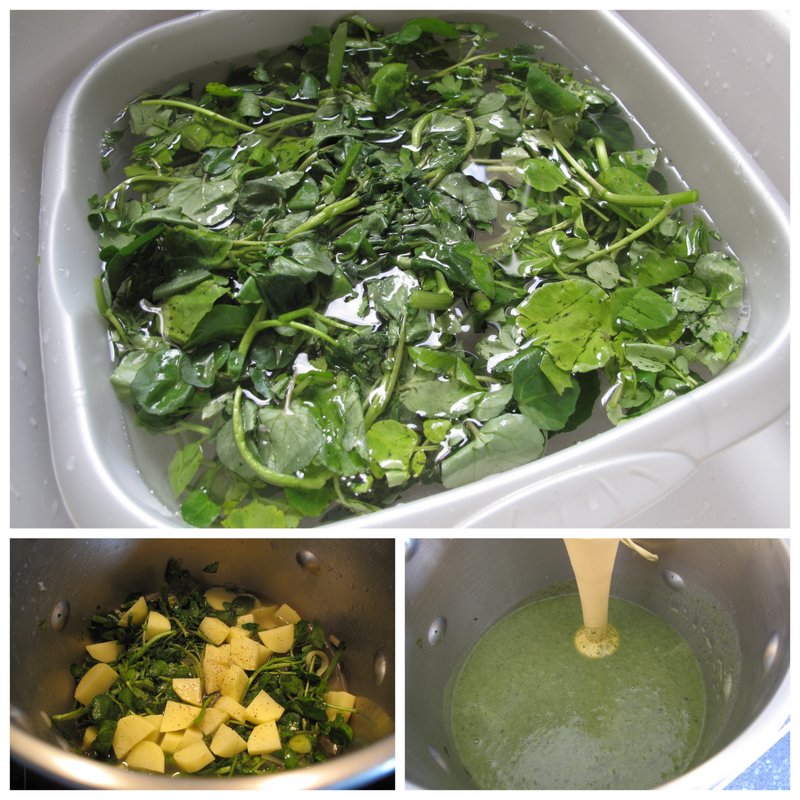 1.  Wash the watercress, drain and set aside.
2.  Heat the butter and olive oil in a large saucepan and sweat the onion until cooked but not browned. Add the watercress with the stalks, roughly chopped potatoes and cover with the water and stock. Season with salt and pepper.  Cover and cook gently for 30 minutes.
3. Blitz the soup with a hand blender or in a food processor until smooth. If you prefer your soup less thick, then you could sieve at this point, although I personally love it with the fibre addition of the stalks.
If serving as an elegant starter dish, swirl in a dash of cream and why not surprise your guests with a mini MadMac herb macaron? The recipe is on page 97 of the book.
More on Veules-les-Roses coming up soon. Join in a festival with a difference…
https://madaboutmacarons.com/wp-content/uploads/2013/11/harvesting-watercress-cresson-into-bunches.jpg
600
800
Jill Colonna
https://madaboutmacarons.com/wp-content/uploads/2015/04/logo-mad-about-macarons.png
Jill Colonna
2013-11-05 16:11:01
2018-01-20 13:52:04
France's Smallest River, Watercress Beds and Soup