I love Avignon at any time of year. Come windy mistral weather to the cigales singing in the plane trees to announce the intensity of summer heat, the atmosphere is always lively.  But come July, when Avignon is in full festival swing (usually the second and third weeks in July), it takes on an even more upbeat ambience.
It's just buzzing. Even the shops go theatrical and arty.
I was too shy to stop and ask this poet what he thought about it all.  What would you have asked him?  I mean, how do you start a conversation with a public poet or Poete Public? I was never great at poetry at school.  Were the bikes behind him a quick escape route for people like me?
This lovely lady must have felt rather hot in her fancy dress.  She was approaching as many possible theatre-goers as she could, showing off her bubbly character.  At the Avignon Festival, plays are constantly being performed and so be prepared to have leaflets thrust in your hand and explanations of the plays taking place. You could easily spend a week here just trying to fit them all in!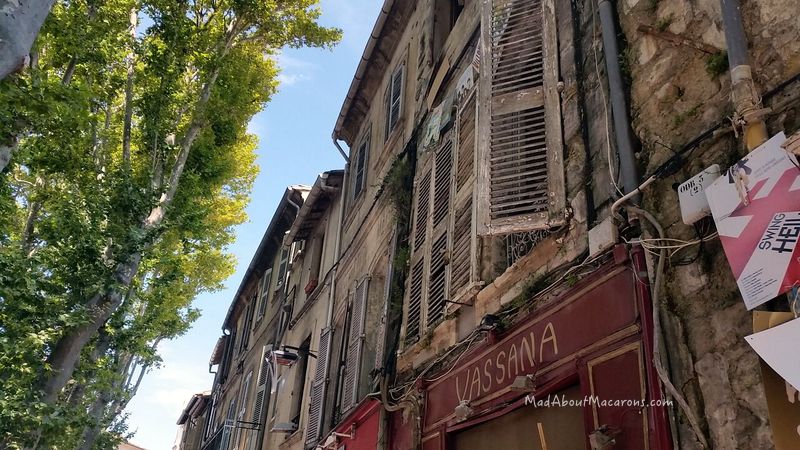 As I was gazing up at the old buildings, my friend Sandrine just couldn't resist these colourful head bands. Not are there theatre touts but the back-streets are full of temporary stalls of fashion accessories, musical instruments, books and silky or cotton Provençal looking tops and dresses.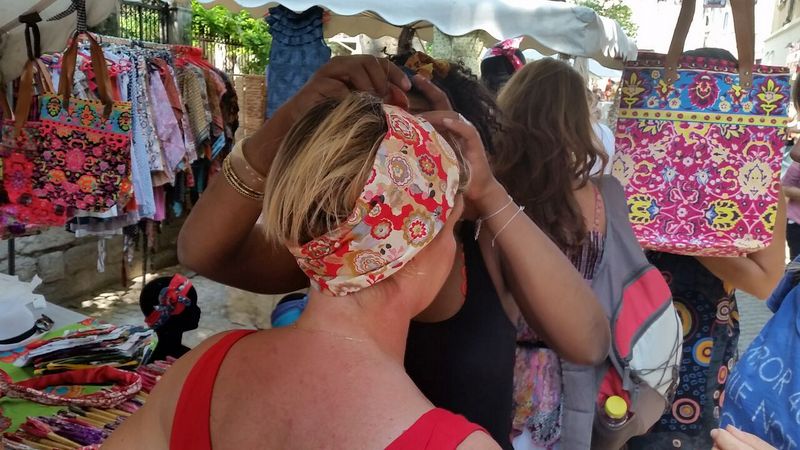 Just when you least expect it, a human advert for a show appears – here in the guise of a tandem and two rather well-dressed gentlemen hooting an old-fashioned horn.
Did I tell you that the posters for each show are plastered absolutely everywhere?
Hamlet in 30 minutes? I wonder if Shakespeare would have approved of his play being fitted in to accommodate the others in a day.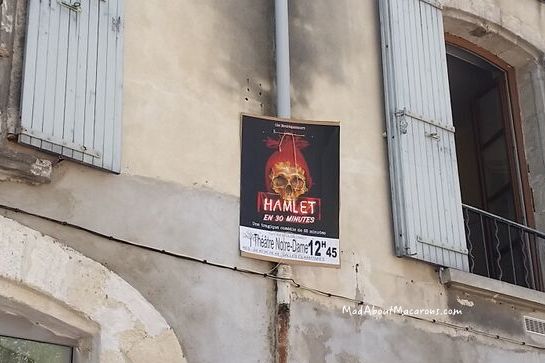 Just around the corner, a judge and a couple of reporters were touting for another show, causing havoc in the middle of a restaurant as confused and amused lunch clients were treated to a quick show in rue des Tenturiers.
Perhaps this was the culprit disguised, running back to Paris? He was so fast when I took this shot that I didn't manage to catch his training shoes at the bottom.  I thought it was hilarious – obviously the locals were getting used the scene: not an eyelash blinked.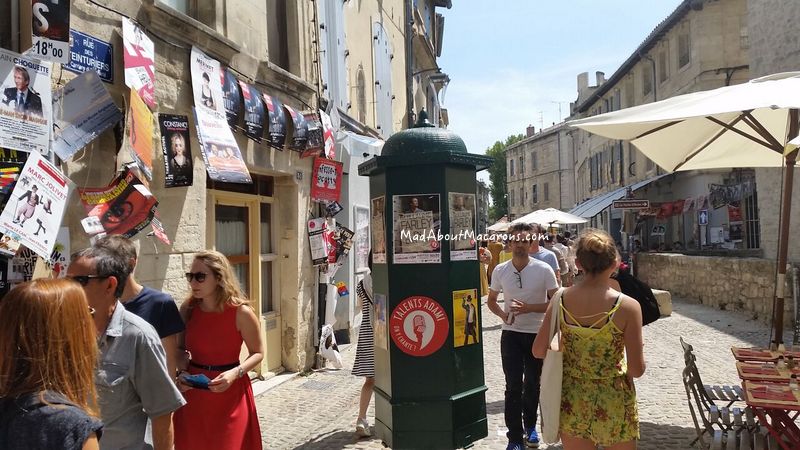 Lunchtime? Time for us girls to head back to the ranch and see what the men were up to.  Barbecue lit ready for the Auvergne sausages? Check.  Rosé chilled? Check – even with ice cubes during a heatwave.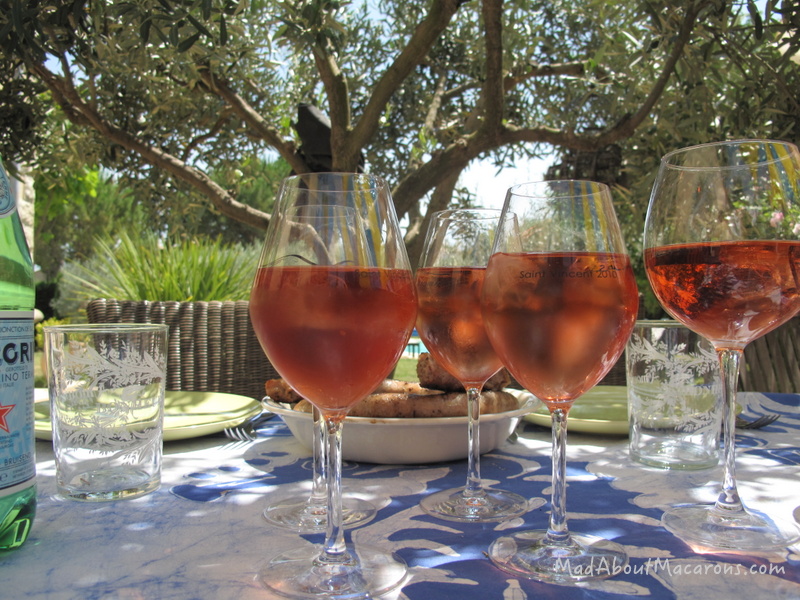 During the apéritif, Valérie rustled up something quick and deliciously provençal in her kitchen with this light aubergine and tomato tart using filo pastry.
Aubergine Tart
Recipe adapted with more instruction by myself from the new "Happi Food" French Magazine (special edition of Happinez N°1).
Serves 6
3 small aubergines or one large
3 large sheets filo pastry
100g butter, melted
100g small Roma tomatoes, cut in 2
2 eggs
500g crème fraîche
150 feta cheese
150g Greek yoghurt
1/2 tsp rosemary
Pepper to taste
1. Preheat the oven to 200°C (400°F/Gas mark 6). Cut the aubergines into slices of about 2cm thickness.  Sprinkle them with salt in a colander and leave them to give out their liquid for about 15 minutes. Rince them and sponge them with kitchen paper.
2. Brush the aubergine slices with olive oil and place them directly on a baking sheet.  Bake for about 20 minutes.
3. Meanwhile, brush 3 large filo pastry sheets (about 40 x 40 cm) with melted butter (or olive oil) and place them one on top of the other in a round tart tin of 22-24cm diameter.   Take out the aubergines and leave them to cool.  Turn down the oven temperature to 180°C (360°F/Gas mark 4).
4. Cover the filo sheets with the aubergine slices and slices of tomato.  Whisk the eggs, crème fraîche, feta and Greek yoghurt. Add the rosemary and a few turns of the pepper mill.   Cover the vegetables with this mixture and bake in the oven for 25-30 minutes.
Serve hot with a green salad.
My version isn't nearly as pretty, but as we're heading off on holiday tonight, I made a version of this using the leftovers in the fridge and it was simple and so tasty.  I used only one large aubergine, one coeur de boeuf large tomato and sprinkled it with thyme and parsley. Next time, I'm definitely making it with the filo pastry (I used ready-made all butter puff pastry).
Thanks for the most delicious weekend, Valérie and Hervé!
https://madaboutmacarons.com/wp-content/uploads/2015/07/tomato-filo-tart.jpg
600
800
Jill Colonna
https://madaboutmacarons.com/wp-content/uploads/2021/05/logo-mad-about-macarons.png
Jill Colonna
2015-07-23 11:06:21
2019-07-28 17:08:38
Avignon Summer Festival – Aubergine Tomato Tart