When I met my journalist friend, Ann Mah, for a chocolat chaud and macarons in Paris this summer, she was radiant with the prospect of 'twins' on the horizon: a baby girl soon to be born in New York and her new book, Mastering the Art of French Eating, which has just recently been published by Penguin Viking. Had I known Ann at the time, all alone in Paris for a year as a diplomat's wife – not unlike Julia Child, as the title suggests – while her husband was assigned a post in Iraq, I would have loved to have joined her. You see, in order to combat loneliness in the City of Light (and I know what that's like at first – not easy), she embarked on a gastronomic adventure around Paris and the rest of France.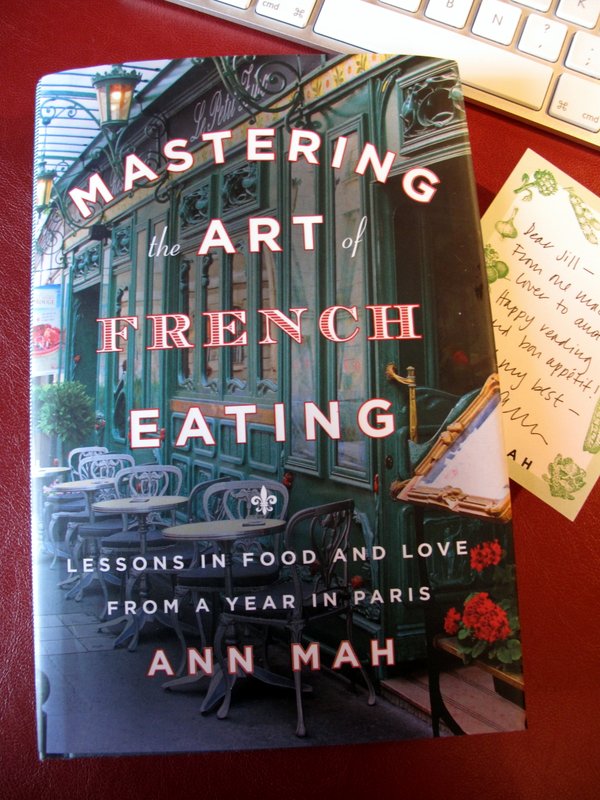 As David Lebovitz says on the back cover, "Her personal culinary tale will have you packing your bags". I didn't think that before I'd even got to the Salade Lyonnaise recipe at the end of Chapter 4, I would have booked a weekend in Lyon! It was about time, after a long haul of being stuck in the house with back problems and builders. Besides, in over twenty years I've lived here, I've only passed through Lyon en route to visit my French parents-in-law in Provence. As France's gastronomic capital, how could I have just gone through its tunnels under the Saône and Rhône?
One of Ann's favourite addresses in Lyon is a typical bouchon eatery, Chez Hugon. I'm not going to give you all the gastronomic history here, as she beautifully documents it in her book but, as a first introduction to Lyon, I can tell you the ambience was contagiously uplifting.
Opening the Bouchon door and seeing the long, communal packed tables with diners in full conversational swing, one diner must have seen my panic-stricken face at the lack of space. 'Mais, you're too late – there are no seats left', he teased. Sensing the Lyonnais sense of humour, just as his friend got up to go to the toilet, I grabbed his seat.  Luckily, two wooden chairs were waiting for my friend and I at the end of a table, just cosily next to the kitchen, so we could relish the lively banter from both sides of the restaurant.
As an ex-vegetarian, I didn't quite make it to the traditional Andouillette tripe sausage but instead went for the lentils with bacon and a Quenelle de brochet, just as Ann had tasted, "served in a puddle of langoustine sauce".
Just as we were studying the traditional dessert menu, glistening in the fluorescent lights that Ann had mentioned, a couple entered with guitars. My first reaction was, och – there are really no tables left but they took their coats off, opened their cases and started strumming and humming until there was a marked crescendo with Brassens' songs; to Edith Piaf's 'La Vie en Rose'; to Renaud's 'Tel qu'il est': …Ce qui n'est pas marrant c'est qu'il ronfle, on dirait un pneu qui se dégonfle…. (Trans: It's not funny but when he snores, it sounds like a deflating tyre'.) 
Suddenly the chef, Eric, joined his mother in the front and burst into full song, with "Mexico, M – e – x – i – c – o….!" As I downed another glass of Fleury wine (one of my preferred Beaujolais Crus which I prefer on a day like today) accompanied by pears in wine (when in Lyon…), the neighbour at my table was handed the key to the toilet; on a marrow bone.
Ann hopes that readers of her book feel encouraged to travel and explore, to ask lots of questions, to embrace their curiosity and be flexible and open to new experiences. Well, Ann, chapeau to you! I'll definitely be returning to Lyon to discover more traditional bouchon eateries and join in the friendly banter. With ten chapter/regions in the book, from Paris to l'Aveyron, you'll be ready to pack your bags for a delicious adventure, too.
Don't forget to devour a copy of Ann Mah's book, Mastering the Art of French Eating: Lessons in Food and Love from a Year in Paris. As a companion to her book, Ann is currently posting a series on her blog, 'Where to Eat in France'.
Traditionally today, on the third Thursday of November, let's give a toast to Beaujolais Nouveau Day!  Chez Hugon is usually open Mondays to Fridays but, exceptionally this weekend, they're open to celebrate with a few pots of Beaujolais Nouveau.
---
P.S. Have you tried my favourite caramelised red onion tarte tatin recipe yet?
https://madaboutmacarons.com/wp-content/uploads/2013/11/IMG_3335-001.jpg
800
600
Jill Colonna
https://madaboutmacarons.com/wp-content/uploads/2021/05/logo-mad-about-macarons.png
Jill Colonna
2013-11-21 16:56:18
2017-02-23 17:50:00
Mastering the Art of French Eating in Lyon: Chez Hugon