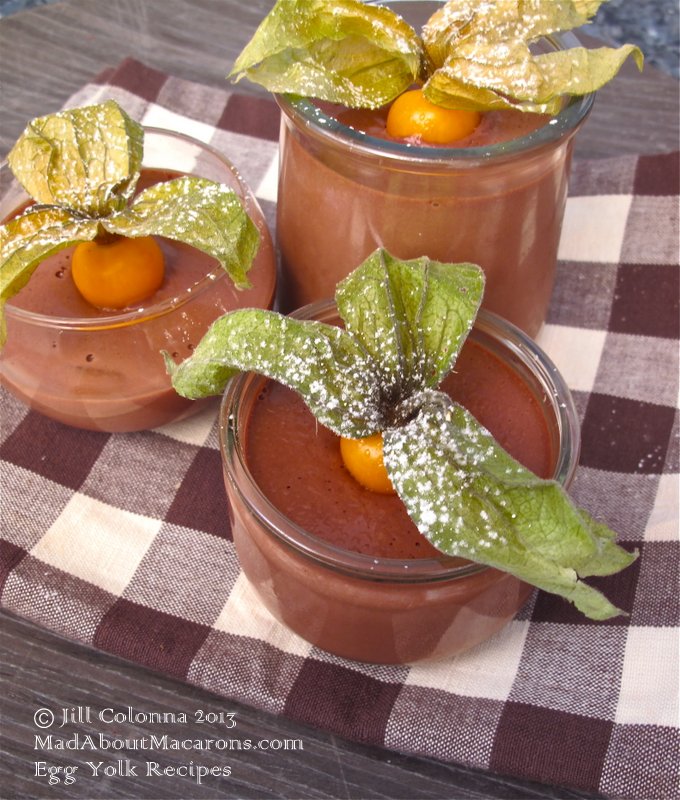 Poor blog. I've neglected it and so my apologies. Chest infection dragging on, living in the dark, the pouring rain. Not a great couple of weeks, although I do have a much more fun excuse – all shall be revealed in the next post.
In the meantime, I've still had some sweet dreams, mainly consisting of desserts. Ideally they're not too sweet, they're packed with flavour and they're quick and easy to make. If they use up egg yolks, that's an extra bonus for macaron lovers. These chocolate cream puddings can not only be whipped up in 20 minutes but they're so versatile and perfect for re-cyling those hoarded yoghurt pots.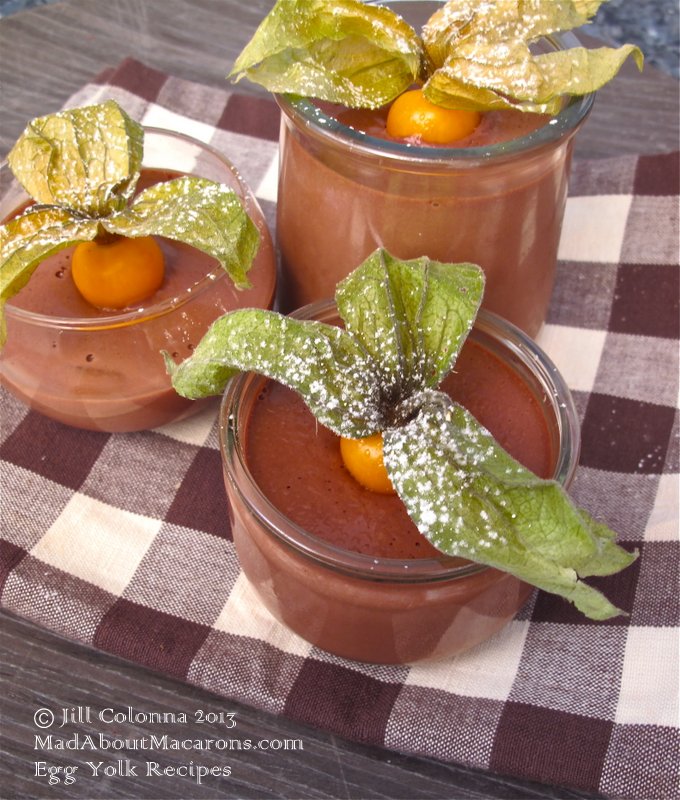 Here I've added zingy orange zest and a sneaky soupçon of Cointreau to them but adapt them to your own tastes. For spicy romantic lovers, replace with cardamom and ginger. Lucie adored the addition of 100g candied chestnut cream (she's mad about chestnuts) but why not add a touch of Chambord and serve with raspberries?  You get the picture. Top with physalis (why does that always sound like a disease?) or, to add that je ne sais quoi, a mendiant topped with dried fruits and nuts.
They remind me of La Laitière cream pots we can buy in the supermarket but they're much better and so quick to make – it's worth the effort. They're not like a mousse and they're not like heavy creams, either. Do you remember the Aero bars we used to devour as kids? What was the best part for you? The bubbles?
Chocolate Orange Cream Desserts
Serves 6 (small pots)
Preparation Time: 10 minutes
Cooking Time: 10 minutes
Chilling Time: 2 hours
200ml whole milk
300ml single cream
3 egg yolks
50g sugar
150g dark cooking chocolate, broken into small chunks
zest of an orange (untreated)
1 tbsp Cointreau (optional)
1 gelatine sheet (@2 g)
1. Soak the gelatine in cold water. Meanwhile break up the chocolate into pieces in a large bowl. In a saucepan, boil the milk and cream.
2. In another bowl, whisk together the yolks and sugar until light and creamy. Pour over the hot milky cream, mix and transfer back to the saucepan.
3. Whisk vigorously over a medium heat until the cream thickens. Take off the heat then pour over half of this hot cream on to the chocolate. Stir until the chocolate melts, add the grated zest, Cointreau (if using), the gelatine (squeezed of any excess water) and then whisk in the rest of the hot cream.
4. Transfer to 6 serving dishes (or 4 if you're greedy like us). Leave to cool and chill for an hour.
Serve with sablé bretons or, dare I say, some macarons?
This recipe is added to the egg yolk recipe collection. There's plenty more so you've no excuse – get these egg whites put aside! By making this recipe, you'll have enough for 100g whites, which will make about 30 macarons.
Stay tuned for the fun surprise. If you haven't yet subscribed to le blog, then don't forget to sign up. Toodeloo, bonne semaine, I'm off to London so it's time to get back into action!
https://madaboutmacarons.com/wp-content/uploads/2013/02/chocolate-cream-pots-physalis.jpg
800
680
Jill Colonna
https://madaboutmacarons.com/wp-content/uploads/2021/05/logo-mad-about-macarons.png
Jill Colonna
2013-02-17 16:24:18
2016-06-04 15:42:20
Chocolate Cream Desserts for Macaron (Yolk) Lovers