Chocolate Ginger Passion Cake
It's high time I posted my favourite, yet easy Chocolate Ginger Passion Cake.
It certainly looks "homemade" and not exactly from a posh Parisian patisserie (GASP! I have air bubbles in that glaze), but this cake is a family-pleaser for Easter, Mother's Day, Birthdays, Christmas – or even just to celebrate life and good chocolate!
If anyone has tried my dessert recipes or teatime treats, they're NOT OVERLY SWEET and this is no exception – especially as the lower sugar quantity brings out the flavours much more. The cake is light yet still intensely chocolate with the chips giving that extra little crunch, plus the touch of passion fruit adds a zingy acidity rekindling my first ever taste of a Mogador chocolate-passionfruit macaron extraordinaire by Pierre Hermé that has continued over the years to be one of my preferred macarons in Paris.
Moreover this chocolate cake is so easy: instead of making 2 cakes or splitting one horizontally in the middle and filling it with buttercream, I just throw the whole lot in one non-stick cake pan, bake, leave to cool on a wire rack, then turn it upside down on its beautifully flat side from the pan and pour over a creamy dark chocolate glaze.
Best Ingredients for Chocolate Cake
Although simple to make, there's one condition with this recipe: you must use the BEST INGREDIENTS YOU CAN FIND.
I use a good quality couverture/special baking dark chocolate (Valhrona, Lindt, or Nestlé Corsé), unsweetened cocoa powder, dark chocolate chips, and strain the juice out of fresh passion fruits (without the seeds). However, if passion fruits are difficult to come by it's just as easy to use a good quality mango or exotic fruit smoothie.
Depending on the occasion, it's fun to DECORATE this Chocolate Ginger Passion Cake simply: what about some edible flowers, a macaron or two, or what about some chocolate mendiants (chocolate coins covered in dried fruits and nuts)? These are popular in many chocolate shops in Paris and yet they're quick to make.  Or go crazy and make some chocolate mice macarons – see below an idea with your chocolate ganache recipe from the books!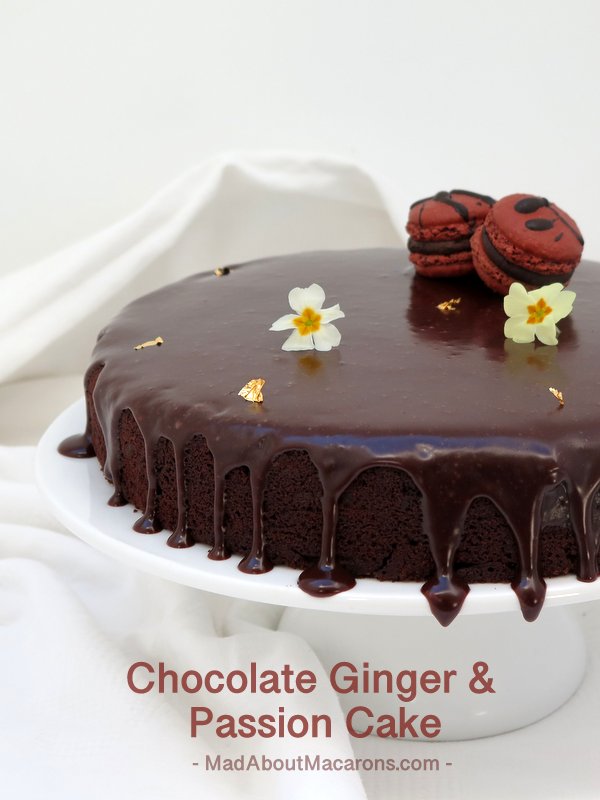 ---
If you haven't done so already, don't forget to subscribe to the new email alerting service, so that you never miss a post.
You can choose to be alerted either daily, weekly, or even monthly!