As I got the ball rolling with chocolate hazelnut macarons for holiday gifts this weekend, Julie and Lucie had other ideas on the side. Shopping for macaron ingredients at our local supermarket, they were instead eyeing the shiny, festive towers of  Ferrero Rocher's golden foil-wrapped little crunchy milk chocolate hazelnuts.
Lucie remembered seeing a recipe for Rochers at home, in a tiny little book that came with a cute bear mould (which they have never used, alas) in her stocking last Christmas. With the advance thought of her dental brace being put in today, it was essential in her book to cram in as many sweet – and especially crunchy treats – as possible before she had to em-brace (sorry!) the orthodontist's less than sweet, strict toothy diet restrictions.
To make them extra crunchy and nutty, we toasted the hazelnuts in the oven first and coated them in dark chocolate, although the recipe calls for milk chocolate, if you prefer.
Chocolate Hazelnut Rochers
Adapted from  L'atelier Oursons & Guimauves by Aline Caron
Makes 30 mini bites
Preparation Time: 50 minutes
Resting Time: 2½ hours
Chocolate ganache:
200g milk chocolate, broken into bits
12g (a tablespoon) single cream
30 whole hazelnuts
Coating:
100g dark chocolate
50g wafer biscuits (optional)
100g hazelnuts, crushed
Prepare the Ganache:
1. Heat the oven to 180°C and roast all the hazelnuts in the oven for 10 minutes. Set aside to cool. If you prefer, you could wipe off the skins using a tea towel.
2. Heat the tiny bit of cream in a saucepan (yes, it does look so little but trust me, this is correct!) and add the broken bits of milk chocolate. Using a whisk, once the chocolate has melted, take off the heat and, using a balloon whisk, mix quickly until you have a mixture that resembles a gorgeous, chocolatey putty.
3. Using a teaspoon and your fingers, break off a walnut size of milk chocolate 'putty', roll it in the palm of your hands into a ball. Push a toasted hazelnut into the centre and roll again, ensuring that the hazelnut is completely covered. Complete the process until you have 30 balls then chill in the fridge for about 40 minutes.
Prepare the coating:
4. Melt the milk chocolate in a bowl over a saucepan of hot water (bain-marie). As soon as the chocolate has melted, take off the heat and leave to cool slightly. Meanwhile, crush the hazelnuts (and wafers, if using) in a food processor (or place them in a bag and bash them using a rolling pin) then place them in a round bowl.
5. Dip the cooled rocher balls into the chocolate and immediately roll them in the crushed hazelnuts.
6. Place the rocher chocolate nutty truffles on a baking sheet covered with baking paper and leave to set at room temperature for 1½ hours.
These little rocher bites can keep for up to 5 days, kept in a cool place.
For the best presentation, place each rocher in mini bright foil cases for festive effect. In our case, they were pounced on so fast, it wasn't even necessary.
With some leftover crushed hazelnuts, it's an ideal decoration for chocolate hazelnut macarons (recipe in the book): just brush on some chocolate ganache and spinkle the nuts on top.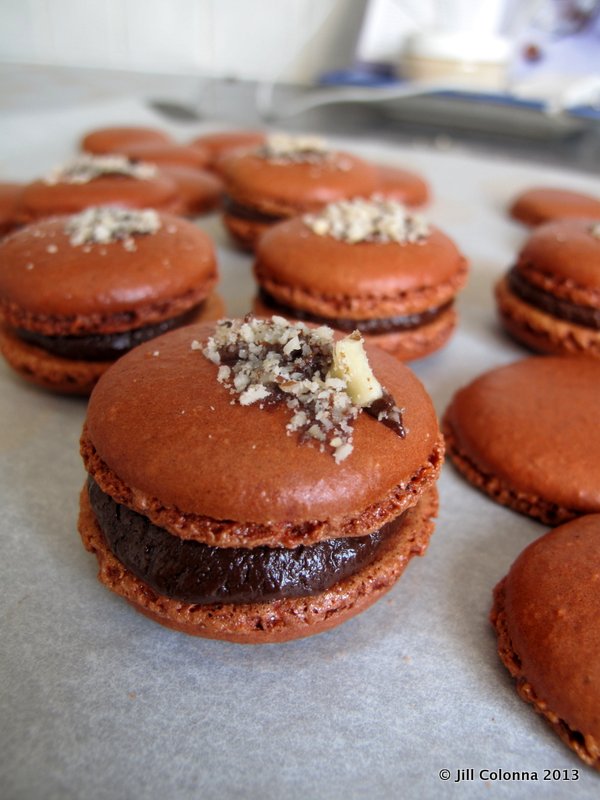 OK, now it's on to the end-of-term macaron-making marathon using the recipes in the book. These macarons are going to party this week! Next ones will be festive and shiny.
What colour and/or flavour of macarons would you like to see at a party or decorated on your Christmas tree?
https://madaboutmacarons.com/wp-content/uploads/2013/12/recipe-hazelnut-chocolate-bites.jpg
534
800
Jill Colonna
https://madaboutmacarons.com/wp-content/uploads/2021/05/logo-mad-about-macarons.png
Jill Colonna
2013-12-17 19:20:30
2021-03-04 17:23:14
Chocolate Hazelnut Rocher Truffles