Wild waves were crashing on the rocks off the west coast of Corsica last week. We were visiting family around Calvi and, as we were impatient for our fun little nephew to awake from his routine siestas, a windy walk along the ragged coast of Punta di Spanu was perfect to idle away the time.
There's something rather spooky about the Genoese Towers dotted along Corsica's dramatic coastline: echoing cries whistle in numbed ears from distant tower-keepers as they prepare for invaders to claim the Island of Beauty.
If only I could have bottled the fragrance of the maquis for you. It's a heady mix of wild rosemary, thyme, myrtle, wild cistus, laburnum, sage, mint and curry plants. Such an intoxicating mixture of salty, smoky, spicy perfumes come together as a herbal gingerbread smell.
It's hard to imagine that just 15 minutes in the car inland and you're already driving in the snow-capped mountains. Donkeys and goats grazing on the higher maquis-floored slopes make life seem at a completely different pace to city life as we know it.
We were in the clouds. I found my hermit-like hideaway although judging by the look of the car fallen by the side of the mountain, there wouldn't be much of a getaway too soon if I suddenly changed my mind. Tea in Montemaggiore? Pas de problème: there was even a tiny bar that could bring back the life in my cold hands with a hot cup of Lipton while the children had… ice creams. Well, that's all there was and who would want it any other way?
I had a confession to make: I had this burning desire to just drop everything and hijack the tea-room opposite the chapel up at the Citadel in Calvi. Who wouldn't relish the views up there of the sea and the land, making macarons, fiadone (Corsican cheesecake) or éclairs all day and awash yourself with pots of tea? Or perhaps the local tipple, Cap Corse, an addictive bitter-sweet apéritif made with quinine?
The photo (top right) is all that's left of the house reputed to have been Christopher Columbus' birthplace. What do you think?  Was he born in Corsica or Italy? Corsica, of Corse!
Our trip's grand finale was dinner at the wonderful restaurant, U Fanale. The chef, Philippe Gouret delights visitors with a surprise of terre et mer, where land meets sea. At first I tried the starter of salmon and charcuterie, gingerly tasting the salmon first – but when I tried them both together it was just fantastic! Our friendly server introduced us to a newcomer wine from Calvi, le Clos des Anges. Unfortunately, the Irish winemaker, Richard Spurr wasn't around during our visit but next time I'm dying to stock up on their white oily nectar even if, alas, he never responded to our calls.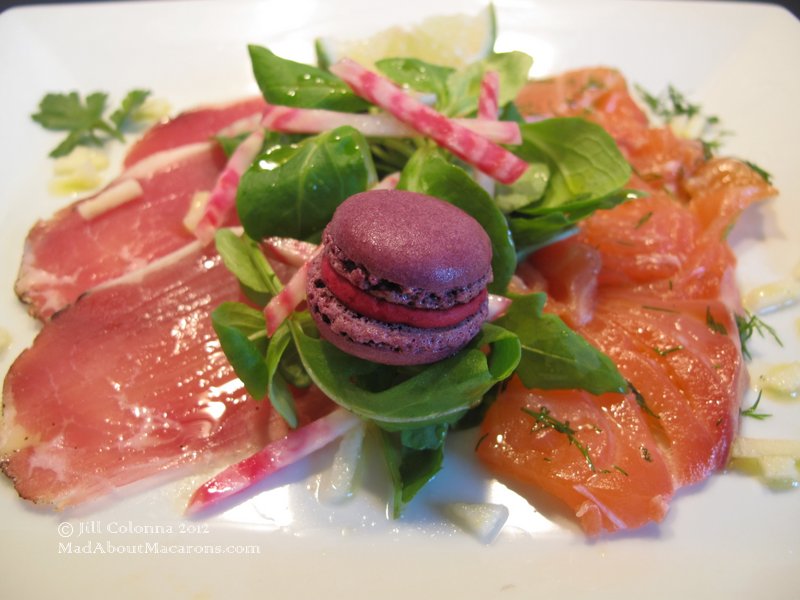 Inspired by the chef's ideas, I loaded up on Corsica's famous charcuteries and as soon as we returned home, found some beautiful Scottish Salmon at the market. Served with slices of Lonzo (my favourite as it's a filet cut without much fat) and marinaded julienne strips of chiogga beetroot (in olive oil and Xeres vinegar) to garnish, just like the chef had presented his starter dish.
My personal touch?  I added some finely chopped Ariane apple with a beetroot and horseradish macaron – recipe in Mad About Macarons – there's a whole chapter on savoury macarons.
Land-a-hoy – or perhaps that should be Mac-ahoy!
https://madaboutmacarons.com/wp-content/uploads/2012/11/Calvi-tour-ship_opt.jpg
230
306
Jill Colonna
https://madaboutmacarons.com/wp-content/uploads/2015/04/logo-mad-about-macarons.png
Jill Colonna
2012-11-06 12:51:42
2018-07-18 12:51:11
Corsica on the Rocks and Savoury Macarons