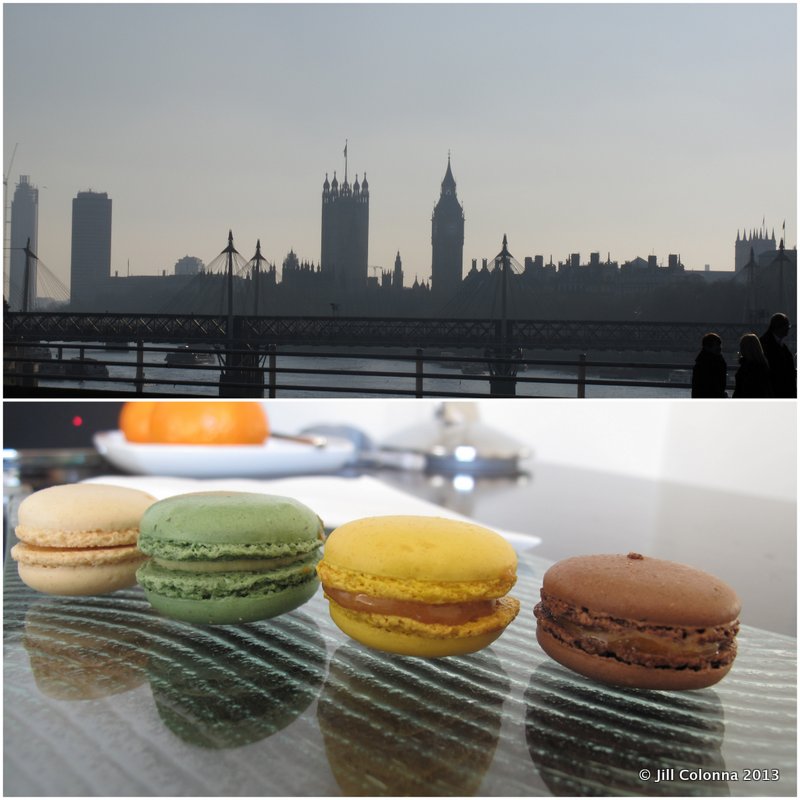 What a strange couple of weeks. Finally feeling better, off the antibiotics and then..WHAM. Struck down again in bed with flu, exhausted. I don't remember ever feeling so ready for the bin. I blame it on being filmed eating macarons in sub-zero winds beginning February. Another story.
I was planning on a great London macaron tour but it had to be cut short. Instead join me on a day's walk around London's West End. Just wrap up warmly!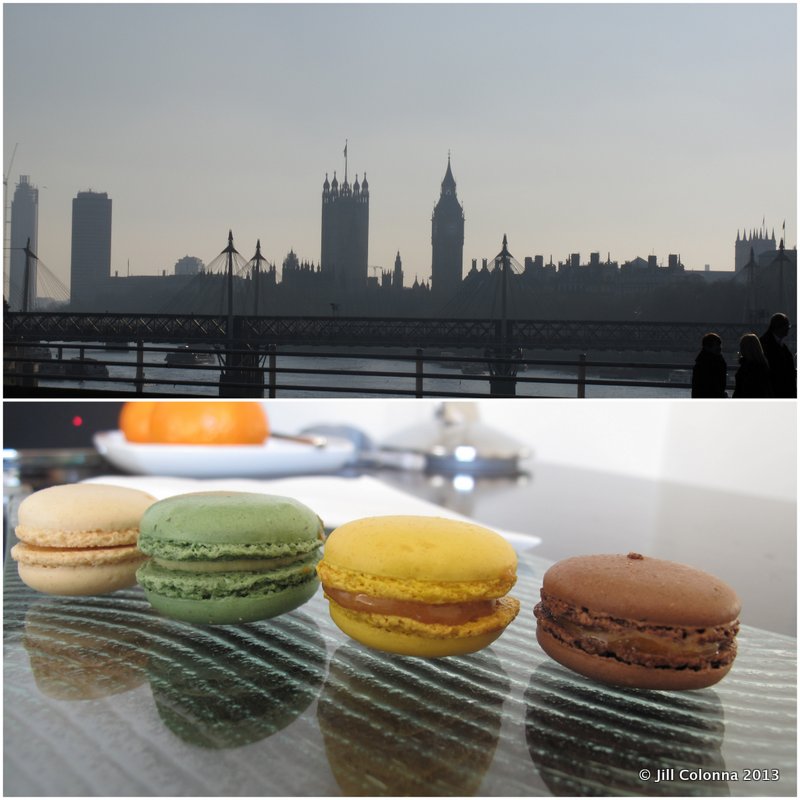 What a welcome. Macarons in the room and a day full of sunshine. What more could you want?  This skyline photo was taken mid-morning on Waterloo Bridge as an experiment, since I shot right into the light. All that's missing is Tinkerbell flying over Big Ben!
To savour the scene, I nibbled on the hotel's macarons. Ahem. Each of them were, well. Brick. Hard. How many guests had they been served to already like this?  Honestly, if this is someone's first taste of a macaron, it could put them off for life!
Before the tourists and locals come out to play, take a leisurely walk around Covent Garden before lunchtime. Laduree were stocking up on their macarons and the Royal Opera House at the end of the corridor was seducing visitors with tear-inducing extracts from Verdi's Nabucco and Puccini's Tosca.
It's just as well street signs gave the odd reminder which way to look before crossing the street. I was turning into a walk-a-wrong. These London buses come fleeing past! I was aiming to find the Lanka Cake Shop in Primrose Hill but discovered that it was closed. Apparently their macarons are the best value for money in London. Next time I'll know to head to their shop in Finchley Road. Don't forget there's also Pierre Hermé at Selfridges.
For chocoholics, there's still La Maison du Chocolat's macarons at Piccadilly. A quick look in at Burlington Arcade. Ladurée macarons still going strong, full of inviting colours and less crowded than Harrods. Checking out Fortnum and Mason's institution across the road, they didn't have many macs left. Valentine's Day was truly well and over but they were still flaunting their chocolate heart-shaped macarons limited edition for £1.75 each. A few door's down, Richoux café was hiding a neat little tray behind the counter…
Suddenly distracted from looking for the Menier Chocolate Factory just off the Strand, here was a glamorous hustle and bustle. The last day of London's Fashion Week and what a feast for the eyes. My favourite dresses were made out of balloons but seriously, would you wear one? Suddenly the word, bursting or ballonné would have a whole new meaning when attempting to have dinner wearing an outfit like that. Interesting take on tartan here.
Before you get excited about Menier's Chocolate factory visit, let me warn you it's a theatre. So, back to Covent Garden. It was almost like a different place from the morning's calm and judging by this street performer below, he wasn't the only one who found it difficult to find a place to sit. The curious faces were pressed against Balthazar's new pastry shop window: it had just opened, selling their take on the Ispahan macaron plus flaunting their chocolate kugelhopfs and praline meringues.
There are times you believe you could be in Paris since there are so many French cafés around – but you don't find the French rushing about the streets with giant cups of coffee in their hands. Yet.
Chinatown in Soho is where I got lost when the snow flurries came down. Next time I'll find Yauatcha in Broadway Street. They specialise in dim sum but they also have a pastry counter, highlighting macarons with an Asian theme.  Also, next time I'm aiming for Clapham Common's gem: Patisserie Macaron.
So many places to try! Exhausting, eh?  That's why it's simpler to just make them at home. What do you think?
Looking at that brave piper outside the National Gallery in Trafalgar Square is enough to wonder how on earth the Scots can go traditional, without anything underneath in such bitter winds.  Perhaps they should give him his own heated telephone box to play from?
Now if I could just work out how to upload a video for you for the next post, I'll be a happy bunny. Oh, and my voice back, please. Until then, cheers from Paris and roll on Spring!
https://madaboutmacarons.com/wp-content/uploads/2013/03/london-skyline-and-welcome-macarons.jpg
800
800
Jill Colonna
https://madaboutmacarons.com/wp-content/uploads/2021/05/logo-mad-about-macarons.png
Jill Colonna
2013-03-04 17:12:02
2016-01-27 17:51:46
Doing the Macarons Walk in London's West End