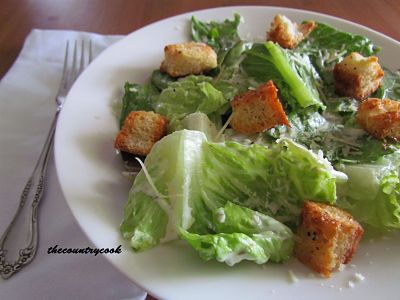 Fancy a change of scene?  Well, this week we're heading into the country.  We're dropping in on my friend, Brandie, in Southwest Virginia, for a recipe to help us use up our egg yolks. Imagine the scene near the Appalachian mountains: it's like a setting for a movie!
When I first discovered Brandie's blog a few weeks' ago, The Country Cook, I was instantly made welcome with her down-to-earth style of recipes and wonderful sense of humour.  Since then, her warmth and charm continue to ooze out of her blog; you get the feeling you live just next door and are dropping in to say hello, exchanging recipes, tips and discussing kids and life in general.
If you don't know Brandie already, you soon will.  Don't you just feel from her dazzling smile that you know her already?  Voici la belle Brandie – here she is, my friends!
First, let me say thank you to Jill for inviting me here today. Getting invited to do a guest recipe post on Jill's "Le Blog" is kinda like getting invited to an elegant dinner party. You immediately start thinking,
"What should I wear?"
"What sort of hostess gift should I bring?"
"I'm definitely going to have to shave my legs."
"Please, please, please do not let me drop anything down the front of my dress."
You get the point.
It was such an honor for me to be asked by Jill to showcase a recipe on her blog and I certainly did not want to disappoint her or her lovely readers.
Jill tasked me with coming up with a recipe that uses egg yolks (since so many are leftover from making her lovely macarons).
I mulled it over for a bit and decided to share a recipe that is one of my favorites – Ceasar Salad Dressing.
I just adore Caesar Salad with homemade croutons and sometimes with grilled chicken. Jill tells me this goes best with a glass of California Chardonnay – and I would have to agree.
If you've never attempted to make your own salad dressing, I implore you to try it now. The depth of flavor just cannot be captured in a bottle. Now don't get me wrong, I'm not above using the bottled stuff but sometimes I want to bring something special to the table and this really does the trick. Especially if the salad is going to be the main star of your meal.
This is a two-for-one special today. I'm also going to share a homemade crouton recipe. They are so easy to make and the great thing about homemade croutons is you won't break a tooth on them like you do the prepackaged ones.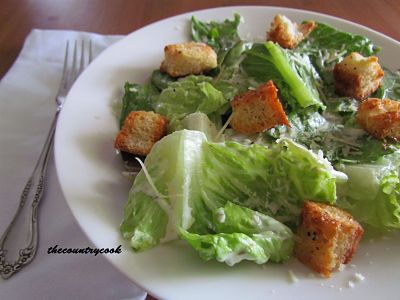 Caesar Salad Dressing
Ingredients:
2 garlic cloves (if your cloves are on the small side, use 3)
1 cup mayonnaise
1 egg yolk
¼ cup freshly grated Parmesan cheese
2 tbsp. water
2 tbsp. extra virgin olive oil
1 tbsp. freshly squeezed lemon juice
2 tsp. granulated white sugar
½ tsp. Worcestershire sauce
½ tsp. Dijon Mustard
salt & pepper to taste (about ¼ to ½ tsp each)
Directions
In a food processor, finely process the garlic until minced. Add the rest of the ingredients and blend until smooth.
How easy is this recipe?
Put dressing into a lidded container and pop it in the fridge for a few hours or overnight to give the flavors time to blend together (trust me –this makes a big difference in taste).
Cook's Notes: If you are squeamish about using a raw egg yolk in your dressing, I would suggest purchasing pasteurized eggs. However, if you are using very fresh eggs, you should have no problems with your egg yolks. Just crack it into a separate bowl first, to ensure the color and texture look normal for an egg.
Homemade Croutons
Ingredients:
½ loaf of stale French bread, cubed
Extra Virgin Olive Oil
Salt and Pepper
Garlic Powder (optional)
Directions:
Preheat oven to 400 degrees (F). In a medium bowl, add cubed bread.  Drizzle olive oil all over the cubes until lightly coated. Sprinkle on salt, pepper and a little garlic powder.
Place cubes on baking sheet and bake for about 10-14 minutes until lightly browned.
Thank you again to Jill for letting me share this recipe with y'all today. I really hope you enjoy it and I hope  you'll come by and see me sometime over at The Country Cook.
Enjoy!
Brandie
Thanks so much, Brandie, for sharing such a tasty recipe. Shave your legs for doing the post….see what I mean, folks? She has you in stitches! I don't know about you, but I'm making double portions since it's one of my favourite salads.
Now that we've tasted that delicious dressing and crispy crrrroutons, I'll continue sipping that glass of chilled Chardonnay and head on over to Brandie's blog.  She's continuing to cook up a storm in her kitchen, so check out more of her mouth-watering recipes at The Country Cook. Don't forget to say cheers from me!
https://madaboutmacarons.com/wp-content/uploads/2011/05/caesar-salad-dressing-from-the-country-cook.jpg
300
400
Jill Colonna
https://madaboutmacarons.com/wp-content/uploads/2015/04/logo-mad-about-macarons.png
Jill Colonna
2011-06-06 09:57:57
2017-01-11 13:31:13
Guest Recipe: Caesar Salad Dressing with Croutons