We just came back from Scotland yesterday morning. I'm suddenly trying to return to grips with an azerty keyboard after 10 days of qwerty! What a wonderful time, full of precious moments catching up with family around the table. I also ended up being pretty emotional during a visit to my school, George Watson's College, after 25 years (gosh, that hurts!) It was wonderful to catch up with old friends and to connect again. I'm hoping that the budding cooks in Home Economics will now be inspired to make a special burgundy "Ex Corde Caritas" (love from the heart) macaron to match their school uniforms and motto. I think teaching macarons in schools should be compulsory, don't you? 🙂
We just made it back in time for Antoine's birthday. Poor thing has been living on dinners-for-one from our freezer store, Picard, while we were away. So with a suitcase stocked with one of his favourite's, Stornoway Black Pudding (Boudin Noir or Blood Pudding) and having stumbled across this wee street recently, I knew this was "a sign" and so decided to work around this pudding for a quick and easy birthday dinner.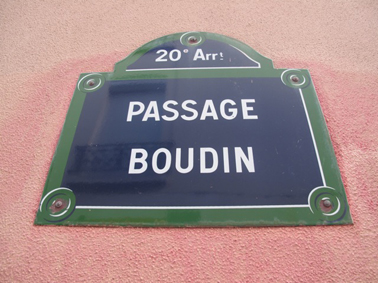 My family adore black pudding (Stornoway is the best from Scotland, bien sûr) served traditionally as part of a HUGE Scottish breakfast along with potato scones, bacon and eggs. The fully monty. In France, however, we just don't do that for breakfast. Instead, we sip from large bowls of coffee or hot chocolate along with croissants or homemade brioche and jam. If we want to be totally French about serving black pudding, serve it as part of a main dish.
Following a quick jaunt to the market and taking our pick from the seasonal produce on display, it didn't take long to come up with the menu. My children and I discovered a new breed of aubergine, lighter and rounder from Italy, the Violette de Florence.
Following numerous inspirational blog posts from Chef Dennis, I decided we really need to eat more fish. It's amazing how I've got out of the habit of eating good old healthy fish. Can you imagine? Shame on me, especially since my Grandpa was a fishmonger, too!
One of his favourites was Ling: it's meaty with very few bones and not too expensive, either. The French call it Julienne and at the market it was the first time I'd seen it translated simply as Lingue.
I already saw the mix of Boudin Noir with Sea Bass in a restaurant last year and so decided to try my hand at making a quick version of this at home. So simple: I sliced the aubergines, sprinkling them well with salt to get rid of excess water, then rinsed and patted them dry after a few minutes. A quick flash fry on the griddle pan on each side, then placed them in foil with a clove of garlic and baked them in the oven for 20 minutes while I prepared a Black Pudding Sauce.
To make up the chorizo chips or "scales" of the fish, I simply took extra thin pre-sliced chorizo and dry-fried them in a pan for a few seconds on each side then placed them on kitchen roll to take out the excess fat. They crisp up once cool: it's magic! Then cooked the fish for a couple of minutes on each side brushed with olive oil in a frying pan.
So in the space of 30 minutes I had my main prepared: just needed to place the garlic aubergine on a serving plate, top with the fish then chorizo chips and serve with the black pudding sauce – and extra black pudding since we were feeling greedy!
Antoine found the perfect partner and served it with a bottle of Savigny-les-Beaune from Burgundy. He's good: it needed a light fruity red to cope with the strong flavours. What nectar!
And for a quick birthday pudding/dessert? I didn't have time to make his favourite chocolate fondant birthday cake, so we'll leave that for this weekend since it needs to mature for at least 24 hours. Instead, I reached for my macaron bank in the freezer. This is just so handy to have and for a speedy simple dessert took out some giant macaron shells to serve as a base.
I topped it with carmelised apples, homemade caramel ice-cream and dribbled over some warmed salted caramel sauce (again, this was a handy stock in the fridge since had made it a couple of weeks' ago). You can find the gluten-free recipe, Giant Macaron Tatin Style, on page 113 of the book.
And needless to say, we enjoyed that with a wee glass of chilled Rivesaltes Ambré by Monsieur Cazes for a glorious sticky finish. Hm. Not the easiest of mornings to get up today but I'll just have to make more caramel desserts this weekend, now that the bottle is opened. As they say here, Quand le vin est tiré, il faut le boire…
https://madaboutmacarons.com/wp-content/uploads/2011/02/ling-chorizo.jpg
283
378
Jill Colonna
https://madaboutmacarons.com/wp-content/uploads/2021/05/logo-mad-about-macarons.png
Jill Colonna
2011-02-23 10:33:07
2021-01-26 10:51:10
Fish, Chorizo and Black Pudding