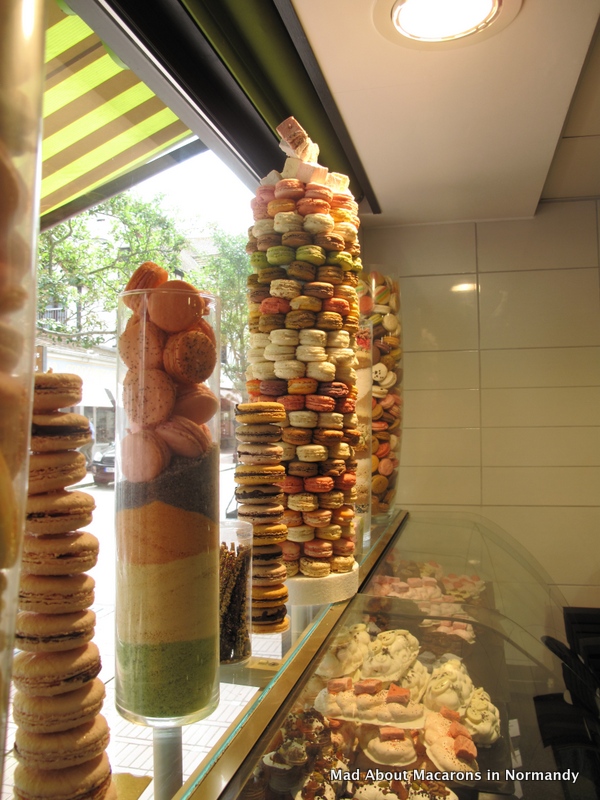 It's more likely to be in the Eurotunnel or over a football match.  But this weekend – birthday partying in between – as most normal people were drawn to cafés and bars to watch the World Cup on big screens, I was drawn instead to this pâtisserie window. Well, wouldn't you if you're mad about macarons?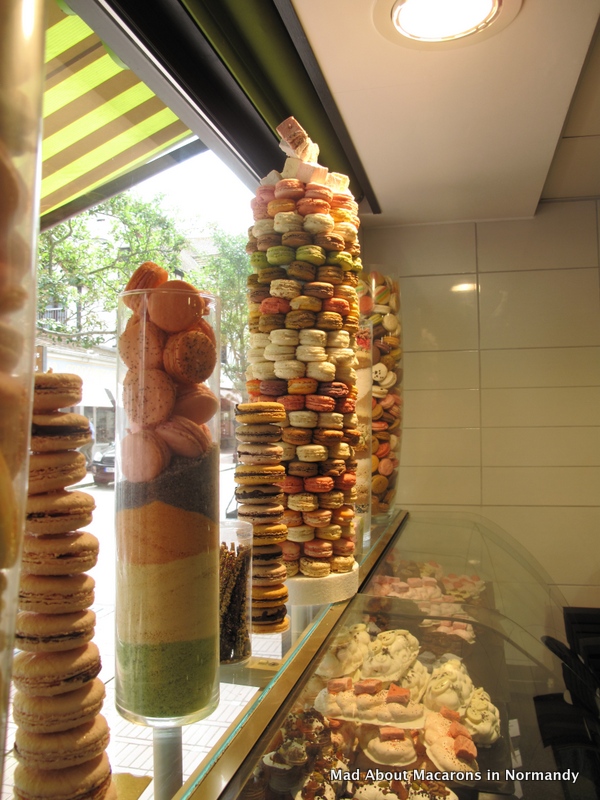 England is closer to Le Touquet than us 'southerners' in Paris.  This swanky coastal resort, known as Le Touquet-Paris-Plage in the Pas-de Calais, is only a straight 2.5 hour drive on the A16 from Paris yet it's next door to Calais to jump on the Eurostar to London, and even closer a drive along the coastal road to Belgium.  So, when Serge Leveau decided to change direction from restaurants and open his own pâtisserie, Arts Gourmands on one of the main streets in Le Touquet, he picked a great location.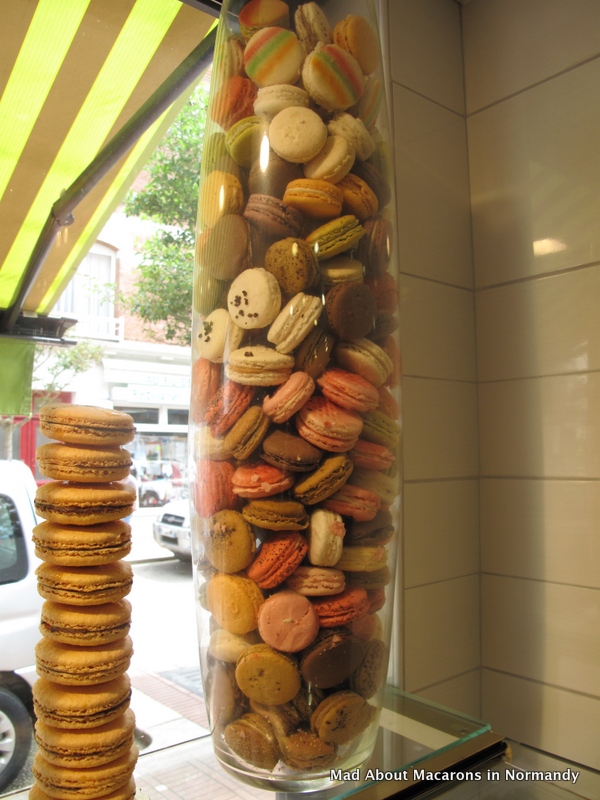 This may sound weird, but do you also love stacking up macarons, one by one, until it's in the dangerous falling zone? He manages an impressive macaron tower of 11 or 12! Forget the flowers, this is a lovely decor idea: macarons in a giant vase.
Serge Leveau is also an éclair genius. His lovely wife tempts you with gleaming fondant-coated varieties such as pistachio, Mars, Bounty, Twix, Saffron, Lagavulin (och, who can resist that one, Jimmy?), cherry, Strumph, chocolate, espresso and Madagascar Vanilla.  Incidentally, I also bought the fattest, juiciest looking Tahitian vanilla pods/beans. Tahitian are much subtler in flavour than Madagascan – I can't wait to try them out at home, even if I do prefer more up-front flavours. 
Eyeing the pastel-shade guimauves, I hauled myself away just with éclairs for tea-time and would get the rest tomorrow (well, I was supposed to be celebrating a special dinner so no need to over-do it!). 4 o'clock. On the dot. Goûter time with our éclair picnic on the windy beach. Without the cup of tea. I wish he had a tea salon.
 As it's right in the midst of cherry season, I had to pounce on this beauty with its cherry melting on to the brilliant fondant.
Serge's fillings are generous, light, creamy and flavours extremely subtle. For chocolate fans, his éclairs have a film of either white or dark chocolate as a base.
Sunday I popped back to the shop to stock up on the macarons, whose flavours were calling.  Check out this packaging for a box of 12 macarons.  La Classe.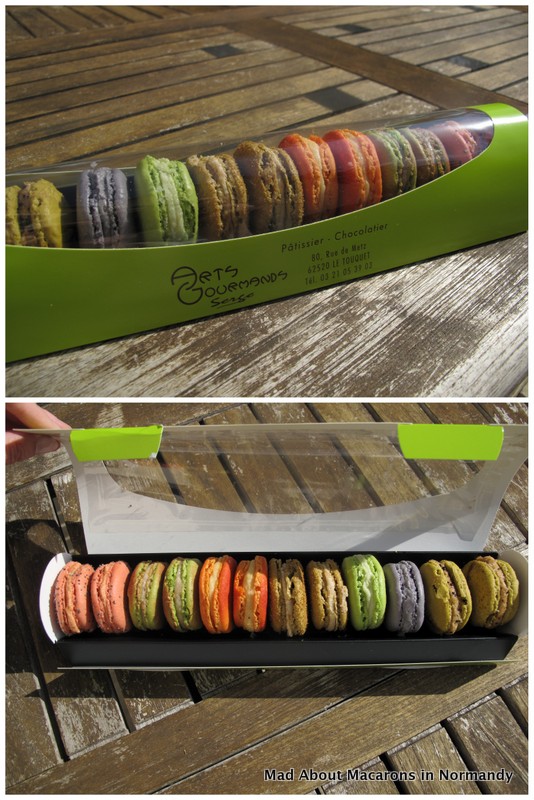 Carried away (why does that always happen in pastry shops?) I bought more than I 'needed'.  Well, I had to taste the espresso macarons, the violet, speculoos, apricot, rhubarb and one of my personal favourites, coquelicot: French poppy. What would you choose?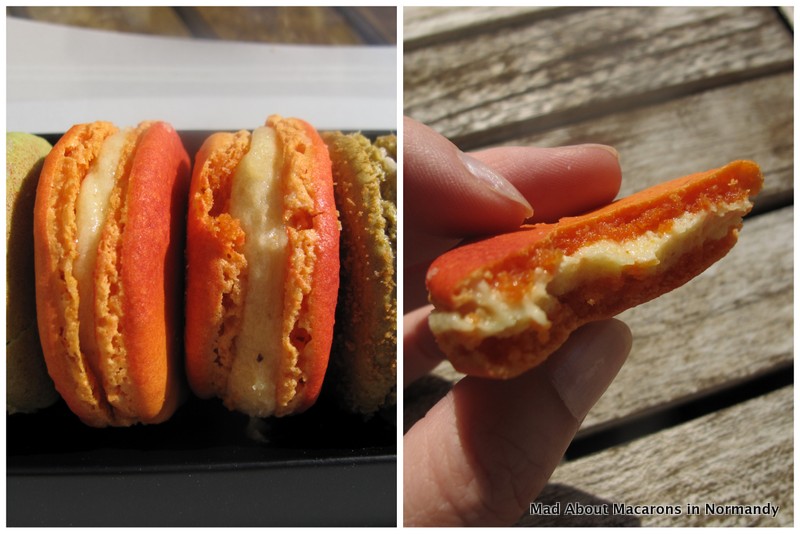 Starting with the subtle and sweet apricot and rhubarb, the French poppy had more fragrance as I prefer. Who loves speculoos? I'm saving that until last.
When I asked Serge if he made his macarons using French or Italian meringue, his cheeky, smiling answer was "My own way."
Well. Then.
I was seriously contemplating attacking these fresh cherry guimauve marshmallows with my café-crème and croissant breakfast but luckily, Serge let me taste a little beforehand so self restraint ruled.  I also bought a whopping 85% chocolate spread – this one is for the adult squirrel corner and well away from any of the kids' sweet Nutella!
Four éclairs for er, three of us.  To be honest (ok, I'm lying), I forgot that our eldest is on a German exchange and it was reflex, Sir. Honest it was.  Caribbean 66% chocolate (which was very low on sugar for the chocolate to shine through), Poppy, Espresso (this was our winner as it was slightly stronger in flavour than the others) and Lagavulin.
And this is how the sweet weekend ended on Father's Day: a Lagavulin Whisky éclair with its extra syringe of Scottish Malt (a double whisky?).  Ah, the Auld Alliance!  Where France meets Scotland over an éclair.  For a Franco-Scottish macaron, don't forget I have a MacClair (Coffee and Whisky) macaron recipe in the book on page 84.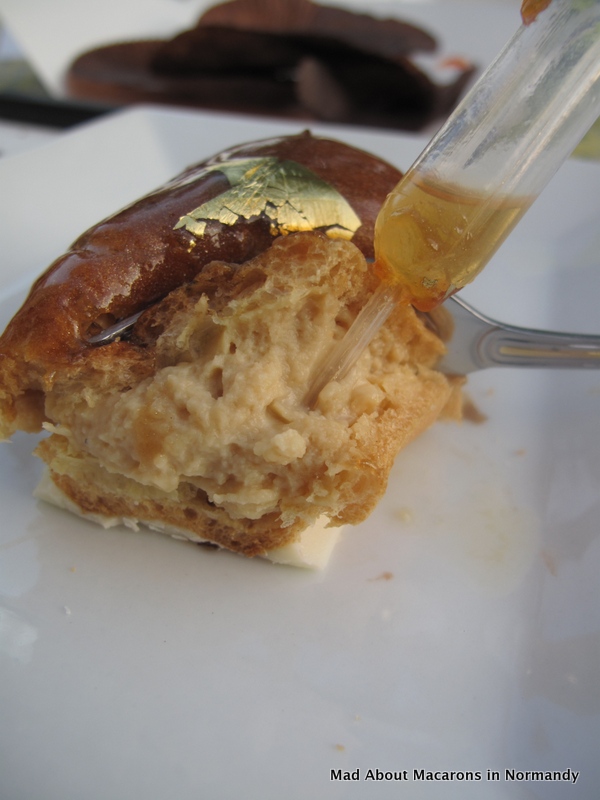 Cheers!
Let's just say I may just need another dose from Le Touquet-Paris-Plage. There's still a chocolate factory and the Tarte au Sucre to discover next time…
Arts Gourmands
80 rue de Metz
62520 Le Touquet-Paris-Plage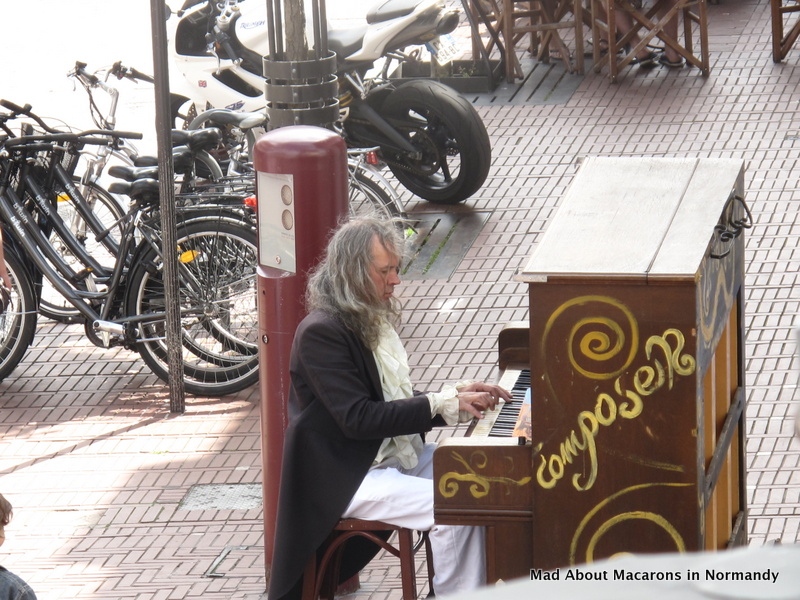 Have a tuneful week!
https://madaboutmacarons.com/wp-content/uploads/2014/06/macaron-display-chez-serge-le-touquay-france.jpg
800
600
Jill Colonna
https://madaboutmacarons.com/wp-content/uploads/2021/05/logo-mad-about-macarons.png
Jill Colonna
2014-06-16 16:18:15
2016-01-22 16:23:59
Le Touquet – where France meets England over Macarons