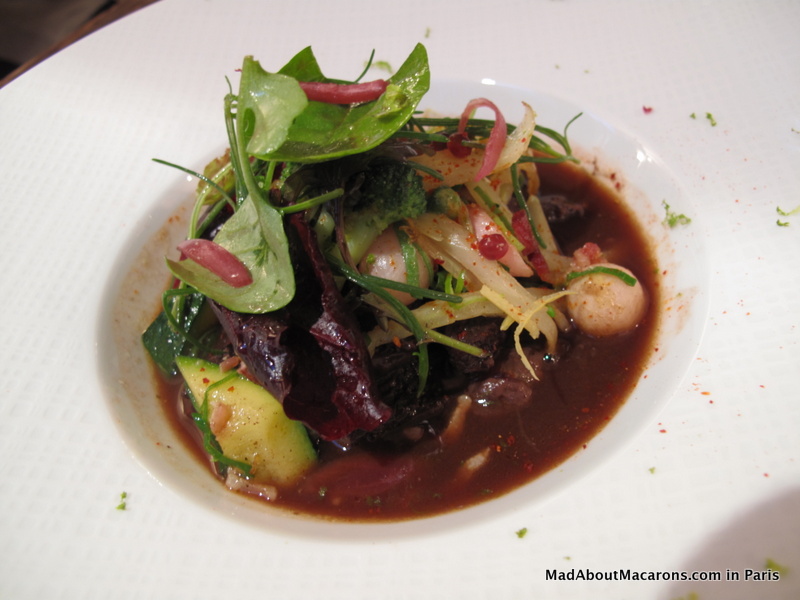 I didn't think this meal would happen finally.  Hubby announced he was running late, just as I arrived at the restaurant/wine bar. It's normal.  He usually works late on a Friday night (he's not your average Corsican). So I waited.
Ping. Text from daughter. Papa came home and panicked. Er, date night? He acted quick and took the car. The car? Let me explain: Les Enfants Rouges is in the heart of the Marais (centre east) in Paris; we live in the suburbs, nearer Versailles (south-west). Parking around this part of the Marais is not a piece of cake, either. Nearest is at République.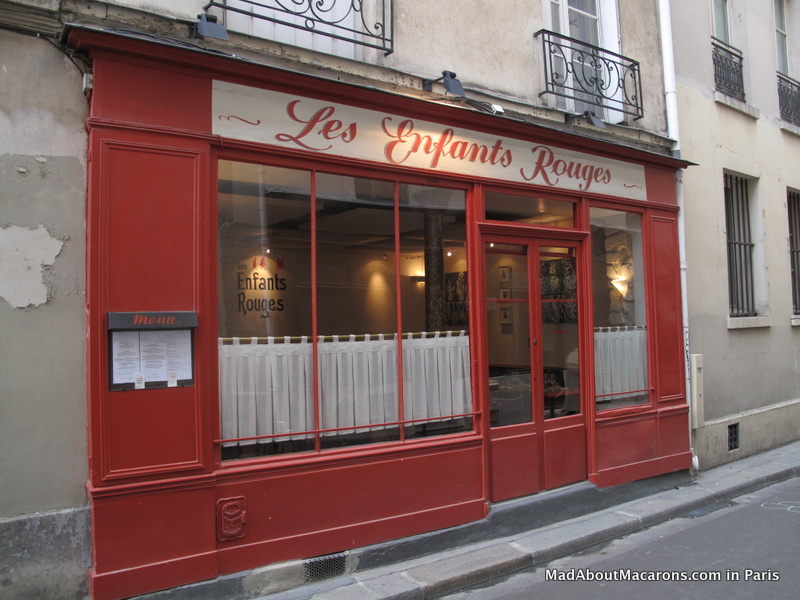 With nothing to read except the menu card and wine list – plus my phone unable to capture any signal except for texts – I mentally altered my choices of intriguing bistro fare over a glass of Juraçon sec.  No nibbles. This is the kind of place you just get stuck in to the menu. As people arrived and were tucking in, the decibels in the room escalated.  The decor is simple and the chairs hard, so if you do have back problems and your date is prone to being late, take a cushion.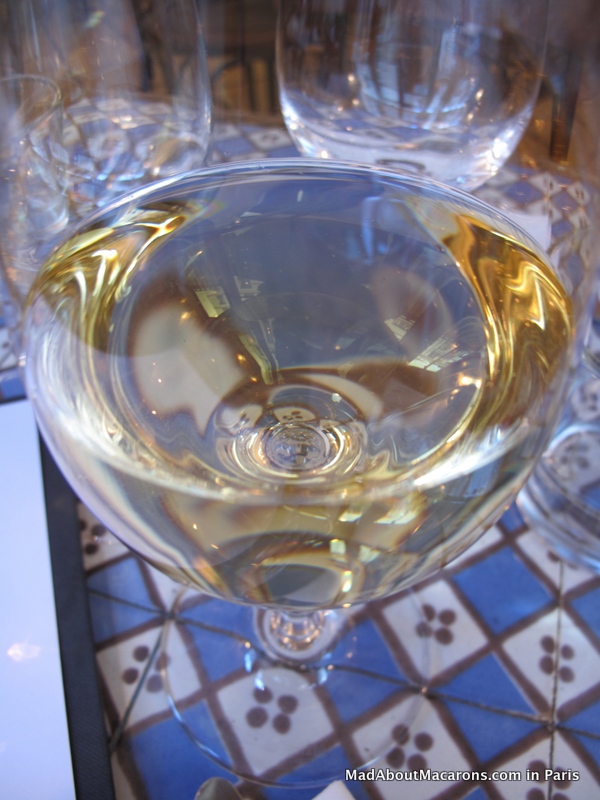 All the emphasis is on the cooking.  Chef Shinozuka is Japanese – an exciting ingredient added to typical French fare which drew me here in the first place, along that he previously worked next to Yves Camdeborde at his famous Le Comptoir du Relais in St Germain-des-Prés. This was our occasional hangout before Camdeborde became a French MasterChef judge. Hence Les Enfants Rouges is a promising Paris bistro address I've been meaning to visit ever since it opened last year.
Chef Shinozuka's smiling, welcoming wife works in the dining room. We immediately recognised her (and the waitress) from Le Comptoir.  We already felt at home.
A surprise amuse-bouche arrived: a potato soup with bacon mousse that announced classic, or surprises to come?
My entrée was impeccable.  It doesn't look much from here in that little black pan but the combined flavours of the fried egg, pleurette mushrooms and exploding vinegar pearls surprised the tastebuds. The egg was perfection: bursting into a creamy pool of sunshine for the mushrooms. Antoine's foaming herring caviar with Provençal asparagus was good, but I wasn't sharing much of mine. Heaven.
It's hard to believe I was vegetarian when I arrived in Paris over 20 years ago. Think what I could have missed here!  The beef cheeks (joues de boeuf) with green spring vegetables was where Chef Shinozuka strutted his stuff, twisting this bistro classic with the exotic. The sauce was more like a bouillon, with distinct notes of citronella lemon grass and a slight spicy heat.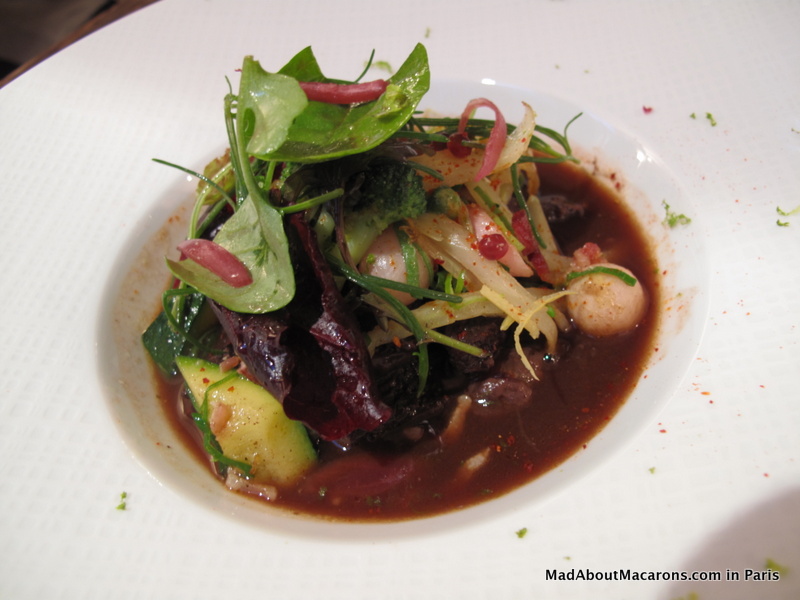 What would you have ordered from the dessert menu?
The Corsican grapefruit with vanilla ice cream; or mint pannacotta with bitter chocolate and black pepper; or soup of fromage blanc with strawberries and speculoos biscuits?  Or perhaps you would go for the classic Baba au Rhum served with a side of Chantilly cream (this needs to be ordered at the start of the meal)?  I'd already made my mind up since the beginning.
I don't know why I'm even telling you about this place, as I want to ensure I have a table easily here and wish I lived close enough to make it my canteen. But, because you're mad about macarons, I'm sharing the bistro love… Les Enfants Rouges is excellent value for money and at 35 euros for the evening menu, I'm returning soon. Even with Antoine.
Les Enfants Rouge
9 rue de Beauce
75003 Paris
Metros:  Temple, Filles du Calvaire, Arts-et-Métiers or Saint Sébastien-Froissart
Open for lunch and dinner every day except Tuesday.
Reservations recommended.
Tel: 01  48 87 80 61
https://madaboutmacarons.com/wp-content/uploads/2014/05/cheeky-dish-of-beef-and-lemongrass.jpg
600
800
Jill Colonna
https://madaboutmacarons.com/wp-content/uploads/2021/05/logo-mad-about-macarons.png
Jill Colonna
2014-06-10 13:48:10
2016-01-22 16:25:31
Les Enfants Rouges Restaurant & Wine Bar, Paris