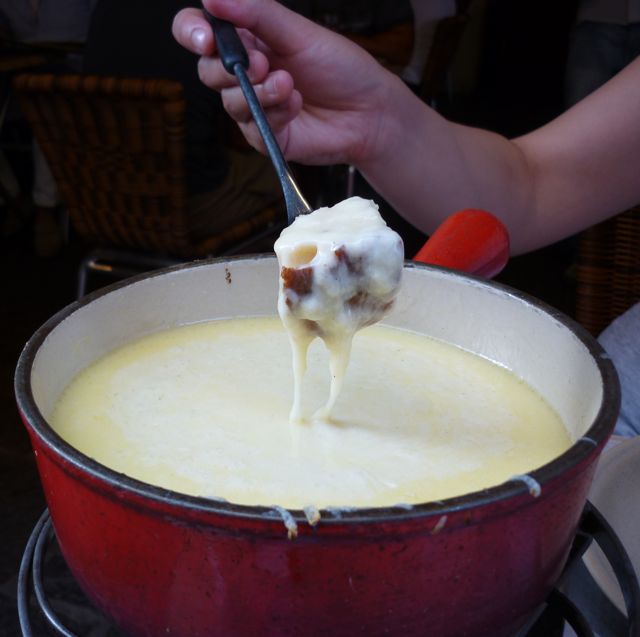 Have you ever read a book about travel, food and gastronomic history then been so curiously hungry to try it out for yourself that you've booked tickets the next day?
That happened last November. Some of you may recall I packed my bags and jumped on the train to Lyon for a gastronomic weekend after reading Chapter Four of Ann Mah's book, Mastering the Art of French Eating.  Then the other day, as Ann and I were exchanging the latest Parisian bathroom leak stories and French insurance companies, she let drop that her book has just been released in paperback.
To celebrate its release, Ann has given us a few 'Fondue's and don'ts', an extra bonus taken from her chapter on Savoie and Haute-Savoie where she learns from the locals about mastering the art of eating the most delicious of cheese fondues.  Like all ten chapters in her book, while she tours deliciously around France,  a recipe is given at the end.
Are you sitting comfortably? Have you brought out the fondue set?  Cheese (she'll help you choose that too) all cut up and ready? Then let's start the lesson: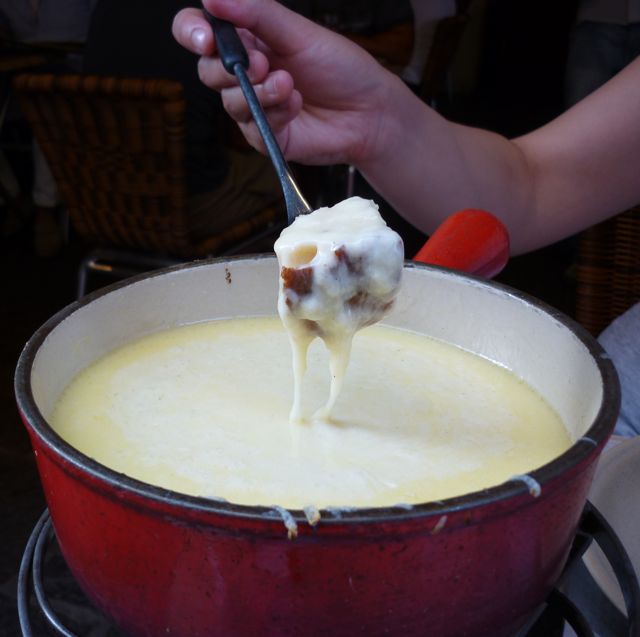 Fondue Etiquette

I've always thought of fondue as a casual dish, a winter warmer enjoyed with a round of backgammon. But when I set out to research the classic Alpine dish, I discovered an intricate web of politesse surrounding the pot of molten cheese. Fondue hails from Switzerland and/or France, and—like most things Swiss and/or French—it involves a host of rules. Here are some of the fondues and don'ts I've discovered:

* Don't stir counterclockwise: Traditionalists say you must stir clockwise or in a figure-eight pattern to keep the cheese homogenised until you reach the very bottom.

* Do twirl your fork: Keep things tidy by twirling those flyaway strands of melted cheese around your cube of bread. Please, no tapping, scraping, or double-dipping, unless you want to give your Swiss host a heart attack.

* Don't drink any water: Sip only white wine, kirsch, or an herbal tisane with your fondue meal. According to Swiss lore, any other drink—be it water, juice, or beer—will cause the melted cheese to coagulate and form a giant ball in your stomach, leaving you with debilitating indigestion. Yes, it sounds silly, but do you really want to risk it?

* Don't lose your bread in the pot: If your cube of cheese-soaked bread goes missing in the pot of molten cheese, you'll have to drain your glass of wine, or kiss your neighbor.

* Do make some noise: Feel free to scrape, clang, clank, and use whatever means necessary to dislodge the crust of browned cheese at the bottom of your empty fondue pot. Called "la religieuse," the shards of crisped cheese have a toasty crunch and are considered a delicacy.

* Don't follow cheese fondue with chocolate fondue: A meal of Switzerland's two most famous food exports seems like an obvious progression, but the two together might send you directly into a cholesterol coma. Instead, end your meal with fresh pineapple: The fruit's acidity is a bright counterpoint to the creamy cheese, while its enzymes help you digest more quickly.
Ann Mah is a journalist and the author of the novel, Kitchen Chinese. Ann was awarded a James Beard Foundation culinary scholarship in 2005 and her articles about food, travel, fashion, style, and the arts have appeared in The New York Times, Condé Nast Traveler, The Huffington Post, the International Herald Tribune, Washingtonian magazine, and the South China Morning Post, among other publications. The wife of a U.S. diplomat, Mah currently splits her time between New York City and Paris.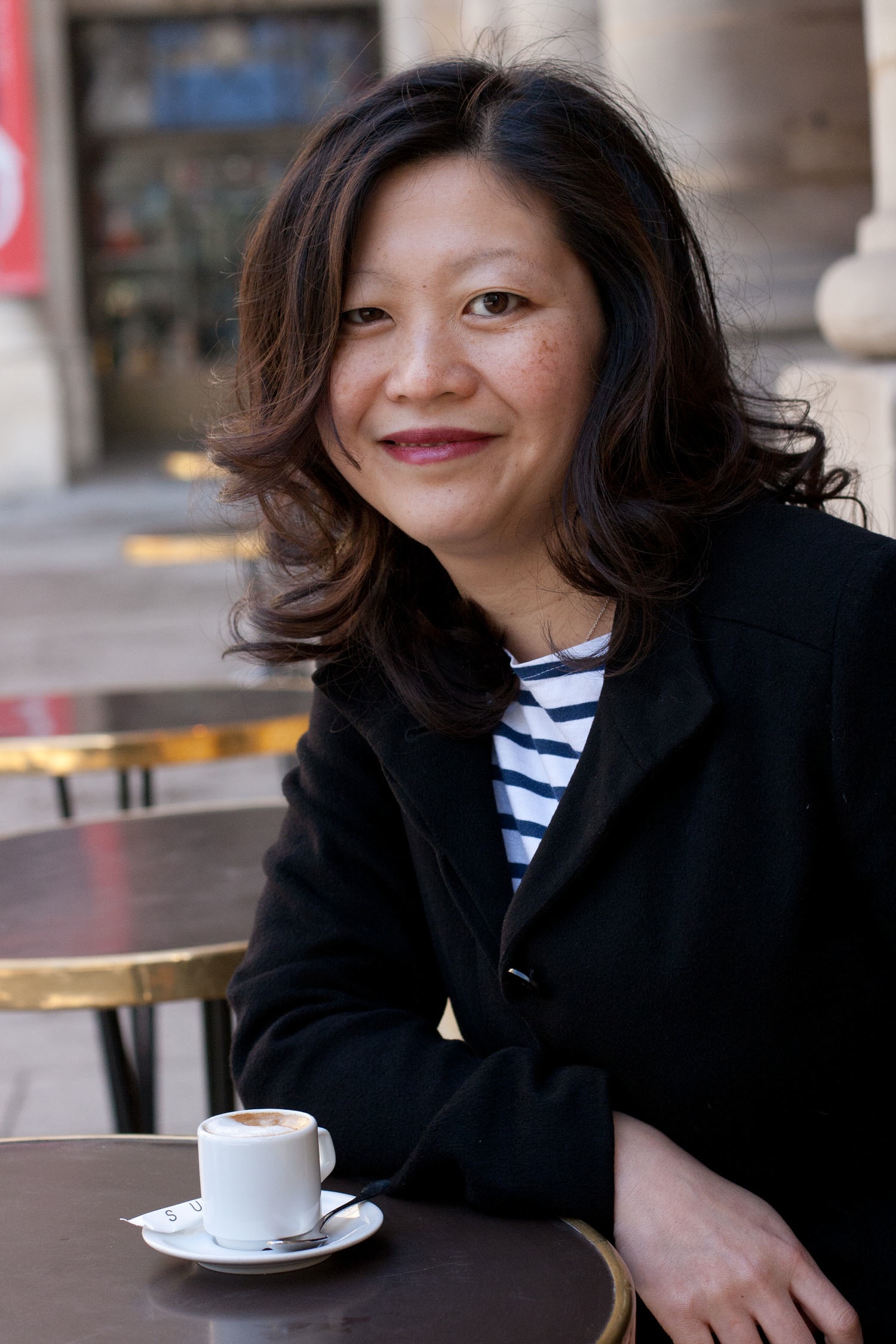 Thanks to Ann for enlightening us on our French fondue etiquette.  My personal favourites are "Don't drink water" (this always riles my Mother-in-Law up silly as she doesn't drink wine and always talks at the table about her digestive system – I must tell her to drink a herbal tea, though!) and the "Make noise…".  I don't think we've ever had a fondue – or cheesy gratin for that matter – when my family doesn't fight over who gets the delicious toasted scrapings at the end!
I'm thrilled to say that the lovely people at Penguin have kindly offered a Giveaway copy to readers of le blog!
To enter the #Giveaway, just comment below telling us about your favourite cheese fondue stories – or just tell us if there's a fondue set in the family – and, even better, share news of the Giveaway via Facebook or Twitter.  The Giveaway ends Sunday 9th November 2014, midnight in Paris.
Giveaway now closed.
Congratulations to Tonessa West Crowe who wins a copy of Ann Mah's paperback!
 Good luck!
https://madaboutmacarons.com/wp-content/uploads/2014/10/cheese-fondue-how-to-eat-like-the-french.jpg
637
640
Jill Colonna
https://madaboutmacarons.com/wp-content/uploads/2021/05/logo-mad-about-macarons.png
Jill Colonna
2014-11-04 20:41:57
2016-05-13 10:39:33
Mastering the Art of Eating Cheese Fondue by Ann Mah