Ouf! It's the school holidays. Enfin!
The children were desperately needing a break: they have worked so hard and are gradually becoming more independent. By that I don't mean I can just leave them and they get on with it all. They still need the constant nagging and even more TLC, now that my eldest daughter has moved to Secondary School.
It's a huge change for her – and seems even more 'grown up' in France, as they call it collège. One thing that hasn't changed is their enthusiasm for Melting Moments.
Why Melting Moments? Well that's what these biscuits or cookies were called from my Brownie's Cookbook (Were you ever a Brownie?  For those of you who think it's just a chocolate cake, it's the younger group that comes before Guides, as part of the Baden Powell Scout groups.) It was my first ever introduction to baking, when I also had precious moments with Mum in the kitchen and the chance to plunge my hands in sticky dough.
So I have a soft spot for these wee melt-in-the-mouth gems. They're also one of the quickest and easiest cookies to rustle up for goûter (afternoon tea). They're healthily full of soluble fibre using oat flour and finished off rolled in oat flakes.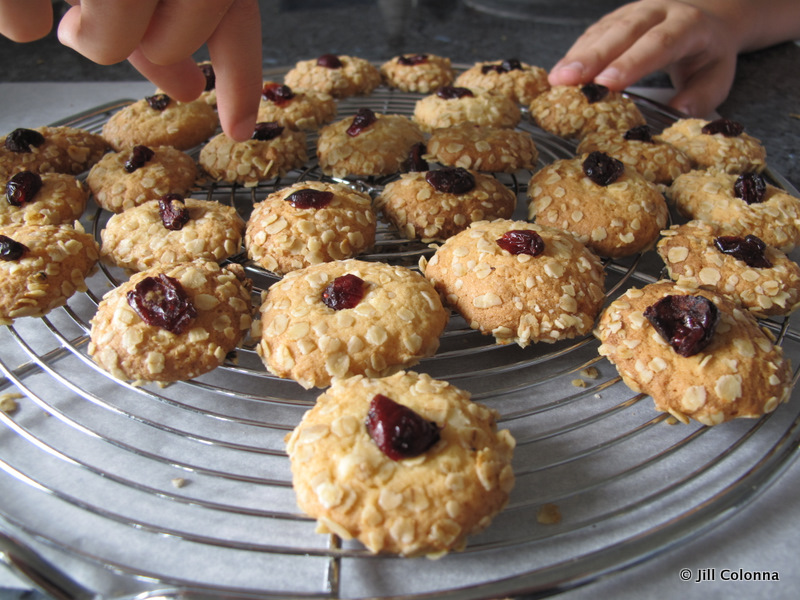 The laugh is, they never even noticed I'd served them on a Beatrix Potter bunny plate – they were too busy devouring these mini cookies.  Ideally, there should be the standard glass of milk for the photos, but truth be told we don't like drinking milk on its own. My eldest (now 11) is now even drinking tea!
It's great to see that through baking, they have also gained more confidence in the kitchen. When it comes to the tasting in the end, their final masterpieces always taste better when they've been made by their own hands.  And ça va sans dire (it goes without saying), that making them is indeed precious melting moments together.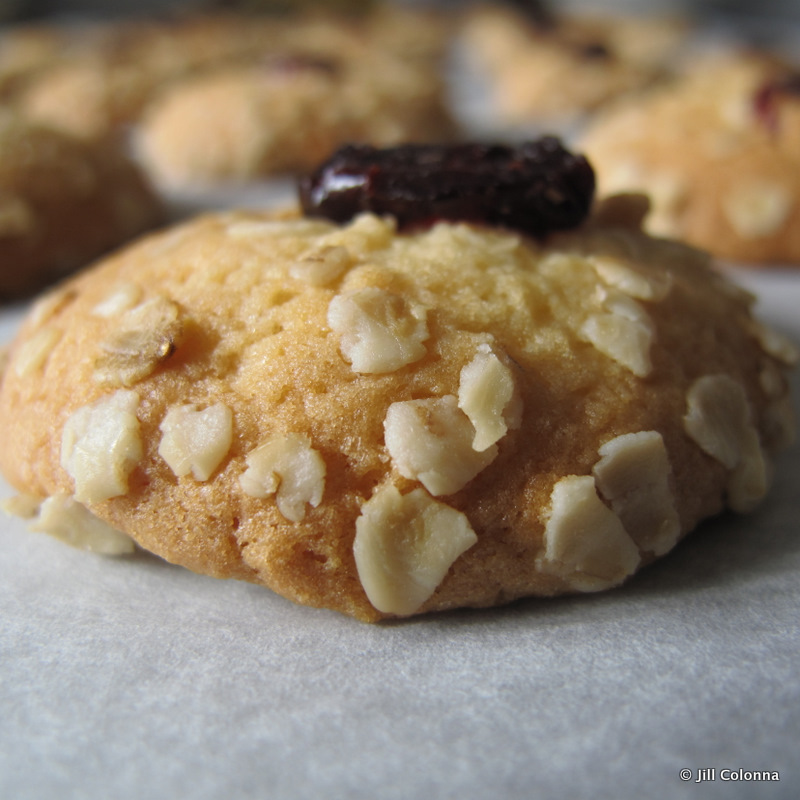 Recipe: Melting Moments
Adapted from the Brownie's Cookbook (I have no idea where it disappeared to – must be in my parents' attic.) I noted down the recipe years ago but since then have used less sugar and substituted half of the flour with oat flour.
100g butter, softened
65g caster sugar
1 small egg
1 tsp vanilla essence
75g plain flour
75g oat flour
2 tsp baking powder
oat flakes, for rolling
glacé cherries or dried cranberries for decoration
1. Preheat the oven to 180°C. Cream the butter and sugar until light and fluffy. Beat in the egg and vanilla. Stir in the flour and mix well.
2. Roll walnut size pieces of the mixture into balls, and roll each one in the oat flakes.
3. Place them on baking trays covered in baking paper, flattening slightly each one with the finger, then place 1/4 glacé cherry on each (or any other candied fruit; candied orange peel is wonderful, too.)
4. Bake for 10-12 minutes.
A touch of glacé ginger is rather more adult, though.  How often have you needed that wee kick to go with your cup of tea?  Perfect for a quick break before going back in the kitchen for more fun.  Although – it has to be said -for these memorable moments, there's nothing to beat the good old simple glacé cherry on top.
https://madaboutmacarons.com/wp-content/uploads/2011/07/melting-moments.jpg
600
800
Jill Colonna
https://madaboutmacarons.com/wp-content/uploads/2021/05/logo-mad-about-macarons.png
Jill Colonna
2011-10-24 16:32:25
2018-06-20 15:22:08
Melting Moments (or Mini Oat Cookies)