I know. It has been a bit silence radio here, as they say in France. I'm not going to moan but just to say I haven't forgotten about you, my sweet macaron friends.
Instead I've been going insane with recurring back problems since the summer. It's lovely to be told to do no housework, no lifting shopping, no gardening but sitting at the computer has been an even worse idea. After various diagnoses, I think I've finally found the right doctor and am happily cancelling surgery this month. It just goes to show that you need to ask around and, in this case, it's thanks to friends on Facebook!
Meanwhile our house improvement project is in full swing: anyone who follows me on Pinterest will see I'm having fun finding ideas, especially for my new office in the attic, a place I can hide and nibble on my favourite chocolate so that I can work on the next exciting venture. If you have storage and design tips for the kitchen and pantry, I'm especially all ears: the pâtisserie moulds and other foodie odds and ends are taking over the asylum! I'll talk about this in another post. Why is it that so many other things are urgently needing repaired or replaced at the same time?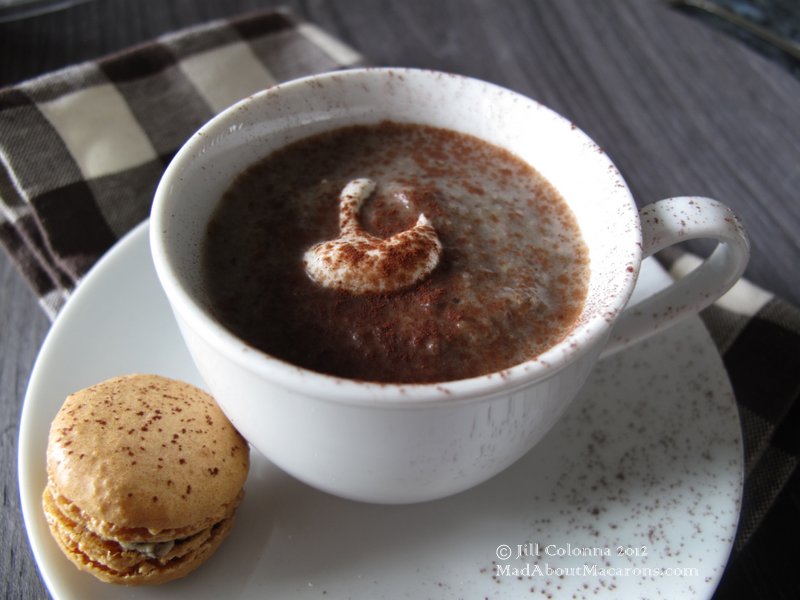 With mushroom season sprouting around Paris, you must try this dinky little mushroom cappuccino recipe. And, for all of you mad about macarons, enjoy it with a mini mushroom and truffle macaron. Delicious with a glass of chilled Jura white wine…like Vin Jaune, hmm.
As I gradually get straightened out from looking like a twisted Eiffel Tower, please do swing by and say bonjour via Instagram and via the usual social chatty buttons at the top. Meanwhile, I'll leave you with one of my favourite photos I took at this time 2 years ago, in case anyone missed it. 
A très bientôt !
https://madaboutmacarons.com/wp-content/uploads/2013/09/IMG_9878-0011.jpg
600
800
Jill Colonna
https://madaboutmacarons.com/wp-content/uploads/2021/05/logo-mad-about-macarons.png
Jill Colonna
2013-10-03 11:35:15
2016-01-27 15:59:52
Not Mushroom to Moan but Going In-Seine