After tasting the exquisite Pastéis de Nata from Comme à Lisbonne in Paris, I just had to make these delicious Portuguese custard tarts at home. Besides, it's a great egg yolk recipe!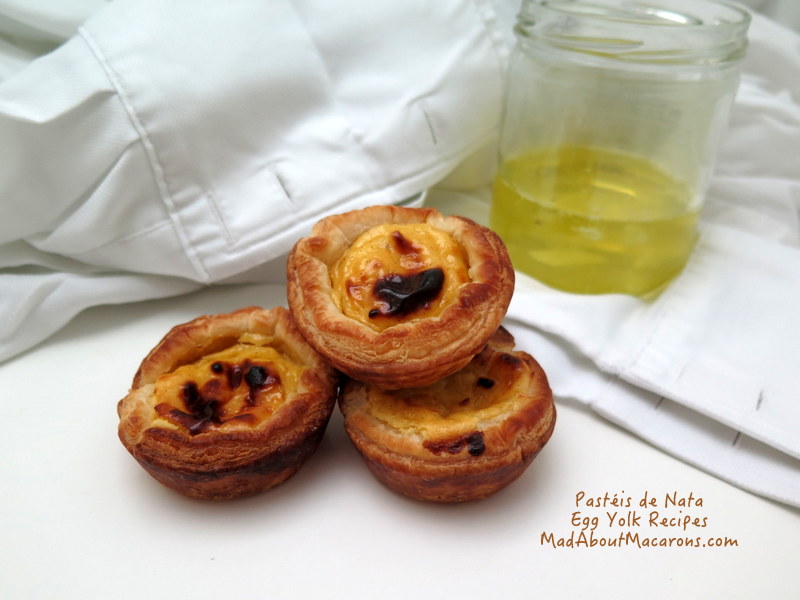 In true lazy gourmet style, I cheat and use ready-made puff pastry.  There's nothing wrong with that. Just remember to use a good quality all-butter puff pastry. I use either defrosted (here in France, Picard do a good frozen puff), or ready-rolled (these are in packets of 230g and so easy to use). If you can't find ready-rolled, just roll out the pastry to 3-5mm thickness and cut out your circles according to the recipe below.
One factor that's not easy to control is the traditional extra hot oven needed to make traditional sized custard tarts more genuine looking.  As not all of our home kitchen ovens can go up as high as professional ovens to give them that beautifully scorched look, put it as high as you can – and keep an eye on them!  I'd suggest 7-10 minutes if it's very hot, otherwise for about 10-15 minutes.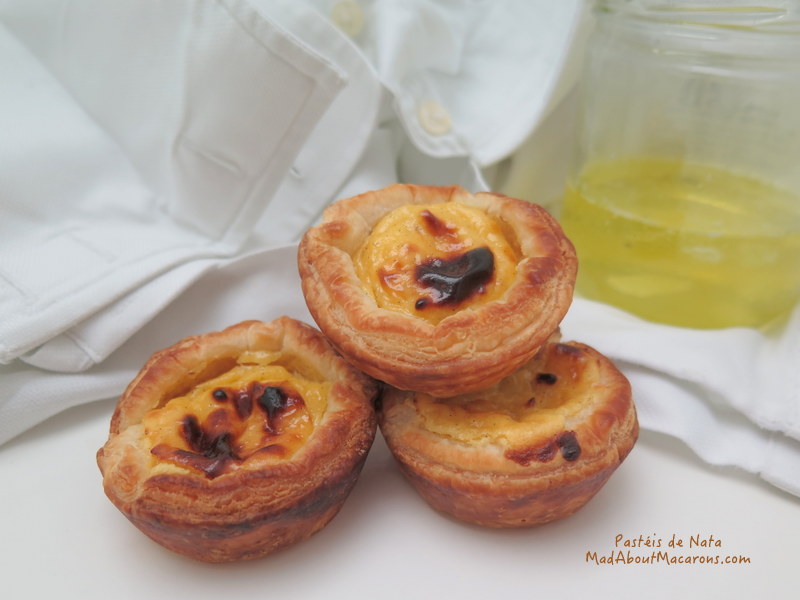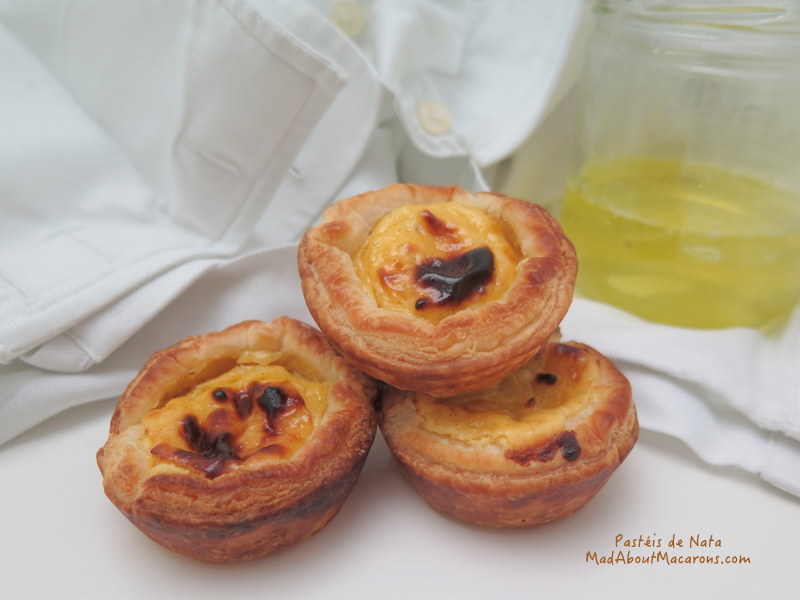 PASTÉIS DE NATA RECIPE
Recipe inspired by Denise Browning at From Brazil to You, who adapted it from the cookbook, "Cozinha Tradicional Porguguesa". Denise made mini tarts, whereas I made a slightly bigger, more traditional size like they serve at Comme à Lisbonne. So I used half quantity to fill regular muffin moulds, and cut down the sugar slightly, using a vanilla pod/bean instead of the extract.
Makes 12 tartlets (using 2x 6-cavity non-stick muffin moulds @ 7cm diameter)
Preparation Time: 30 minutes
Baking Time: 8-15 minutes (depending on your oven)
Ingredients:
4 egg yolks
80g sugar
15g cornflour/cornstarch (a lightly heaped tablespoon)
1 vanilla pod/bean, scraped of seeds*
250ml whole milk
230g puff pastry (1 pack of ready-rolled or a pack of frozen puff, defrosted)
Powdered cinnamon (to serve)
* 1 tbsp vanilla extract
1. Chill a bowl in the fridge. Put the egg yolks, sugar, cornflour and vanilla seeds (scraped from a pod cut in half down the middle horizontally) in a saucepan and mix well using a balloon whisk until you have a creamy paste. Gradually add the milk, whisking until mixed well together.
2. Put the pan on a medium heat and whisk constantly until the mixture thickens.  Remove pan from the heat. (If you don't use the vanilla pod, add the extract at this point). Transfer the custard to the chilled bowl and immediately cover it with cling film to prevent a skin from forming. Set aside to cool.
3. Lightly oil or butter the muffin moulds and preheat the oven preferably to the highest setting – I used  250°C/480°F/230°C mark 9.
4. On a lightly floured surface – roll the pastry if needed – using a cookie cutter or glass (about 9cm diameter, slightly bigger than the 7cm diameter muffin cavity), cut out discs and press them into each cavity.  Spoon in the cooled custard about 3/4 to the top then bake for 7-10 minutes.  Keep an eye on them!
5. Leave to cool in the moulds/tins for about 5 minutes then turn them out on to a wire rack.
Serve them slightly warm and lightly dusted with cinnamon.
P.S. As large quantities of egg whites were used for starching clothes in the monasteries and convents around the 18th Century, the monks discovered this delicious way of using up the egg yolks and so a legendary Portuguese pastry was born!  And just for the record, I don't starch hubby's shirts with egg whites. Macarons are much better fun!
Click here for more about Pasteis de Nata and how popular they are!
https://madaboutmacarons.com/wp-content/uploads/2015/04/Pasteis-de-natas-egg-custard-tarts_opt.jpg
230
306
Jill Colonna
https://madaboutmacarons.com/wp-content/uploads/2015/04/logo-mad-about-macarons.png
Jill Colonna
2015-04-28 15:59:53
2018-04-05 16:23:52
Pastéis de Nata Portuguese Custard Tarts Recipe