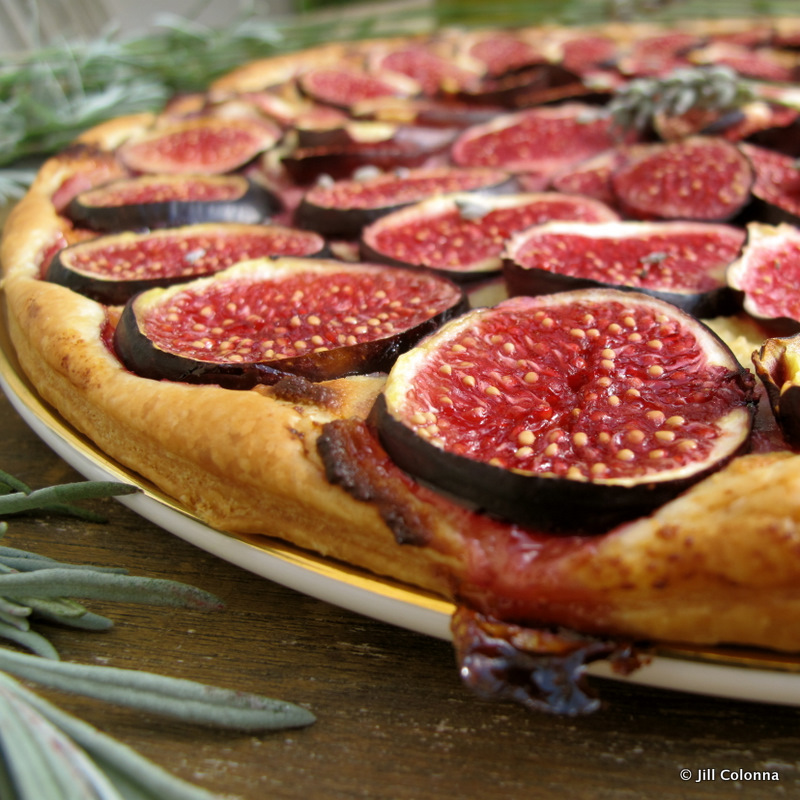 When Mardi asked me to guest post on her blog, I was so excited.  Imagine being asked to do something for Eat.Live.Travel.Write?  When Mardi was last in Paris, we met up for goûter or quatre heures. What a wonderful afternoon we spent together, indulging on a selection of light but decadent pastries at Un Dimanche à Paris. Mardi had no hesitation choosing the spoon-clinging hot chocolate and myself, a pot of Ceylon Earl Grey which arrived with a timer and instructions to infuse the giant teabag for no more than 4 minutes.
Quatre minutes when you're sharing funny stories of life in Paris?  We didn't see the time pass so I'm sure any tea gourmets would have held their hands up in horror.  So, Mardi – next time you come to Paris this pastry jaunt has to be made into a ritual. We have to do this for our readers' sake, n'est-ce pas?
Mardi's readers are no stranger to French cuisine.  She always cooks up a storm in her kitchen – including macarons – to perfection.  So what could I serve up to her friends?  With such a short fig season here, I'm currently adding figs to so many dishes.
At our local market in Saint Germain-en-Laye (just outside Paris) these figs are set out like jewels, individually nested in their crates begging, just try me for ripeness. Pick figs that are ripe but firm enough to the touch.  That way it will be easier to cut them into thin slices.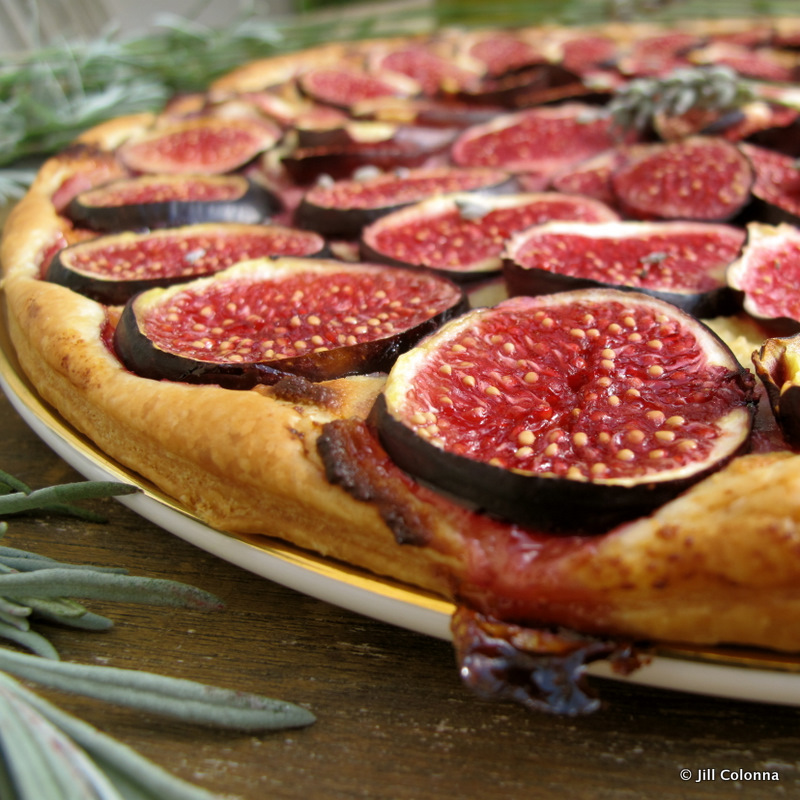 One of my personal favourites is this fig tart. It's pretty to look at but light enough with a pot of Oolong orange blossom tea for Quatre Heures.  That way there's still room for dinner! It's so quick and simple to make plus easy to cut. The addition of orange blossom water gives it that extra je ne sais quoi to the almond and honey base.
For that extra taste of France, I love to scatter just one dried lavender flower to the tart once it comes out of the oven.  Or sprinkle on a few flaked almonds.
Fig Tart
Preparation Time: 25 minutes
Baking Time: 20 minutes
Round of ready-made puff pastry
12-15 purple plump figs (ripe but firm enough to cut neatly)
60g ground almonds (almond flour)
2 tbsp runny honey
1 egg
2 tsp orange flower water
1.  On a baking sheet lined with greaseproof baking paper, prick the pastry with a fork and score a border 1cm in from the edge using a knife.  Place in the fridge for 20 minutes.  Preheat the oven to 200°C.
2. Wash, dry and cut the figs finely, using a good sharp knife.
3. Beat the egg and honey with a whisk in a bowl until light and creamy.  Add the ground almonds and orange flower water.  Using a spatula, spread the mix on the pastry.
4. Place the figs in rounds on the pastry.  Bake in the oven for about 20 minutes.
If only the fig season lasted longer but the good news is that you can freeze the tart for up to a month.
This was published as a guest post over at EatLiveTravelWrite.
I turned off comments on my side, since out of respect for my guest post, if you'd like to say something, head on over to see the delicious comments chez Mardi!
https://madaboutmacarons.com/wp-content/uploads/2011/09/fig-lavender-honey-tart.jpg
800
800
Jill Colonna
https://madaboutmacarons.com/wp-content/uploads/2015/04/logo-mad-about-macarons.png
Jill Colonna
2011-09-22 12:53:54
2016-01-27 22:04:11
Quick and Easy Fig Tart Recipe