The words, Saint Honoré , mean more than the ever-so-chic luxury shopping street in the first arrondissement. Saint Honoré – the patron saint of bakers – is now given a double tribute at the Mandarin Oriental, the most modern of the ian Palace hotels, just around the corner from Place Vendôme.
This week, la fête du Saint Honoré (16 May) was honoured in true ian Mandarin Oriental style, with celebrations centred around the famous Saint-Honoré pastry, originally invented by Chef Chiboust on the eponymous street back in the 19th century (1847 to be precise).
Whilst the location of Chef Chiboust's original patisserie isn't known, thanks to the Mandarin Oriental hotel on rue Saint-Honoré, it's now an address (that I'm personally glad to see, as it was previously lacking) which honours the patron saint with their very own signature pastry, completely re-modelled in the hotel's modern style.
(Did you know that the actual location of the hotel used to be on the same spot as a circus? See my article all about the Bento Teatime and the true story of Chocolat the clown, who was made famous here.)
It's a double whammy, as such a contemporary re-model of the pastry classic (originally designed by David Landriot) doesn't stop there.
l'Honoré: New Healthy Menu
The Saint Honoré celebrations announced the opening of l'Honoré, the start of a new style of a healthy-eating detox menu experience from breakfast, lunch to teatime – served in the re-looked stylish lobby and the more discrete cosy alcoves.
Butterflies follow us around the hotel: starting from the reception area with 138 Swarovski butterflies, representing each of the hotel rooms, to every stylish nook and corner.
Michelin-starred Executive Chef, Thierry Marx – one of the pioneers in France by indicating vegetarian, gluten-free, dairy-free or nut-free on his menus here – takes it a step further with l'Honoré by offering menus to cater for those with dietary requirements, or for those who simply like a particularly healthy but gourmet option.
(Update 24 May 2017) Honoured to try out the new l'Honoré menu, I plunged right in with a taste of the carrot, apple and ginger detox drink. The detox concoctions change daily, but I would easily drink this every day given the chance: it has the perfect dosage of reviving ginger without it being too strong and the carrot is balanced beautifully with green apple (checking my complexion in the mirror today to see the benefits!).
The 100% vegan options on the menu are a mix of light quinoa style salads to avocado toast but the vegetable burger is more substantial, served in a rice-flour bun with pickles, salad and the most addictive parsnip chips. Spice lovers will adore the green vegetable curry with coconut and delicate rice: I found it hard to imagine that seasonal vegetables without meat or fish would be so satisfying, especially with its fragrant mix of fresh Thai basil and coriander.

Dessert options are fruity and light – but if you're feeling a bit more decadent, you can choose a pastry from the cake shop that sweetly beckons across the hall. The one downside is that the new plush seats are so comfortable – it's just too easy to wish to linger for teatime and, as you're slightly hidden from view (not from the attentive service), it's tempting to get working on your next project in such a discrete, peaceful haven.
Saint-Honoré Pastries on Rue Saint Honoré
Back to the pastry party! Chef Thierry Marx and his prestigious pastry team had exceptionally created SIX different flavours of their signature Saint-Honoré pastry just for the occasion: including Matcha green tea, praline, and rose-raspberry. I've put in a word that they continue them during the year, so fingers crossed!
But there was no time to stop and marvel at the Cake Shop's window. Out in the leafy courtyard during a brief ian heatwave, Chef Thierry Marx was kicking off the Saint Honoré celebrations – starting with a demonstration of a giant Saint-Honoré savoury pastry.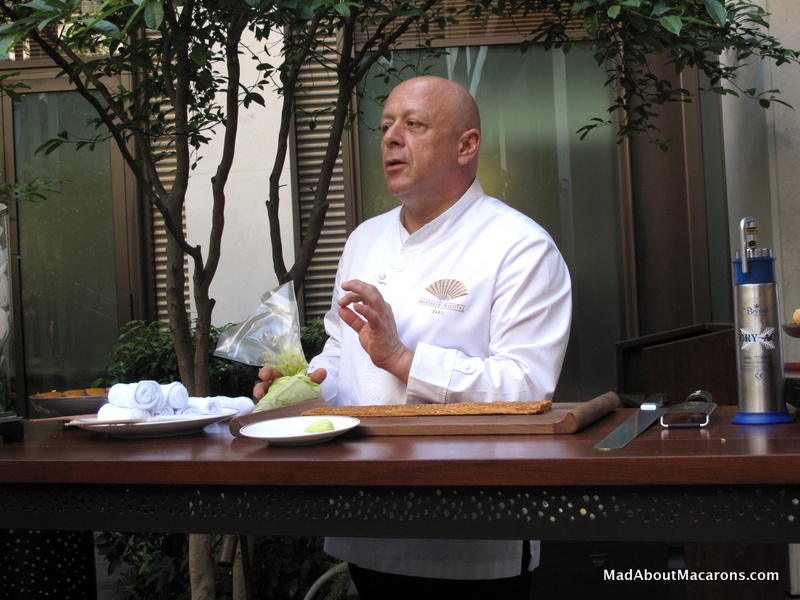 Renowned for his molecular gastronomy with touches of Asian exoticism, chef Marx explained his techniques with an impressive, speedy precision – interspersed with his charismatic sense of humour we've loved watching over the years as jury on the first few episodes on French TV's popular Top Chef on M6. He's my idol. He may be a celebrity chef but he's a most modest human being and helps others to succeed.
He fires off a number of baking tips: from how to create the lightest puff pastry in the blender; to the preparation of an avocado and mascarpone cream with a hint of spice, while he pipes it out like luxurious clockwork using a special Saint Honoré piping tip. Finishing flourishes of the most delicate garlic flowers, spots of preserved lemon compote and lime zest are added before popping on the crab-filled choux with scallop coral hats. Et voilà! As he sprays the masterpiece with ice, he announces that the tasting begins.
Before we know it, he hands us our aprons and we're in Giraud's hands to learn how to make a sweet Saint-Honoré cocktail. Each cocktail coupe is decorated with their Saint-Honoré signature mini caramelised choux. Our tasting group is given a doser, the vanilla syrup, caramel and coconut water – and we learn to shake that ice shaker like a pro, right up to how to pour the cream to rest on the top.
The final touch is edible glitter, which I find difficult to get it in the glass. If you find glitter in their hedges, that's still my cocktail masterpiece (well, it was my first ever homemade cocktail!)
All change to the next workshop: with the lovely Anne-Charlotte giving us the job of decorating the ready-prepared caramelised choux bases. Our hardest job was decision-making: what cream to use (vanilla vs pink rose)? What piping tips (starred, plain)? What toppings (raspberries, blueberries, chopped nuts, whole almonds, chocolate marbles)?
Celebrations continued into the evening, with a gigantic meters-long Saint-Honoré pastry – which needed four bakers to carry it while dodging the firework candles!
Here's my Mandarin Oriental Saint-Honoré. Now I'm wondering how I could have piped out one of these beautiful butterflies: just imagine that stuffed raspberry on its side, fluttering about!
If you'd like to make the easier classic version of the Saint-Honoré pastry, then it's the final recipe in Teatime in , as part of the special tea party chapter! casino insättning 30 kr
Cheers to Saint-Honoré and to your year ahead of happy baking!
L'Honoré
Detox Menu (Breakfast, Lunch & Teatime)
7am-7pm
Mandarin Oriental Hotel
251 rue Saint Honoré
https://madaboutmacarons.com/wp-content/uploads/2017/05/Saint-Honore-Paris-Mandarin-Oriental_opt.jpg
230
306
Jill Colonna
https://madaboutmacarons.com/wp-content/uploads/2021/05/logo-mad-about-macarons.png
Jill Colonna
2017-05-20 12:33:28
2020-04-30 15:59:17
Saint Honoré Paris: Mandarin Oriental Hotel