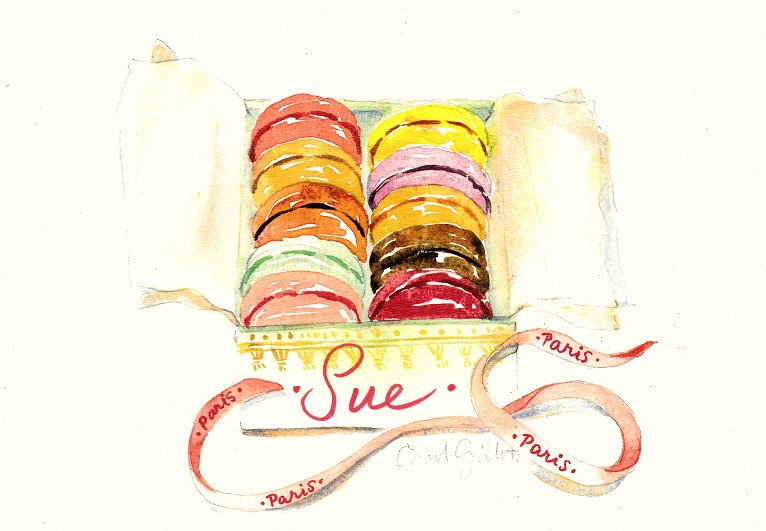 Would you love a letter from Paris in your mailbox? Well perhaps you've heard of Carol Gillott.  If you have been following Mad About Macarons, I'm sure you have.  She is the talented American artist behind the popular blog, Paris Breakfast.
Carol is real food lover.  Now living on Ile-Saint-Louis in Paris, she paints Parisian dreams and manages to take you on an imagined stroll through Paris.
She does this through her imaginative and colourful monthly Paris Sketch Letters.  They celebrate all kinds of French seasonal food each month and you'll discover that she has a particular penchant for macarons and pastries.  When your package arrives from Paris, you'll discover all sorts of petits additions – such as ribbons, perfume testers, and business cards from Parisian cafés and shops.
Paris Sketch Letters come in different subscription packages and this month there is a holiday special for the month of December!
Order a subscription on ETSY and get a watercolor print of a box of macarons with your name on it!
It's not too late to receive the personalized macaron print in time for the holidays (Hanukkah and Kwanza included).
They're ready to ship out TODAY! If you want to personally give the 1st letter, Carol can send it to you and the rest to the gift recipient.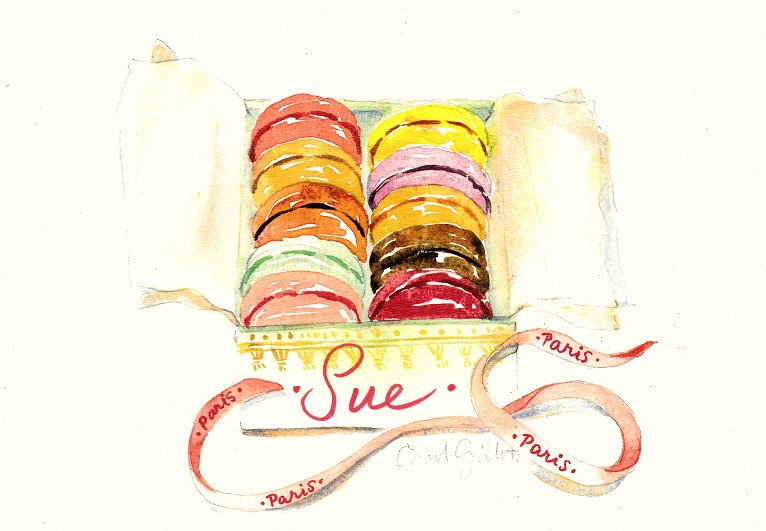 I'm changing my name to Sue, the lucky macaron girl!  I'm off to make some macarons, then.
Oh, and just a wee whisper in your ear … you'll be seeing a bit more of Carol around here soon;  I can't wait to tell you about an exciting project. That's a promise…
https://madaboutmacarons.com/wp-content/uploads/2014/12/watercolour-parisian-macarons-presentation-box-carol-gillott.jpeg
531
766
Jill Colonna
https://madaboutmacarons.com/wp-content/uploads/2021/05/logo-mad-about-macarons.png
Jill Colonna
2014-12-08 18:02:51
2016-01-22 15:28:24
Sketch Letters and Macaron Holiday Special at Paris Breakfast