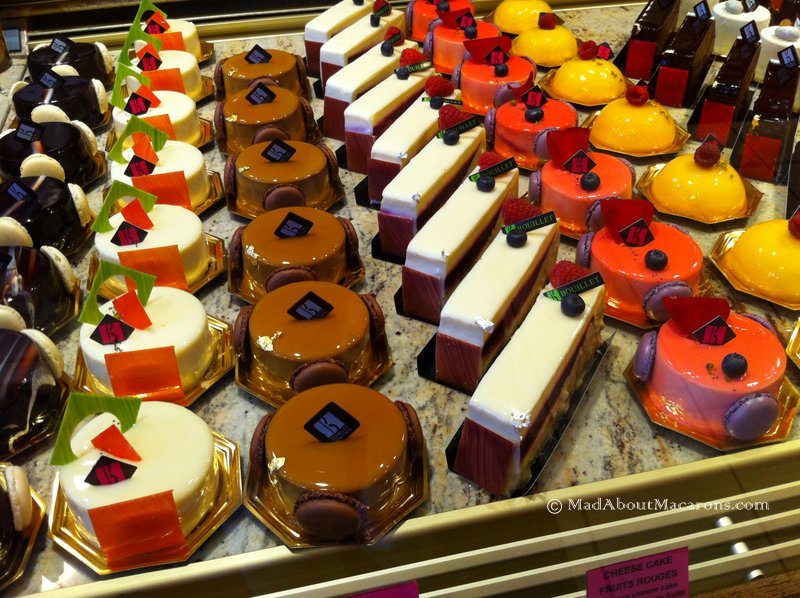 Well that took forever to post something: my kids are suddenly using this computer so much for their homework that my minutes are counted! Where was I?  Ah yes, my weekend in Lyon: it was a real treat. After experiencing Chez Hugon, a fabulously friendly Lyonnais bouchon with its traditional sausages, poulet au vinaigre and quenelles de brochet, it was time to venture out next day to discover Lyon's sweet side.
No trip to Lyon is complete without visiting Sebastien Bouillet.  I'd already seen his chocolate and macaron artistry at the Salon du Chocolat in Paris and had previously heard of his 'MacaLyon', which provided inspiration for a half-dipped macaron in chocolate which is in the book.
First – since we wanted a girlie weekend with a bit of culture thrown in too – we headed to La Maison des Canuts. The Canuts were the Lyonnais silk weavers who mainly worked in this hilly area of the Croix Rousse. The museum takes about 50 minutes to visit (if you do the guided tour in French) otherwise you can stroll around willy nilly while you're left imagining the poor conditions these weavers had to work in, as if out of a scene of Victor Hugo's Les Misérables.
Sebastien Bouillet is only a ten minute walk away from the museum to the market square, at Place de la Croix-Rousse.
With the bellowing of an accordion nearby to get us into the French pâtisserie spirit, the boutique's front was more like a make-up stand in a Parfumerie.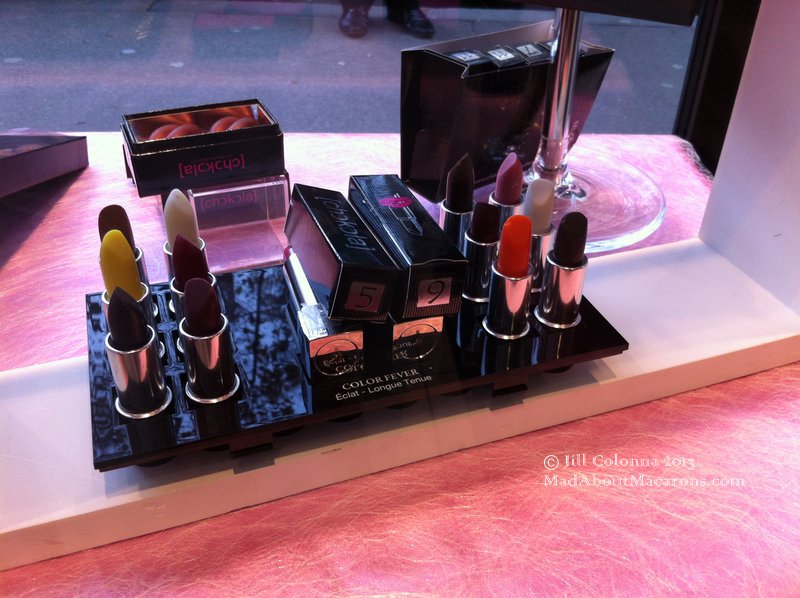 Don't be fooled: these are chocolate lipsticks from his 'Chokola' collection! What about some lip-smacking milk chocolate and passion fruit to hide in a handbag along with some chocolate lips, chocolate caviar… and some candied chestnuts (perhaps the latter would be messy)?
His pastries were so inviting and at a fraction of the cost of the same kind of elegant, creative combinations you find in Paris. With only a 2 hour ride from Paris Gare de Lyon (surprise!),  I need to pop on that TGV train more often. He also runs a prestigious pastry school, Gâteau Ecole.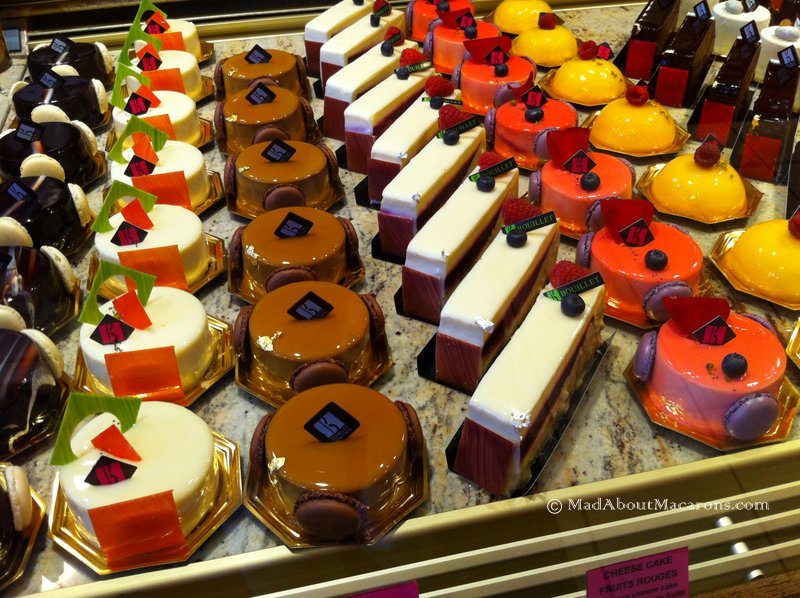 His colourful array of macarons are just as tempting with inspiring flavours such as quince, chestnut, gianduja with green tea, chocolate, praline, salted caramel…. what would you choose?
Another culture break down the hill is well worth the visit to the Musée des Beaux-Arts, the second biggest art gallery in France after the Louvre. I love seeing the impressionists paintings of scenes taken along the river Seine.  This Sisley landscape is just up the road from us, in Marly-le-Roi. Nothing much has changed.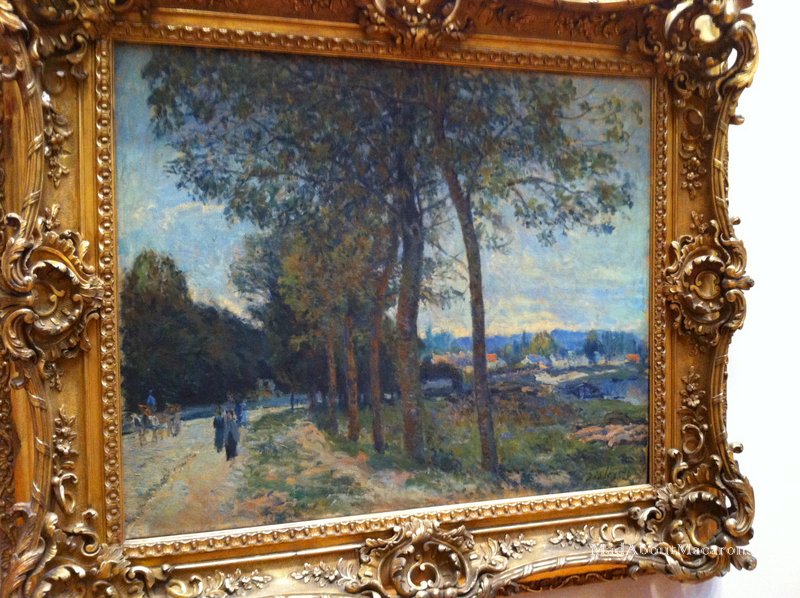 Just next door to the Gallery is a welcome sweet neighbour, Chocolatier Voisin. Léon Voisin's chocolate shop's doors have been open since 1897. He created the Lyon speciality, Le Coussin de Lyon: a bright green cushion of chocolate ganache, almond paste and a hint of Curaçao. If you love marzipan like I do, this is a must!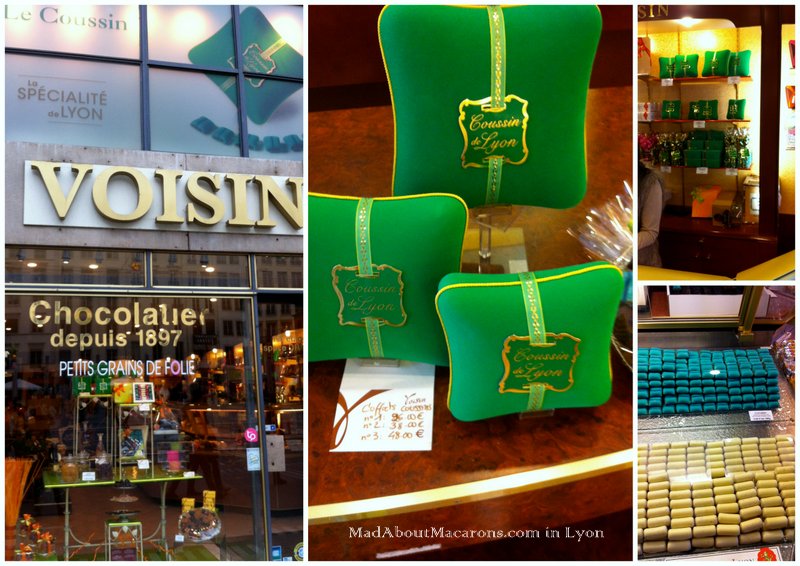 The friendly staff at the art gallery told us to try Voisin's delicious praline quenelles. They're officially classed as a national delicacy as the patrimoine nationale de la confiserie.  Again nutty, they're made with grilled hazelnuts and almonds and covered in white chocolate.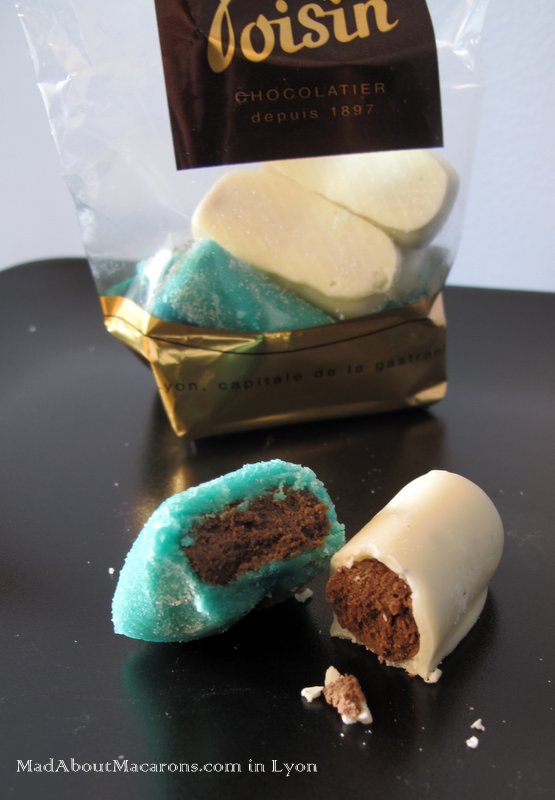 I felt like a bit of Opera coming on but we'd missed the guided tour (Saturdays at 1pm) so instead we headed to rue de la République.  Or rather, we tried to.  What is it with these Smartphone map apps?  I always get lost with them.
Instead, we found it the old-fashioned way by asking a friendly Lyonnaise the direction. Walking in Lyon is like being in Glasgow but chatting in French: the Lyonnais are so friendly they even ask where you're heading and how they can help. It's a long way from Paris!
At 4 o'clock, it was time for another kind of Opéra, with a cup of tea. Bingo! We found our recommended Salon de Thé or tea salon at La Maison Debeaux. 
Their traditional pink praline tart and brioches were tempting enough but I surprised even myself by pouncing on a giant coffee macaron with mascarpone cream, the 'Maccarpone'. Well, macarons are gluten free, after all.
Our particularly adorable server, on the other hand, wasn't quite in agreement with my tea order: I'd asked for one of their gastronomic teas with a petit nuage or cloud of milk. But Madame, this kind of tea shouldn't be taken with milk. Instead he brought me some Earl Grey, or Thé à la Bergamote, and offered me the most dinkiest looking teapots filled with blue flower and jasmine tea, just for me to try.  Now that was class in a glass teapot. I missed my milk, though!
When most gastronomes think of Lyon, they think of Paul Bocuse.  This time around I wanted to try the Tetedoie restaurant, run by the brilliant chef and President of the Maîtres Cuisiners de France, Christian Tetedoie. His menu, Découverte et Gourmandise, merits a post by itself but a glimpse of his sweet treats will hopefully give you an idea why I'd love to return.  This sublime dessert, caramelised pastry with green apple compôte and Granny Smith sorbet was light enough to enjoy his surprise plate of mignardises to finish off the evening – all with the most spectacular views of Lyon.
It was the cherry on the cake – or meringue on the macaron? – of the weekend.  Soon it's Lyon's annual festival, la Fête des Lumières (5-9 December – check out their fun video on this site).  Next year we'll need to organise another trip and discover more of Lyon's sweet side. What do you think?
---
Disclaimer: All tastings and financial indulgences were purely my own. Ridiculous!
https://madaboutmacarons.com/wp-content/uploads/2013/11/pastries-at-sebastien-bouillet-lyon.jpg
598
800
Jill Colonna
https://madaboutmacarons.com/wp-content/uploads/2021/05/logo-mad-about-macarons.png
Jill Colonna
2013-12-04 19:04:07
2018-03-31 14:35:20
A Gourmet Weekend in Lyon