There's something magical about holidays.  It's not only a precious time to reconnect with the family, unwind, stand back and gather our thoughts – but it's also a vital break from the kitchen. There's nothing more inspiring than eating out and discovering new flavours.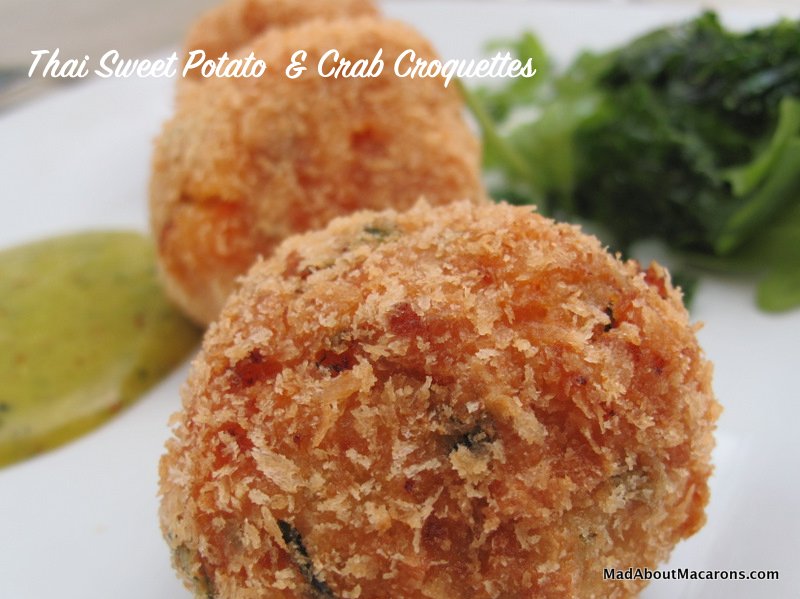 Just before Paris shut down for the holidays in August, Antoine and I headed to KGB in Paris to tickle the tastebuds.  Don't you love the name, KGB?  When you book, there's that inner excitement thinking that Pierce Brosnan or Roger Moore could be reserved at the next table – although I'd prefer the original James Bond via my favourite Scot, Sean Connery (even if he came up to me and complained that we'd run out of programmes during the Edinburgh Festival, as I was ushering people to their seats as a student – but that's another story.  All is forgiven, Sean: I couldn't have agreed more with you – I was just swooning so much I did nothing about it.)
However, KGB stands for Kitchen Galérie Bis, as it's the bistro version of William Ledeuil's Michelin-starred restaurant in the same street, Ze Kitchen Galérie, on rue des Grands Augustins.
As we were headed for Thailand this summer, this was the perfect restaurant featuring fusion food at its best between Thai cooking and French cuisine. The service was just as attentive as its big brother and it was a privilege that the Executive Chef, Yariv Berrebi, invited me for a look behind the scenes in the bustling kitchen. What an impressive team they have that can produce such amazing dishes out of such a stifling small kitchen!
The menu is almost like a Tapas menu in style, with the first array of amuse-bouches arriving called "zors-d'oeuvre". I was immediately inspired with the cod croquettes with a basil béarnaise sauce and couldn't wait to get back in ze kitchen back home to try out one of the recipes in chef Ledeuil's new cookbook, Ze Kitchen Galerie: La Cuisine de William Ledeuil.
The nearest was his Sweet Potato Croquettes, Crab and Thai Herbs with an Spicy Artichoke Condiment – although I've adapted it a bit, made a quick spicy basil mayonnaise instead, plus made bigger portions for a first course starter.
Sweet Potato, Crab & Thai Herb Croquettes with Spicy Basil Mayonnaise
Serves 4
Preparation Time: 30 minutes
Chilling Time: 20 minutes
Cooking Time: Approx 30 minutes total
Croquettes
2 medium sweet potatoes, peeled and chopped
2 lemongrass sticks
3 cloves garlic
240 g tinned crab (Ledeuil uses 200g fresh crabmeat but I didn't have any to hand)
5 branches of fresh Thai basil, leaves only (chopped)
5 branches of fresh coriander, leaves only (chopped)
4 kaffir lime leaves
1 lime, untreated
3 tbps olive oil
salt
Coating
100g egg whites
100g flour
150g panko breadcrumbs
1.  Cut the sweet potatoes into small cubes.  Cut the bottom off the lemongrass, remove the first 2 outer hard layers and cut in 2 horizontally.  Peel the garlic and chop finely.
2.  In a heavy frying pan, heat 3 tbsp olive oil then sauté the garlic and lemongrass for a couple of minutes until fragrant.  Add the sweet potato and kaffir lime leaves and leave to sweat with the lid on for about 20 minutes.
3.  Once the sweet potato mixture is cooked, remove the lime leaves, crush the potato with a fork or masher (still over the heat to dry it a bit) and add the salt.  Take off the heat, add the crab, chopped herbs and the zest of the lime.  Mix well and leave to cool.
4.  Form the mixture into small balls, using the palm of your hands.  Place them on a baking tray and put them aside in the freezer for 20 minutes.  This will make it easier to work the mixture with the coating later.
5.  Prepare 3 separate bowls of egg white, flour and the panko (Japanese breadcrumbs.)
6.  Roll the balls successively in the flour, then egg white and finish off with the panko.  If the 'phone rings, only pick up with these hands if urgent. 🙂
7.  Prepare the sauce: whisk up 4 tbsps of mayonnaise with 2 tsps of lime pesto (without the cheese), adding a finely chopped half red chili.
8.  Heat the fryer to 180°C and when hot, plunge the croquettes in for about 1min30 or until they are crisp and golden.  Repeat the process until all the mix is used up.
9. Drain on absorbant kitchen paper and serve.
Read about our first Thailand adventure here, then what NOT to do in Bangkok!
https://madaboutmacarons.com/wp-content/uploads/2011/08/Thai-sweet-potato-crab-croquettes_opt.jpg
229
306
Jill Colonna
https://madaboutmacarons.com/wp-content/uploads/2021/05/logo-mad-about-macarons.png
Jill Colonna
2011-08-26 11:01:41
2021-02-19 15:40:44
Sweet Potato, Crab & Thai Herb Croquettes – Inspired by KGB Paris