I was scared to make this classic French Crème Caramel for many years after my arrival in France. Instead, I sat back and let my French mother-in-law make her delectable family-sized crème caramel each time we visited them in their pretty Provençal village of Saignon.  Back in Paris, I'd order it hands down each time on dessert menus in brasseries, bistros or cafés.
No Packet Mixes!
Somehow that pristine dark caramel reflecting our wide, greedy eyes looked so perfect yet was so light that I thought it was a no-go to make. French Crème Caramel – known as flan in other parts of the world – seemed so simple but it was totally out of my comfort zone.
Growing up in Scotland, we made ours using a green-boxed packet mix: my job was to squeeze out each sachet of caramel into each dish and excitingly, the whole thing worked just beautifully. Many years on, I cringe at packet mixes but then it's an entirely different era; now we prefer to make dishes from scratch – as we know exactly what's in it, can lower sugar levels and add our own creative twists.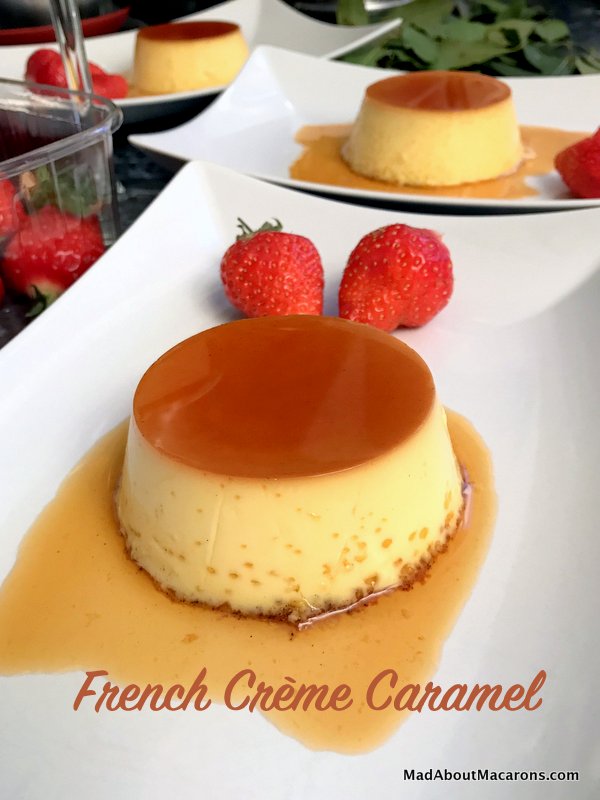 Variations to French Crème Caramel
This classic French dessert can easily take on many twists – as the likes of teas, herbs, and floral infusions work well while infusing in the milk.  I've made this with jasmine tea, Earl Grey tea and fresh or dried lemon verbena (incidentally, have you tried this lemon verbena ice cream?).  They're all fantastic – but I keep referring back to the good old classic vanilla.  There's something so nostalgic about it, isn't there? Fresh berries or exotic fruits on the side are enough for me. Simple yet effective.
Over the years, I prefer this version, as I've experimented making Crème Caramel with cream, milk and cream, milk and eggs. In the end, this is by far my favourite: just with milk but the addition of 3 egg yolks gives it that creamy, silky, melt-in-the-mouth feel, keeping it perfectly light.
Not long after launching this blog, I was fortunate to have my Japanese friend, Nami, from Just One Cookbook guest post before she hit super stardom.  Here is her recipe for Japanese Purin, a no-bake version using gelatine.
This French Crème Caramel recipe below does look long and complicated but I've given detailed recipe steps to explain how easy it is. Et voilà !
Have you made any of the recipes from le blog (from my books, too) or fancy making this classic French Crème Caramel?  Please leave some comment love below, take a picture and hashtag it #MadAboutMacarons on Instagram and Facebook – or simply tell family and friends about le blog! Thanks so much for sharing.
French Crème Caramel
An easy, step by step recipe for the classic French Crème Caramel. No cream but made with egg yolks for a light, melt-in-the-mouth perfect end to any meal.
Ingredients
Caramel:
100

g / 3.5oz

granulated sugar

2

tbsp

water
Custard Cream:
500

ml / 17 fl oz

milk

(whole milk)

pinch

vanilla powder (or 1/2 tsp vanilla extract)

2

medium

eggs

(organic)

3

egg yolks

(organic)

70

g / 2.5oz

sugar
Instructions
Make the caramel:
Put the granulated sugar and water in a small saucepan. Over a low heat, stir using a wooden spoon until the sugar has completely disappeared or dissolved. Turn up to a low-medium heat and leave the caramel to form without stirring. This should take about 10 minutes (PLEASE don't multitask and leave the pan - keep your eye on it). Wait until the caramel is medium to dark brown - not light otherwise it will just be too sweet. (Don't leave it to go too dark, either, otherwise it will be bitter!)

Pour the caramel into 4 ramekin dishes, ensuring that it coats completely the base. Set aside to cool so that the caramel sets and immediately put the saucepan in the sink and soak in water, making it easier to clean later.
Make the custard cream:
Preheat the oven to 170°C/340°F/150°C fan/Gas 3. Pour the milk into a medium saucepan, adding the vanilla and just allow the milk to heat to simmering point (not boiling). Take off the heat.

Whisk the eggs, yolks and sugar in a large bowl. Pour in the hot milk and whisk constantly. Put the ramekins into a roasting tin and pour in the custard mix over the caramel. Place in the oven and pour in warm water into the roasting tin so that it comes to about 2/3 of the way up the ramekins.

Bake for about 40 minutes or until set (they're not cooked properly if there's a dip in the middle). Remove from the oven carefully, and gradually remove the ramekins onto a cooling rack. When cool, transfer to the fridge and chill for at least 2 hours - or overnight.

To serve, slice through a cross in the middle of each ramekin with a thin sharp knife and loosen the creams by running the knife also around the sides. Turn upside down directly on to the serving plates. Or just serve them directly in their ramekins, as many Parisian brasseries do! Best served at room temperature.
Recipe Notes
Serve with fresh berries or slices of exotic fruits, depending on the season.
Tip: To release the crème caramels from their ramekins, my Dad explained "as an engineer" that it was easier to slice a cross through the middle.  Since then, I've always used this method, and find there's no need to grease the ramekins. However, if you prefer to grease them with butter, do so just before pouring in the custard.
Jill Colonna
https://madaboutmacarons.com/wp-content/uploads/2018/05/French-Creme-caramel_opt.jpg
230
306
Jill Colonna
https://madaboutmacarons.com/wp-content/uploads/2019/12/logo-mad-about-macarons.png
Jill Colonna
2018-05-04 18:10:56
2020-09-10 17:42:56
French Crème Caramel