Think of French poppies and often Claude Monet's impressionist painting comes to mind, n'est-ce pas?
Monet painted Camille and Jean strolling amongst the poppies near Argenteuil – not far from where we live.  I couldn't stop thinking about Monet's impression of the poppy field as we took a drive to the country recently. En route, poppies were out in all their glory – fields upon fields – to say bonjour.
There was this urge to make French poppy macarons as soon as I got back home.  I had found an intense poppy essence (arôme coquelicot), which was like tasting pure bonbons as a child.
As the poppy flavour was so sweet – and it's still the rhubarb season – I added a touch of rhubarb compôte.  A classic is to pair poppy with strawberry, but the rhubarb just gave that tiny touch of tartness that brought out all the memories of poppy coquelicot sweeties.
As you can understand, I'm not allowed to publish my macaron recipes on the site.  So, to make the filling, grab a copy of the book and use the recipe for orange blossom macarons on p.77.  Simply replace 5 tbsps orange flower water with rhubarb compôte and use 1 tsp of the poppy extract and follow the rest of the recipe as in the book.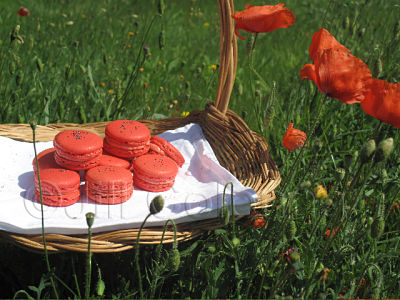 And what better way to eat them?  Sitting in a poppy field with Parisian poppy macarons in a basket, served with a chilled bottle of fizz: fizzy water – or what about Macaron Prosecco?
There's perhaps some things missing:  the easel, paints and Monet's pipe.  Let the dream live on: wear a panama hat. That way we can take our hats off to all Dads out there and wish you all a very Happy Fathers' Day on Sunday.
Cheers to your good health!
Egg Yolk Recipe Series
I am so proud to welcome my talented guest, Nami from Just One Cookbook.  Just in case you missed it, see what she has prepared for us, using 4 egg yolks: a gorgeous recipe for Crème Caramel, or Japanese Purin.   This has to be the best crème caramel I've ever seen.  Thank you Nami for sharing this with us!
Visit to Pain de Sucre Pâtisserie in Paris with ParisPâtisseries
Join us on our mad macaron adventure at Pain de Sucre Pâtisserie in Paris.  I recently went with Adam Wayda of Paris Patisseries fame, to watch them making macarons using their new macaron-making machine.  Please don't forget that this is on a large scale (about 2000 macarons a day) and don't let that put you off making them yourselves at home.  Remember, they are a lot easier than you think!
Pain de Sucre making macarons Part I
Pain de Sucre making macarons Part II
I'm so inspired by Adam's photography and so many of my blogger friends' photos, I'm trying to work on enlarging my own just now, as they are all too small on the site (you're right, Thoma ;-)).  This last photo is blown up but have no idea how it will look on your screens (possibly too big?)  By next week, I'll have it sussed – I hope.
Bonne semaine and macaron making!
https://madaboutmacarons.com/wp-content/uploads/2011/06/french-poppy-macarons-by-the-seine-with-jill-mad-about-macarons.jpg
300
400
Jill Colonna
https://madaboutmacarons.com/wp-content/uploads/2021/05/logo-mad-about-macarons.png
Jill Colonna
2011-06-13 11:41:48
2015-03-23 20:42:20
French Poppies: A Macaron Impression