I lost the plot this weekend. Blame it on the persisting torrents of rain. So when the skies suddenly cleared on Sunday, my daughter and I escaped to the King's Vegetable Garden (Potager du Roi) in Versailles.
Their gates have been open to the public since 1991 but this October weekend was a special Saveurs du Potager, an annual culinary festival to showcase the diversity of the 300-or-so varieties of fruits and vegetables that are grown here.
Classed as a UNESCO World Heritage Site, 30 tons of fruit and 20 tons of vegetables are produced each year at the Potager du Roi, thanks to the horticultural school's students next door. While Le Notre was responsible for the gardens at Versailles, Jean-Baptiste La Quintinie was responsible for building the potager-fruitier over five years (1678-1683) and ensuring the best quality fruit and vegetables on the royal table. La Quintinie's statue surveys the daily pickings plus the continuation of experiments and new gardening techniques.
Louis XIV was so proud of this garden that he loved to bring visitors such as the Doge of Venice on a tour here, passing the exotic Orangerie en route. The King could show off his own pruning techniques and explain how his talented gardener managed to ensure that asparagus or strawberries could arrive 3 weeks before season by using different manures.
My eye was drawn to the aromatic part of the garden since I love decorating dishes with edible flowers.  Bourrache or borage is popular here but I can tell you – I made a mistake the other day, decorating a chocolate mousse with one of these flowers.  Tasting one of these flowers was like eating a light fishy cucumber.  Not quite the best chocolate partner. I would suggest adding borage flowers to savoury fish dishes!
Nasturtiums were growing in all their glory.  Claude Monet adored eating them in peppery salads from his garden at Giverny. Personally on a cool, October day I was craving these beautiful parsnip plants for a comforting parsnip, round carrot and coriander soup. With a mini curry mad mac… Speaking of spice, ginger plants were also proudly on show in the gardens.
As Lucie and I were completely lost just trying to find the stand to buy produce from the garden, we literally stumbled into the most amazing man-made grotto. Lucie being the adventurer, ran up some crooked, mossy steps and discovered a secret passage below a rickety bridge linking up to a round outlook tower.  As we gingerly descended into the creepy darkness below, this enormous grotto was waiting to surprise us. Just as well we didn't come in the other way: that middle photo is a whopping great hole that we luckily missed on the roof!
Inside the long-corridored building, various gardening clubs were showing visitors how to create compost, how to create a shelter for ladybirds, make your own apple juice using a press plus how to construct a 'hotel' for insects.
I even discovered that Alkekenge is the real name for physalis cages d'amour (love cages – trust the French to be so romantic) that are taking over our garden. Hm. Shall we just stick with love cages? Grrrrr. Much that I love the name, 'Reine des Reinettes', they're not my favourite apples since they're far too sweet. Floury apples don't do it for me. Call me boring, but comfort me with Pink Lady or Braeburns any day.  Beurré Hardy, on the other hand, is one of my favourite pear varieties.  So good you just eat them on their own but if you want to make a gluten free dessert, then why not try some chocolate macarons with poached coffee-vanilla pears?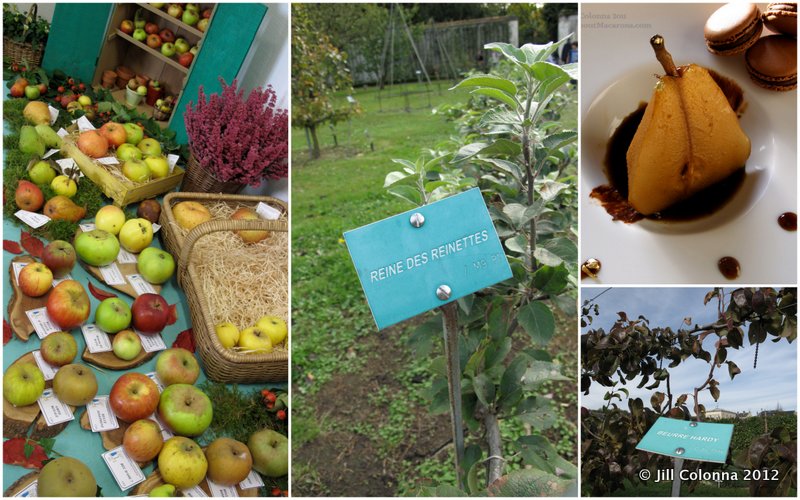 The theme of culinary demonstrations for the afternoon was Italian cooking. Lucie and I watched Venetian cookbook author, Adriana Cardin, in admiration as she managed to show us how to make pasta in front of such a fidgety, noisy audience. OK, so she said to make pasta by hand and forget your pasta machine. What more do you want? She gave us all tastings of homemade (albeit thicker than I'm used to) pasta triangles with her cavroman sauce. Did you know that poor man's tortellini has no filling? I also didn't realise that the famous Italian '00' flour, difficult to find in Paris, is simply "Farine Type 55". When I think I carted flour in my suitcase back from our last Italian holiday. Duh.
The last room for us to visit was les épluchures or peelings. Can you see these peeling-inspired chapeaux hats taking off?
Instead the red onion peelings inspired me to make a caramelised red onion tarte tatin, accompanied with a perfectly mineral Sauvignon blanc wine from the Loire Valley to bring out the honey flavours – a simple yet delicious feast to finish off the royal weekend.
Potager du Roi (King's Vegetable Garden)
10 Rue du Maréchal Joffre
78000 Versailles
January – March: Tues & Thurs 10am-6pm
April-October: Tues-Sun 10am-6pm
du mardi au dimanche de 10h à 18h
November-December: Tues & Thurs 10am-6pm; Sat 10am-1pm
https://madaboutmacarons.com/wp-content/uploads/2012/10/Versailles-potager-du-roi-soup_opt.jpg
230
306
Jill Colonna
https://madaboutmacarons.com/wp-content/uploads/2021/05/logo-mad-about-macarons.png
Jill Colonna
2012-10-11 12:10:52
2019-09-01 13:19:19
A Fruity Weekend at the King's Vegetable Garden in Versailles