Autumnal scenes in and around Paris have been so glorious. So much so, that this savoury Pumpkin & Pecan Chestnut Flour Tart was inspired by such cheesy golden to nutty brown leaf colours – adding a touch of green from a leek.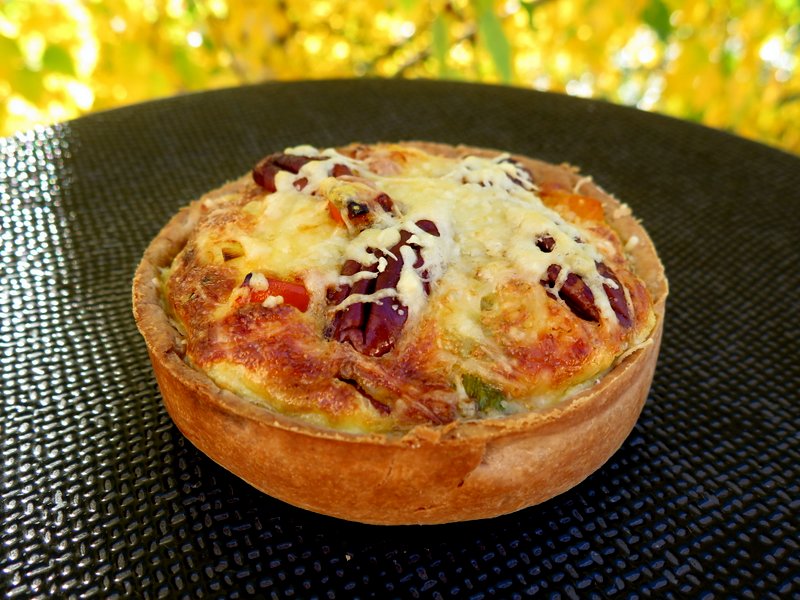 Each time Autumn arrives, the family always ask for this Chestnut Flour Tart with Mushrooms since we all agree it's special: it tastes like Autumn on a plate. It is simply divine and worth the effort to make the pastry.
It's vegetarian, although we don't mention this to Antoine, as he thinks we're not feeding him otherwise. Somehow the lush, smooth taste of the chestnut flour pastry base fools us into thinking that there's bacon or chicken in it – but no, it's VEGETARIAN!
Having enjoyed my daughter, Julie's presence so much while home from university these past few days, I've been away from le blog. How time races while perusing bookshops for literature books and spending quality time together over pots of tea!
Luckily I snapped this shot just as the sun was fading in the Tuileries Gardens. Night is falling now at 5pm and if I don't act quick, there's no point in taking photos in artificial light.
As soon as we returned home, we were craving our favourite Chestnut flour tart. However, just before it was served, this night photo didn't do it ANY justice.
Potimarron or Chestnut Pumpkin
Following the mushroom and chestnut flour tart, this time I made the filling with more autumnal orange, green and different brown leaf shades. Much more pumpkin replaces the mushrooms, plus leek, sage, toasted pecan nuts are thrown in for le crunch, and a thin topping of emmental cheese, gratinéd nicely while the tart is baking.
French potimarron, known as Chestnut Pumpkin or Japanese (red kuri squash) pumpkin is best for this tart recipe, as it is less watery, a bit floury and even tastes of chestnut. I thoroughly recommend using it, otherwise butternut squash is also good.
Update: However, if you use regular pumpkin or butternut squash – as they give off more liquid, I would recommend blind-baking the pastry first for 20 minutes, covered in parchment and baking beans.
We had scoffed the lot that evening – but it just so happened I had just enough chestnut flour pastry left to make two tartlets.  Thank heavens, as the next day the sun came out and I could finally take a snap or two before these were enjoyed for a bonus lunch.
Baking tarts is made even easier with this clever oven-proof baking mat that's rolled inside the rolling pin by Terraillon. Ever since I discovered this, I'm hooked!
Vegetarian Alternative for Christmas
This pumpkin, pecan and chestnut flour tart is perfect as a vegetarian alternative for Thanksgiving or Christmas – or just a family treat to fall for!
Chestnut Flour Tart Base
Chestnut flour is easily available in health food stores and in the organic healthy sections of many supermarkets. If you haven't tried it yet, I urge you to do so. It's one of the staple ingredients in Corsican cooking and powerful in flavour – that's why I mix it with all-purpose flour.
Please don't be put off by making the pastry. You'll discover the pastry is a pleasure to work with if you follow this recipe to the letter, using measurements in grams or ounces with a digital kitchen scale (find out here why measuring by weight rather than volume by cups makes baking life easier). It's totally worth it.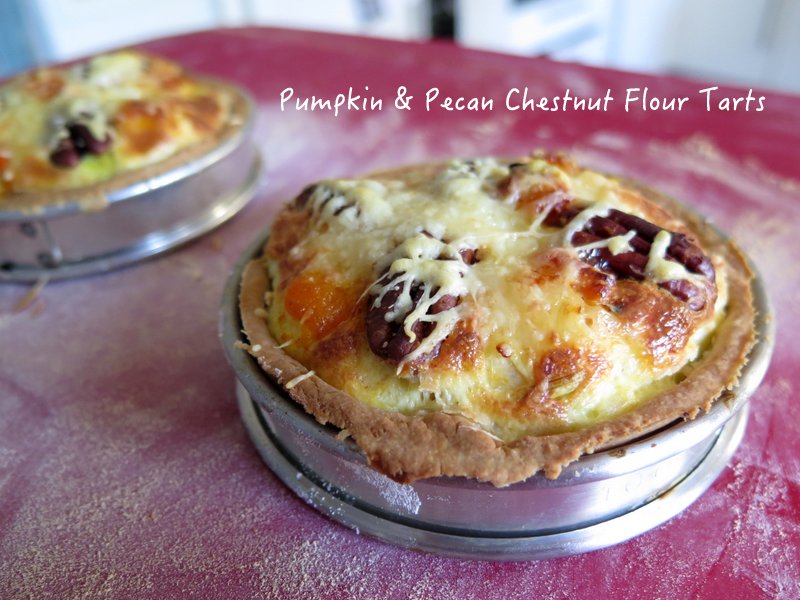 Pumpkin Pecan Chestnut Flour Tart
The most lush, smooth French chestnut flour tart with the colours and taste of Autumn: chestnut pumpkin (potimarron), leeks, sage, pecan nuts and topped with a fine sprinkling of cheese. A great Vegetarian recipe for your holiday menu - and excellent if you prefer to serve with leftover turkey.
Course:
Light Lunch, Main, Side Dish, Snack
Keyword:
chestnut flour, chestnut flour recipes, pumpkin recipes, vegetarian Thanksgiving recipes
Ingredients
Chestnut Flour Pastry
100

g (3.5oz)

Chestnut flour

sifted

150

g (5.5oz)

Plain flour (all-purpose)

I recommend T55

125

g (4.5oz)

unsalted butter

softened at room temperature

1

tsp

salt (fleur de sel)

4-5

tbsp

water
Pumpkin Filling
500

g (18oz)

chestnut pumpkin*

roughly chopped into small squares

3

tbsp

olive oil

200

g (7oz)

leek (about one large leek)

sliced finely

3

medium

organic eggs

200

g (7oz)

single cream or crème fraîche

(I use half fat)

1

tbsp

sage leaves

finely chopped

1/4

tsp

grated nutmeg

pinch

salt and pepper

to taste

100

g (3.5oz)

emmental cheese

grated

16

whole pecan nuts

(or walnuts)
Instructions
First, preheat the oven (for the filling) to 200°C/180°C fan/400°F/Gas 6.
Make the chestnut flour pastry:
Mix all the ingredients together in a stand mixer or food processor and mix just until the dough forms a ball. Wrap in cling film and leave to rest in the fridge for 30 mins. Remove the dough from the fridge and stand about 10 minutes to make it easy to roll out.

Roll out the pastry on a lightly floured surface then using the pastry roller, wrap around the pastry to transfer it to a loose-bottom tart tin (28cm).

Press the pastry gently into the sides. Again with the roller, roll over the top of the tin to clean up the edges. Chill in the fridge for 30-40 minutes (this is important so the sides won't fall during baking later).

Pre-bake in the oven for 20 minutes covered in parchment paper and ceramic baking beans (or raw beans), then leave to cool. (Fill the tart and bake for a further 20-25 minutes - see below.)
Prepare the pumpkin tart filling:
Roast the pumpkin whole in the oven for 15 minutes. This will make it easier to cut into slices. Let cool slightly then spoon out the seeds.

Place the pumpkin with 2 tbsp of the olive oil in a roasting tin and roast covered in the oven for 20 minutes.

Meanwhile, in a large frying pan, heat 1 tbsp of the oil and gently soften the leeks. As soon as they're translucent, turn down the heat to low and cover for 5 minutes to soften further.

Whisk together the eggs, cream, sage, nutmeg, salt and pepper in a bowl.

Spread out the roasted pumpkin evenly over the tart dough base, then the leek and pour over the creamy egg mixture.  Top with the pecan nuts then the cheese and bake in the oven for a further 25 minutes (if making small tartlets, bake for only 15 minutes).
Recipe Notes
Serve with a good Chardonnay or Chenin Blanc or a fruity red such as a Beaujolais Cru: Morgon, Brouilly, or Fleury.
Nutritional Information for 6 servings:
650 calories per serving; 15g protein; 48g carbohydrates.
Jill Colonna
Have you made any of the recipes from le blog, my books, or fancy making this Pumpkin Pecan Chestnut Flour Tart?  Please do make my day and leave a comment below or take a picture and hashtag it #MadAboutMacarons on Instagram or Facebook – or please just tell your family and friends about the website!
https://madaboutmacarons.com/wp-content/uploads/2018/11/Pumpkin-pecan-chestnut-flour-tart-thumbnail_opt-1.jpg
230
306
Jill Colonna
https://madaboutmacarons.com/wp-content/uploads/2021/05/logo-mad-about-macarons.png
Jill Colonna
2018-11-12 21:56:41
2021-03-29 12:53:39
Pumpkin Pecan Chestnut Flour Tart