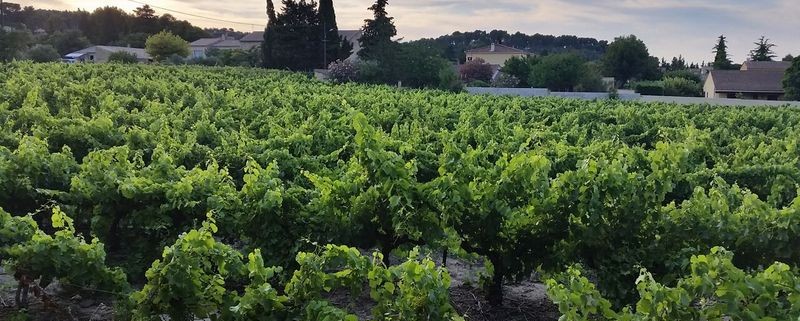 By the time you read this, I'm sure it's afternoon nap or siesta time somewhere.
We'll probably need one following our night flight tonight.  I wonder what insects will be there to greet us?  In any case, I've packed the mosquito creams to throw off the scent of a sweet-blooded Scot!
My favourite perfectly harmless insect in Provence is the cigale. If you follow me on Instagram, you'll have seen my tiny video of the cigales singing in the trees. As soon as the temperature drops to around 24°C, the singing stops but I can tell you that heatwave evenings with us all chattering around the table, we needed to shout above their chirping, as if in some Provençal open-air night club.  The noise resembles someone cleaning their teeth with a bionic toothbrush at full speed – and it's constant.
Even our friends from further north were intrigued by the cigales' constant rhythm, as it's something typical to Provence in France. It can be a real holiday pastime just trying to study and catch them jumping around in the trees.
We found one taking a break by the pool.  It's a pretty rare sight to see them up so close. I think I prefer their souvenir versions, though, found in boutique shops in Provençal villages, in the guise of ceramic decorations.
Like the Parisians in summer, it's time for us to take a break too.
Thank you for following, for sharing, for all of your lovely – and above all, motivating – comments.  I look forward to returning with more stories and have plenty of sweet treats to share from you in Paris  soon.
I don't know if I'll have access to a computer or WiFi but if you follow me on Instagram, I'll be sure to post there first and I'll show you where I am. If you leave a comment, I'll be sure to post it when I can.
A très bientôt, my friends!
https://madaboutmacarons.com/wp-content/uploads/2015/07/provence-vineyards.jpg
450
800
Jill Colonna
https://madaboutmacarons.com/wp-content/uploads/2021/05/logo-mad-about-macarons.png
Jill Colonna
2015-07-24 12:10:05
2015-07-23 17:12:20
Taking a Break