Teatime in Paris!
A Walk Through Easy French Pâtisserie Recipes.
Jill Colonna shows you the easy way to make the Parisians' favourite afternoon treats – such as éclairs, tartlets, millefeuilles, ice cream, crêpes, madeleines, financiers, and macarons. She includes a bonus guide to many of Paris's best pâtisseries, with historical gems and fun stories to the recipes plus her own tempting photos that will transport you to Paris.
Do you love French pâtisserie and secretly want to try it? Following Mad About Macarons, Jill Colonna shares her enthusiasm and skills learned from the French to help you crack patisserie easily at home in her new book, Teatime in Paris. With over 250 images and 50 typical teatime goûter recipes, enjoy tips, stories and a walks annex indicating where to taste the best pastries in Paris.
As you walk through each recipe together, Jill points out many Parisian sweet streets with many of the best patisseries and tea salons to enjoy them.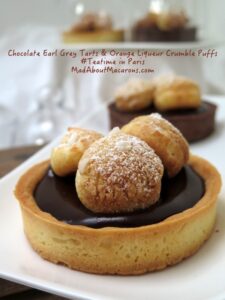 Teatime in Paris kicks off with the simplest and tasty French teacakes (financiers, tigrés, diamants), hot chocolate, crêpes and ice cream then continues with clear step-by-step instructions for each chapter: choux pastry (chouquettes, Nun's pops, pistachio cream puffs, éclairs); tartlets (lemon-passion fruit meringue, salted caramel walnut); millefeuilles (vanilla rum, wild blackberry) and many more gluten-free macarons.
The final chapter culminates in a French tea party, mixing and matching all the previous sections' recipes to create chocolate Earl-Grey tarts with orange liqueur profiteroles, Salted Caramel Religieuses, a Violet Saint-Honoré, plus many more treats to inspire you and get cracking the eggs!
Join in her confidence-building delicious recipe guide with fun background stories to the cakes, historical gems and baking tips to make wow-factor light pastry without much effort at home.  Complete with tea-pairing suggestions, add your own Parisian touch to 4 o'clock teatime in no time.
Teatime in Paris Online Reviews
Read the detailed reviews of "Teatime in Paris", many of which include sample recipes from the book.
Table of contents (click to enlarge)
Mea Culpa from Waverley Books
We extend our apologies to Jill, and to you, her readers, for the following minor errors in Teatime in Paris!
At the last stage we made the following mistakes:
p48 – Cooking Time: 50-60 minutes. Temperature: 180°C/360°F fan (Gas 6) for a silicone mould.
p84 – Hôtel de Ville; Place des Vosges; St Germain elderflower liqueur
p96 – 5. Soak the gelatine in cold water for 15 minutes. Heat 2–3 tablespoons of the coffee pastry cream in the microwave and mix in the gelatine (squeezed of excess water) until melted. Using an electric whisk, whip the cream till firm, then …
p111 – Hugo & Victor
p128 – exchange point 7 with point 5. Chill the pastry first before making the decoration.
p132 – Hôtel de Ville
p156 – 40g grapefruit juice, 80g butter and resting/chilling time is 2 hours
p167 – Pain de Sucre
p187 – praline buttercream filling: 100g butter
p191 – 250g mascarpone
We have made the corrections for the next printing, and thank you for your support.
Best wishes and happy baking,
Waverley Books