If you have a copy straight off the press of Teatime in Paris! you'll discover that there are not only pâtisseries and Parisian street names mentioned throughout the recipes but there's also a sweet bonus in the book's Annex. One of my favourite sweet streets is Rue Saint-Dominique, near the Eiffel Tower. Antoine and I lived just around the corner from here for 5 years in our quaint petit studio.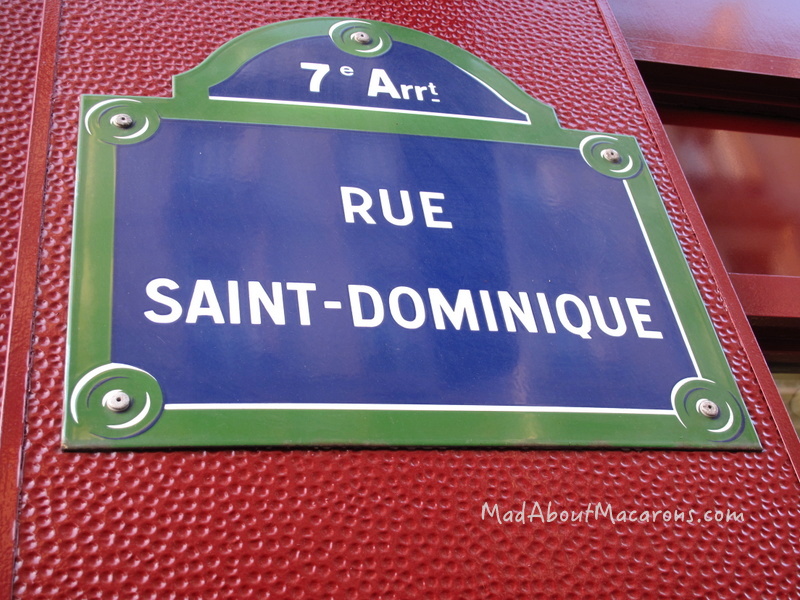 You may remember me talking on le blog about the Thoumieux Brasserie, where I was most impressed with oh-so-chic classic but fun twists on the brasserie-style food served by French celebrity chef, Jean-François Piège.  Well, truth be told, Antoine and I returned with friends and it was disappointing. Mais non! Not for the food but they seriously dimmed the lights at 8.30pm.
OK, in a romantic sense (or if your poor shady-looking partner has just finished a hard day at work, is unshaved and has serious eye baggage from jet-lag), but when your neighbours beg to borrow your night lights on the table so they can attempt to read the menu, that can be frustrating.  We could hardly even see the food. Since we've been I've heard they've put more light on the subject but when we were there and the crème de la crème signature "chou-chou" desserts arrived, I had to use my telephone torch. The ultimate punishment.
There was only one thing for it: to return to the City of Light's Rue St Dominique and pop in to N°58, at Gâteaux Thoumieux Pâtisserie for a picnic teatime. There the light shone on the fraisiers, showing off fresh strawberries in season but my eyes were still fixed on these incredible bright green apple choux with speculoos (cinnamon biscuit) cream by pastry chef, Ludovic Chaussard: le chou-chou pomme spéculoos.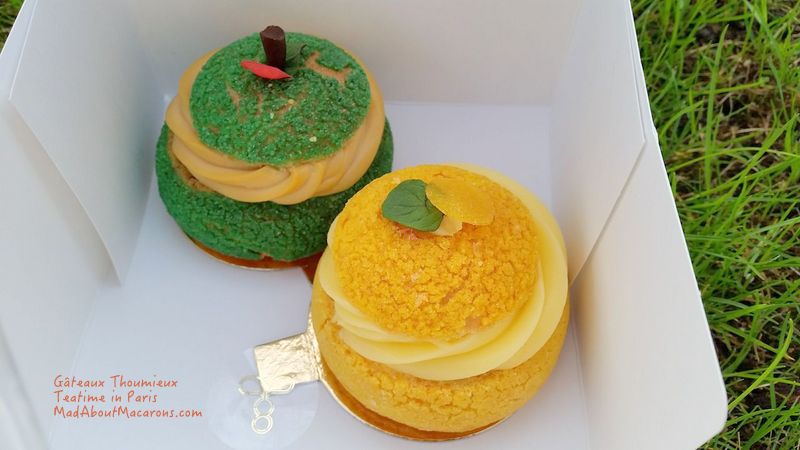 I took a Pina Colada version, too – but my favourite is still the chou-chou pomme speculoos, with its apple compôte and bits of Granny Smith apples hidden inside and topped with a chocolate "apple stalk".
For the sweet clue in the book's annex, here it is near the Eiffel Tower: as the word "Thoumieux" implies with its play on words – everything's better!
Pastry box in hand, pick a bench and watch the world go by. Right in the middle of Rue St Dominique, the vast park at the Esplanade des Invalides is a great playground for boules and picnics.
Now that Springtime is in full blast with its heady pollens and summer is around the corner, what better time is it to find an even quieter spot, away from the crowds?
I adore this little hidden gem of a park located at the top right corner of the Hôtel des Invalides/Army museum, right on the corner opposite the Varenne metro and the Rodin museum.
It's a quiet spot that's ideal to watch the leaves turning green, to listen to the birds singing, and to look at the Eiffel Tower in the distance as you're tucking in to the best pastries from Rue Saint Dominique.
There are plenty more sweet temptations in Rue Saint Dominique which I'll show you soon.  Meanwhile, let me show you a snippet from the book: choux with that famous crumble topping, called craquelin, about to puff up beautifully in the oven.  Here I added green colouring to the craquelin then, when they were baked, simply filled them with speculoos ice cream, another recipe from Teatime in Paris!
https://madaboutmacarons.com/wp-content/uploads/2015/05/1-rue-st-dominique-thoumieux.jpg
566
800
Jill Colonna
https://madaboutmacarons.com/wp-content/uploads/2021/05/logo-mad-about-macarons.png
Jill Colonna
2015-05-29 10:06:46
2018-03-31 14:34:35
Thoumieux Pâtisserie Paris, Where "Everything's Better"