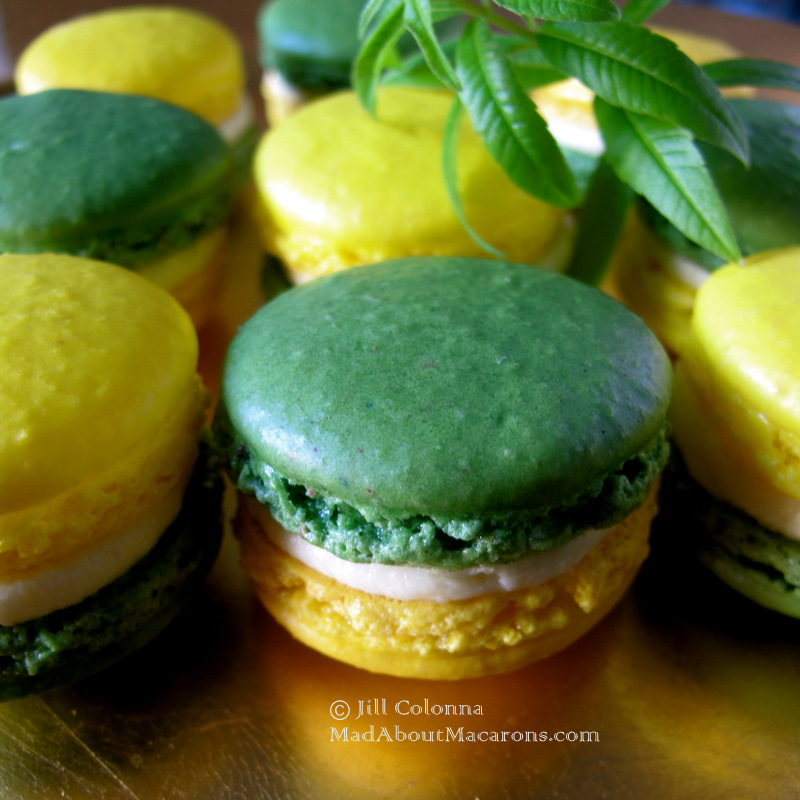 In the last couple of weeks in and around Paris we've had beautifully sunny Autumnal scenes, but ever since the clocks went back this weekend it has turned to rain and well, just dreich scenes.
Dreich is a real Scottish word and there's no other word quite like it which sums up the damp, dingy, dreary days that become shorter between now and the festive season for us poor souls in the Northern Hemisphere.  So don't you think this calls us to pick ourselves up with pots of fragrant tea and Parisian macarons?
This cheery view from the kitchen window has been motivating. The diminishing leaves have had such brilliant greens and yellows, it's as if someone had switched on a spotlight against the dark skies. You've guessed where I'm headed? Total inspiration for a double whammy of bright yellow lemon and green verbena macarons.
My verbena plant is surprisingly tougher in the cold than I thought. I love rubbing my fingers over a leaf and releasing its powerful lemony scent. In France we tend to use verbena leaves as a herbal infusion. Yes, I said these healthy words on a decadent macaron site. It could be worse: I could tell you what some of my French friends call herbal infusions, but this is a respectable site 🙂
One of the first changes I made when I came to Paris nearly (ah-hem) 20 years ago, was to do what the French did. I discovered that the French are so sensitive about drinking caffeinated drinks after dinner. In Scotland, I would be drinking mugs of coffee without batting an eyelid (no pun intended).
Everyone around me was drinking this trendy verveine (verbena) which has a heady lemony fragrance. As a student I started with the regular supermarket sachets until I discovered the dried leaves at my mother-in-law's local market in Provence. I never looked back – until I recently discovered that I could simply get the plant. Once you try the real fresh leaves, there is no comparison. They are scrumptious infused in cream to make verbena ice-cream or crème brûlées.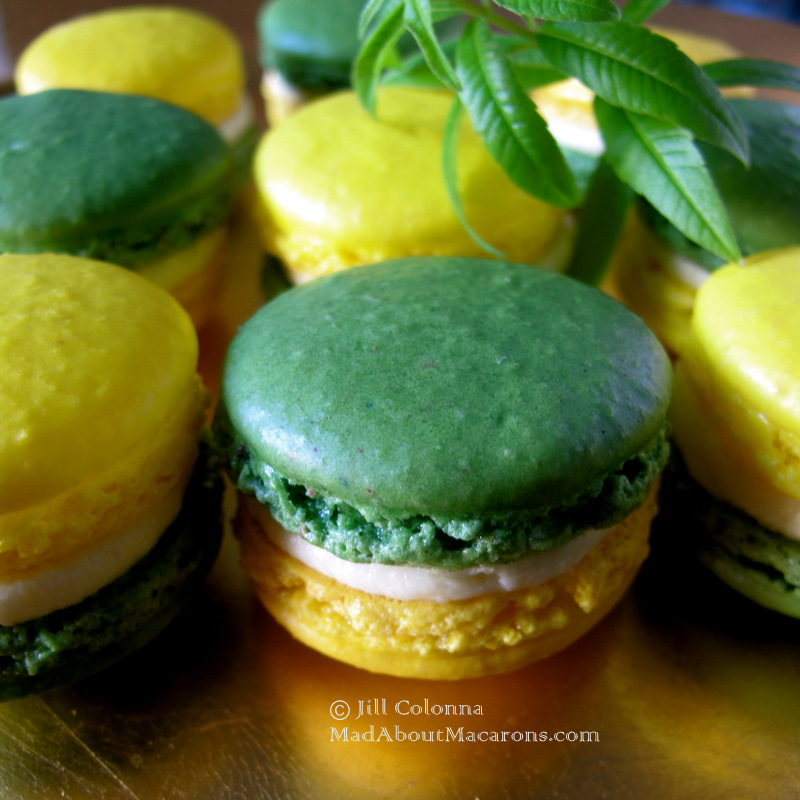 The creamy zest of the lemon and verbena together is a real pick-me-up. I had to put some away in the freezer before the whole lot disappeared. That way when feeling healthy but decadent I can quickly defrost a few verbena-lemon macarons and serve with a pot of freshly infused verveine to finish off dinner. It gives a whole new meaning to sweet dreams.
In fitting with the dreich part and final browning leaves left hanging, I couldn't resist making chocolate-caramel macarons to bring some golden warmth into the kitchen and to accompany a pot of hot Assam tea.
Early last December we had our first petit voile de neige.  I wonder if we're going to have the same snowy treats this year?  So far, so good.
As this was one of my very first blog posts and nobody saw this (I mean nobody), I'm reposting this for you now.  That way, it may be a year old but at least it's getting seen this time.
Unfortunately subscribers received the previous post before updating this afternoon. Apologies!  I'm no use at this technical part of the blog! Thanks for reading my previous blog posts and commenting. It means so much and makes it all feel worthwhile.
Jill xo
https://madaboutmacarons.com/wp-content/uploads/2011/11/verbena-lemon-macarons.jpg
800
800
Jill Colonna
https://madaboutmacarons.com/wp-content/uploads/2021/05/logo-mad-about-macarons.png
Jill Colonna
2011-11-02 11:38:34
2016-01-27 21:38:35
Changing the clock with verbena macarons and hot tea