Bonjour and welcome to the new look of MadAboutMacarons.com!
This is so exciting. Let me introduce you to my new book, Teatime in Paris: A Walk Through Easy French Pâtisserie Recipes.
With exactly a month to go until the book's release in the UK (7 May; then 30 June for the USA), I'm so happy to present this updated website, thanks to the wonderful help of Cédric at Mosaïque Studio in Paris. As you can see, it's had a Parisian facelift with fun new features.
I'll leave you to explore for yourself, but do check out the recipe pages for a start. Thanks to your helpful suggestions on Facebook, there's now a database of egg yolk recipes by number of yolks needed and also by type of dish, so there's no excuse to waste any yolks when making macarons – and now with Teatime in Paris, that also means no waste when making financiers, almond tuiles and meringue toppings, to name just a few of the recipes over 224 pages.
Although Teatime in Paris is primarily a recipe book, the underlying theme is a walk through Paris. There's even a bonus feature in the Annex, "Favourite Sweet Walks in Paris". Pop in to find out the table of contents, take a quick tour of just some of the recipes and learn more about the book here.
As I can't possibly mention all of the Parisian pâtisseries and chocolate shops in a recipe book (although I do describe quite a few!), I shall be popping into more of them on My Paris page.  So, whether you're planning a trip to Paris soon or fancy a sweet virtual trip in the comfort of your home, I shall be guiding you over the next few months to many of my favourite pâtisserie and chocolate streets in the City of Light to accompany the book.
A cool new feature is Baking Chat. Use the Forum to set up a new topic, or add to a discussion if you're looking for an ingredient such as the best powdered colouring. As you tell us your favourite brands of ingredients in your country, I shall add these to our stockists page, found under Frequently Asked Questions (FAQ).
Teatime in Paris has been quite a marathon. The project has taken on three very different manuscripts since 2012, including an egg yolk recipe book. What's more, during this time, Waverley Books went through a Management buy-out finishing up with their own company, the Gresham Publishing Company Ltd. Bravo to Ron Grosset and Liz Small!
So when they asked me to go ahead with Teatime in Paris last year, it has been full steam ahead: I've been busy testing recipes, taking photographs in Paris, testing recipes again, taking photos of recipes and writing.  So now, over a year later, this is quite an emotional time, seeing it finally come together into a beautiful book and discover that it's now sitting waiting for you in the warehouses.
Meet Eleanor Abraham, Editor of Teatime in Paris at Waverley Books.  As drafts were furiously going back and forth from Scotland, as were design ideas with creative magician, Mark Mechan, Eleanor came over to Paris end of November and we worked together on the copy.  If anyone knows me well and you've been following le blog for a while, you'll realise that – no matter how corny – I just have to find a joke or two (and my brother is worse, believe me).  As she said, two jokes in one recipe were one too many.  Never mind, once you read the book, I may tell you about some bits that were cut.  I'm still giggling at one of them.
Drafts, drafts, comments on drafts, more drafts, more comments back, more recipe testing, more photos.  It has been intense and hard work but boy, it has been worth it. Many thanks to all the wonderful team at Waverley Books for making this all happen!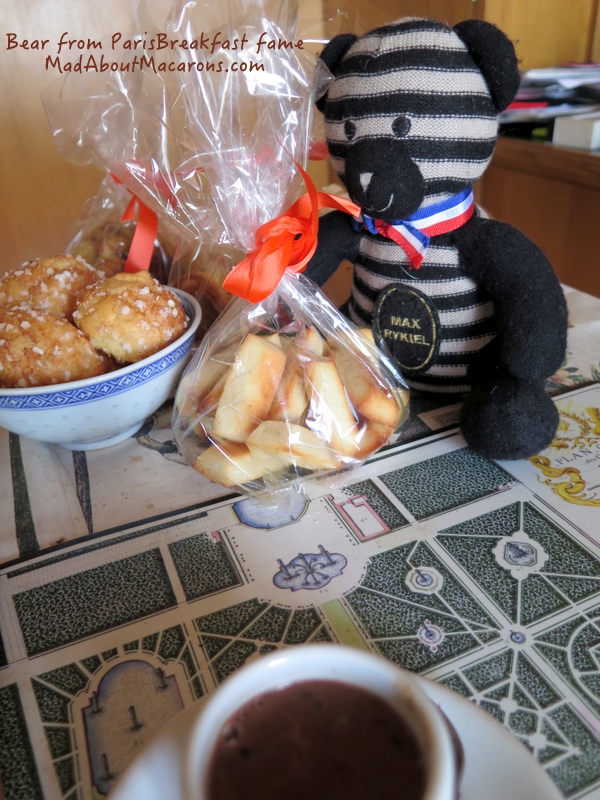 I'll leave you with a photo of Bear from Paris Breakfasts' fame. I wish I could show you what delicious work watercolour artist, Carol Gillott did as you open the book. As we worked together on the project, she supplied the hot chocolate and I came with some mini madeleines and financiers, just to keep us going.  I'm so proud to have Carol's talent featured in the book.
In the meantime, stay tuned for giveaways, more surprises and have fun keeping in touch via Facebook, Twitter, Instagram, Google+ and of course, here on MadAboutMacarons.com.  I'd love to hear what you think!
https://madaboutmacarons.com/wp-content/uploads/2015/04/teatime-in-paris-book-cover.jpg
450
800
Jill Colonna
https://madaboutmacarons.com/wp-content/uploads/2021/05/logo-mad-about-macarons.png
Jill Colonna
2015-04-07 18:18:15
2016-01-22 15:18:23
Welcome to Mad About Macarons with Teatime in Paris!