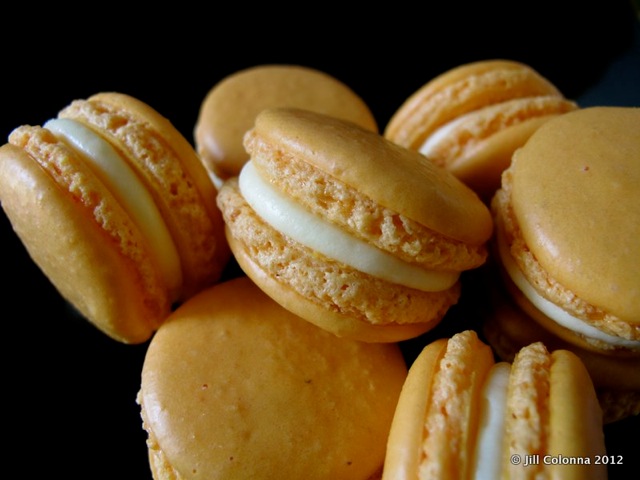 Yuzu. It's such a fashionable macaron flavour in Paris just now. A few years ago while studying at Strathclyde University in Scotland, the closest I ever got to yuzu was hearing west-coast, Glaswegian accents with phrases such as, 'Yuzu'll have had your tea?'  Or, 'Yuzu'll be down the pub at what time?'  That's as far as it went.
Twenty years on, I'm exchanging dainty conversations with Parisian ladies in the pâtisserie boutique queues, as they point with their perfectly French manicured fingers at the Yuzu macarons. If you haven't tasted yuzu before, the taste is like mandarin oranges but with a tangy, tart note of grapefruit. I haven't been lucky enough to actually taste the fresh yuzu fruit yet but I can tell you that I've nibbled on enough yuzu macarons to get an idea for starters. I'm convinced it's good for you too: with a touch of vitamin C packed into a gluten-free treat.
Yuzu originated in China but it is most widely grown in Japan and Korea. It's also pretty frost-hardy, apparently;  I wonder if I can grow it in our garden?  Have you tried to grow your own yuzu?
No wonder it's considered a luxury item. I could bathe in it. That's not as daft as it sounds: apparently the Japanese have customary yuzu baths (yuzuyu) in winter to ward off colds and rough skin. Could you live with that, nibbling on yuzu macarons and sipping some Macaron Prosecco just to add to the luxurious experience?
Dreaming of that bath, the Yuzu-Earl Grey Tea macarons by Acide Macaron were luxury enough. It's not for nothing that the pastry chef, Jonathan Blot, names this flavour Jonathan; he describes that these are the macarons that take the most amount of work to perfect the flavour. Chocolate also makes sense as a partner, to complement the acidic clementine taste; Jean-Paul Hévin makes beautiful yuzu-chocolate macarons;  Patrick Roger makes yuzu and verbena chocolates (you just have to make the macarons!) Saduharu Aoki has stuck with plain and simple Yuzu with nothing else nudging its alluring zing. It didn't need any more macarons to be convinced, frankly. It was time to get home and make a batch of my own. Where on earth could I find yuzu?
Searching for yuzu-inspired desserts in some French gourmet magazines, I came across yuzu powder in the ingredients. But when I discovered at the Japanese supermarkets near Opéra that the yuzu powder could only be bought in bags of a kilo for over 120 euros, that was pushing it.  I liked yuzu but I'm not that mad.  That's when I realised how lucky I am to have such a good friend like Nami of Just One Cookbook fame. She heard my cries of help and before I knew it, she had already expressed a bottle of extract and freeze-dried yuzu from her Japanese store in California to Paris. How's that for the most friendly emergency yuzu service?
Now that I know what the extract and freeze-dried yuzu products look like, it will easier to spot these in Paris.  I can waltz in to the supermarket and perhaps even look like I know what I'm doing, thanks to Nami. She also makes a wonderful Yuzu Sour Cocktail. The packet of freeze-dried yuzu is incredible.  I whizzed it up in the spice grinder.  If only this photo below had a scratch-and-sniff option, since the perfume that wafted out as soon as I opened the top was the most exotic, well, yuzu.
Adding a tablespoon of the powder to the shells and a mixture of the powder and extract in the filling, there was certainly no disappointment. After two large boxes of homemade yuzu macarons, I made them quite tart.  Perhaps a bit too much on the extract?  According to the family, it was just right.  I wonder if they always feel obliged to say that?
Next time it's a white chocolate ganache. I'm still recipe testing and considering another book. It's a long process – especially if you have no patience. That's why I'm generally going a bit mental but having fun in between the chocolate walks in Paris.
How would you like your yuzu macarons?  Acidic with a real bite to it, or sweeter with a more subtle hint of flavour?  It's important to please our sweet macaronivore friends.
Speaking of Glasgow accents, Antoine and I relived our student days together a couple of weeks ago with fellow colleagues at Strathclyde Business School for a 20 Year Reunion. Yuzu'll have found us at the local, darlings, this time with a French manicure and arm in arm with my French hubby in a Scottish kilt!
https://madaboutmacarons.com/wp-content/uploads/2012/07/yuzu-macarons-colonna.jpeg
480
640
Jill Colonna
https://madaboutmacarons.com/wp-content/uploads/2021/05/logo-mad-about-macarons.png
Jill Colonna
2012-07-10 14:25:15
2016-01-27 18:31:00
Yuzu Macarons: Another Parisian Fashion