Granny's Snowballs (No Bake, Coconut, Raisin

&

Chocolate Bites)
This recipe was originally published December 15 2014. Although posted under the title, Express Christmas Puddings, they were based on my Granny's Snowballs.
This no-bake recipe for Snowballs is inspired by my Granny's recipe in her Black Book and so I'm sure it originally came from a magazine, the Scottish Sunday Post newspaper or the Jimmy Young radio show which she listened to back in the 70s, as he also dictated many recipes over the air.  I can still vividly hear his voice in the background, the smells of the coal and sparking from the fire opposite the dining room table, where we rolled the snowballs in icing sugar and coconut – our hands daringly gooey with coconut stuck to our sweetened cocoa fingers.
Funnily enough, we didn't make the other more well-known kind of Scottish Snowballs  with the sandwiched biscuits, raspberry jam filling and rolled in coconut: instead these were an extra special treat from Norman the Baker, who would hoot his cream and milk chocolate-coloured van outside the house in Musselburgh.
Granny would press a coin into our hands and with my brother, we'd go running to buy the most enormous sandwiched snowball each from Norman, who always greeted us with the cheekiest of grins from ear to ear, as he'd talk nineteen-to-the-dozen with Agnes.  We baked so much at home that it was quite the opposite at Granny's to have a bought treat now and again. If you'd like to make them, then my Scottish-Italian friend, Christina, has just posted a recipe for the Jam-filled Scottish Snowballs at ChristinasCucina. We have both been quite oblivious to rolling two very different Scottish snowballs this weekend without even realising we were on the same spooky wavelength (this happens a lot!).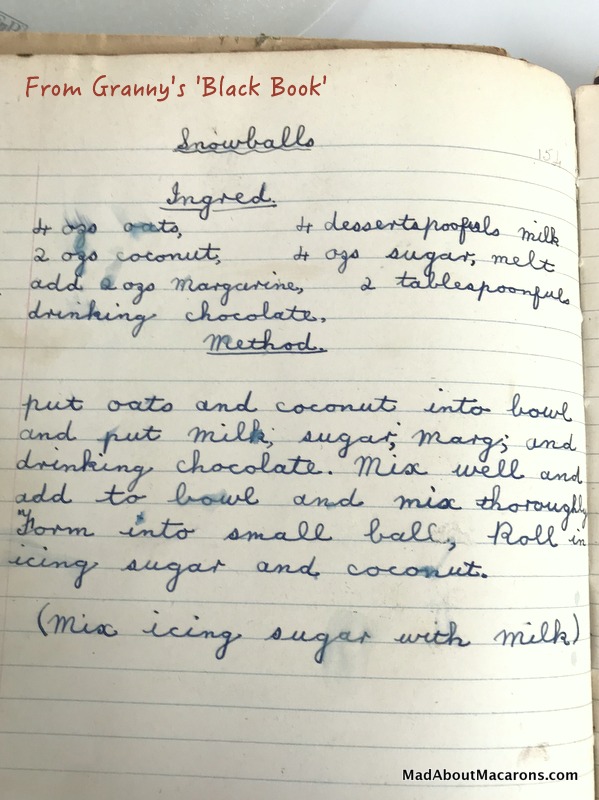 If Agnes is watching over, I'm sure she would quietly, if grudgingly, approve of this updated version; she knew she had to cut down on sugar due to diabetes but had a ridiculously sweet tooth. The original oats and coconut are still in there, but the quantity of sugar is very much reduced. I remember on many occasions that she added raisins and so the fruit, spice and orange additions are all in the name of giving them a festive taste to compensate for the missing sugar.
Snowballs can be kept in an airtight container for up to 3 days – and they're great for decorating winter or festive desserts, such as this Double Chocolate Tart, one of the recipes from 'Teatime in Paris!'
Instead of rolling them in coconut for a snowball effect, why not coat them in a little icing and top with a cranberry, a glacé cherry – or a Marachino cherry (gosh, that brings back memories of Granny's New Year parties, including a Snowball drink!) to dress them up into these Express No-Bake Mini Christmas Puddings!