The craze of Apple Rose tarts all started in Paris in 2013 with 3-Starred Michelin Chef of l'Arpège, Alain Passard. His fabulous Tarte au Bouquet de Roses© took the traditional apple tart to the highest new creative level, inspired by French Haute-Couture, art, and his apple-loving home town in Brittany.  Since then, pastry chefs worldwide have followed with their own incredible artistic takes, including Pierre Hermé's Venus Cake. I'm no chef, so I've been experimenting to find a much easier version to make at home. So let me introduce you to the Apple Rose Tarte Tatin.
Apple Roses Without the Pastry
We've seen so many apple rose tarts and pies on Pinterest, YouTube etc. where the technique of wrapping the pastry around the apple slices is used to hold the rose in shape.  Alain Passard's roses are rolled from one large rectangular peeled apple "sheet" (I LOVE the look of this machine to do this!), packed one next to the other, and lightly baked in the oven. Pierre Hermé also uses this machine but instead makes little folds using raw apple dipped in lemon juice and water, which are placed into the pastry cream to hold them in.
Instead, I wanted to make a simple apple rose without the puff pastry that could also stand on its own without having to be pushed into a pastry cream to keep its shape. Could I have a tasty decor that wasn't difficult to make? Was it possible?  Yes!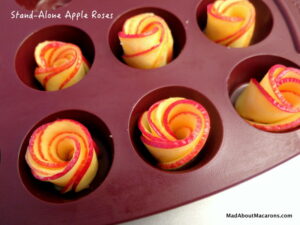 I experimented using a mixture of techniques, notably from pastry chef Christophe Michalak's method of peeling and slicing Golden Delicious apples, brushing with butter and topping with brown sugar and baking in the oven – then rolling.  I liked this, but I felt it lacked the lovely romantic red apple rose look and so, to keep it simple, I wanted to avoid baking them.
Then I discovered Anne Reardon's version of preparing red apple roses for a tart.  The roses were not baked and pushed into the tart's pastry cream to hold their shape.  What I liked with her technique of soaking the roses was that they seemed a bit more "cooked" by melting the butter. So I reduced the butter and played.
Apple Roses That Hold their Own
While my roses were sitting in the fridge to be used, I made some mascarpone cream from the Saint-Honoré recipe in Teatime in Paris (replacing the violet with vanilla, of course!), just so that the rose could be held in shape  – but the biggest surprise came when I realised the cream wasn't needed for prop reasons!  After I had rolled up and placed the apple roses in each cavity of a mini-muffin mould and placed them in the fridge until needed, the apples had set.  The great news is that they can hold their own – so, if you want a dollop of cream or crème fraîche, then it's purely for taste but not essential.  Moreover, the apple roses last for 2-3 days in the fridge!
Apple Rose Tarte Tatin
Inspired by Chef Christophe Felder (another Christophe amongst top French pastry chefs!), with a mini cocktail tarte tatin, I developed it by making larger individual dessert versions, adding gelatine to hold its shape and, by adding a simple red apple rose, created the Apple Rose Tarte Tatin.
The recipe may look long, but take heart: it's so much easier than it sounds.  I'm just taking you through it in plenty of detail! It's also a recipe that's all made in advance and easily assembled so it's easy to surprise your loved ones!